New York: An Encounter with Falun Gong on Union Square
May 14, 2017 | By Minghui correspondent Shu Hui
(Minghui.org) Falun Gong practitioners performed the exercises together on Union Square in Midtown Manhattan, New York on the morning of May 11, 2017. They had gathered in New York to take part in a series of activities to commemorate the 25th anniversary of Falun Gong's introduction to the public.
Passers-by paused to watch and learn more about the practice. Several practitioners shared their experiences with practicing Falun Gong and expressed their gratitude to Master Li Hongzhi, Falun Gong's founder.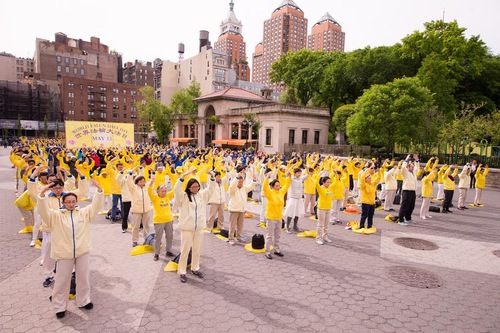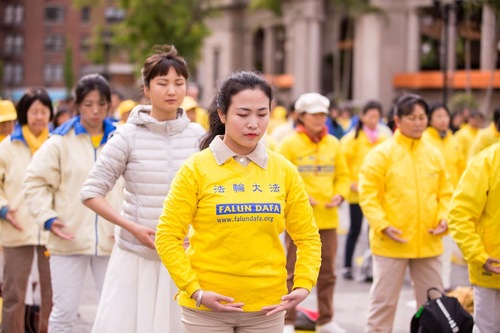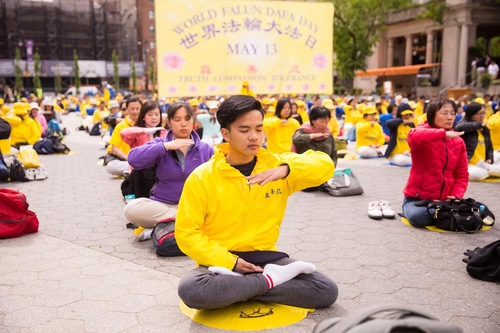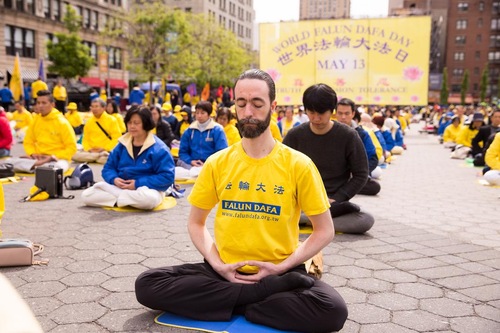 Group Falun Gong practice on Union Square, Manhattan, New York on May 11, 2017.
Elisatta, originally from Italy but now a New York resident, was caught by the grand scene of the peaceful Falun Gong group and asked for more information. She said it was her first time to encounter Falun Gong and she wanted to know where she could learn the exercises. She was pleased to learn about the free seminars given regularly at the Tianti Bookstore.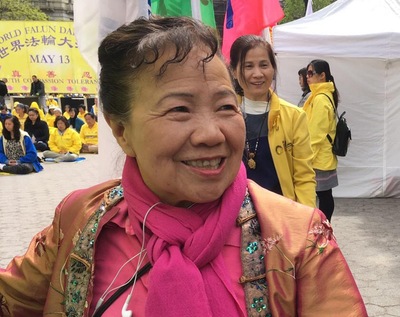 Practitioner Cha Mei
A smiling older practitioner distributed flyers to passers-by. She was Cha Mei, 74 years old. She said, "I so appreciate Master Li. My illnesses disappeared after I started practicing Falun Gong."
Recalling that experience, she choked back tears. She had a strange illness: lumps the size of a pea appeared in her fingers, with numbness in those areas. The numbness then moved from her hands to her feet and to other areas of her body. Her doctors could not figure out why. Within two years, Cha Mei became paralyzed, with pain throughout her body. Besides the strange illness, she had other illnesses as well and took many medicines. Finally, a therapist suggested that she try Falun Gong. Her daughter-in-law accompanied her to a nine-day Falun Gong seminar.
Cha Mei felt that she changed completely after attending the first day of the seminar. She had no appetite before, and could go for two days without feeling hungry. But after attending the class, she ate a lot and felt comfortably full. Her illnesses disappeared after she began practicing Falun Gong. She has not taken any medicine for the past 16 years and her children now do not worry about her health.
With tears in her eyes, Cha Mei said, "My gratitude to Master Li is beyond description. Actually it's not only me, our Master has helped so many practitioners immeasurably. No language can describe that."