Gathering of 10,000 in New York Celebrates 25 Years of Falun Dafa
(Minghui.org) On a brilliant spring day, about 10,000 Falun Dafa practitioners from 57 countries gathered in Manhattan on May 12 to celebrate the 18th World Falun Dafa Day and the 66th birthday of Mr. Li Hongzhi, the founder of Falun Dafa.
At Dag Hammarskjold Plaza, over 600 Tian Guo Marching Band members started off the event with the piece "Falun Dafa Is Good." A traditional mind and body cultivation practice, Falun Dafa (also known as Falun Gong) was first introduced to the public in China on May 13, 1992 and is now practiced in more than 140 countries. However, it has been brutally suppressed in China since 1999.
To help celebrate the 25-year milestone, 188 proclamations and greetings have been issued from federal representatives, state representatives, city councilors, as well as state, city, and county level officers.
Calling for an End to the Persecution in China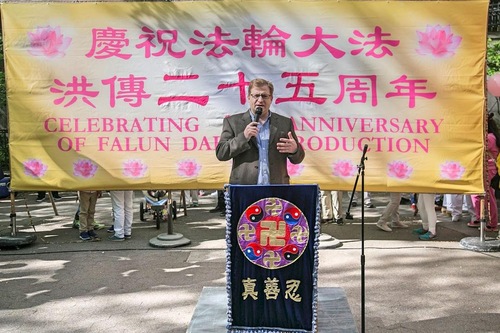 Levi Browde from the Falun Dafa Information Center said that Falun Dafa brings ancient wisdom to modern society.
Levi Browde, Executive Director of the Falun Dafa Information Center, said that people have been searching for thousands of years to gain an understanding of life and human existence. "Falun Dafa bring us new insights and connect us with the ancient belief that, we would return to the origin by uplifting our mind and body." He said that the practice of Falun Dafa has brought positive change to tens of millions practitioners and their families.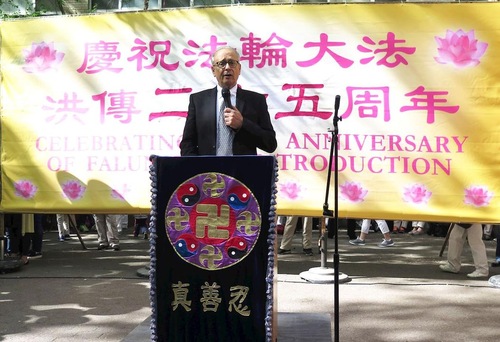 Alan Adler, from Friends of Falun Gong, said that the persecution in China contradicts the founding principles of the U.S. He hopes that more people can help bring an end to the atrocities in China.
Alan Adler, Executive Director of Friends of Falun Gong, said that Falun Dafa is probably the most significant worldwide spiritual movement to emerge within the past 25 years. "Amid the harsh persecution in China, Falun Dafa practitioners have demonstrated their courage and compassion through their peaceful appeals." He said that every segment of society, including the U.S. government, should pay attention to the severe persecution against Falun Dafa and Dafa's principles of Truthfulness-Compassion-Forbearance.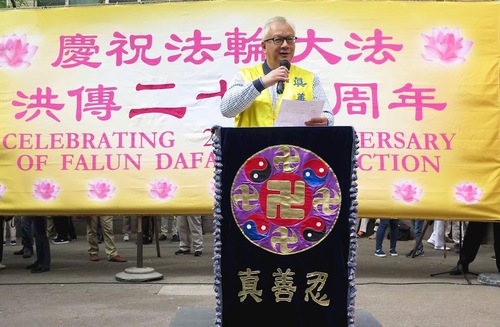 Kan Hung-cheung, spokesperson for the Hong Kong Falun Dafa Association, said it is important for Chinese people to separate themselves from the Communist Party and return to their traditional values.
Kan Hung-cheung, spokesperson for the Hong Kong Falun Dafa Association, stated that the suppression in China undermines traditional values and the common good. "It is through the peaceful efforts of Falun Dafa practitioners that we see hope for the future," he noted. Mr. Kan called on more people to support Falun Dafa and the efforts to end the persecution.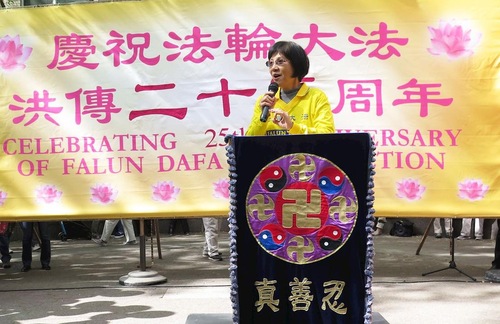 Chang Chin-hwa, president of the Taiwan Falun Dafa Association, said that she and other practitioners have witnessed how Falun Dafa benefits practitioners and society in general.
Chang Chin-hwa, president of the Taiwan Falun Dafa Association, said that there are hundreds of thousands of Falun Dafa practitioners in China. "They are from all walks of life and always try to be better citizens by following the principles of Falun Dafa – Truthfulness, Compassion and Forbearance." She said that the practice of Falun Dafa has helped her, both in her family life and work. "More than 210,000 Chinese people have filed criminal complaints against Jiang Zemin, former Chinese leader, for persecuting Falun Dafa. More than two million people have signed petitions to support this movement in the hopes that the atrocities in China will end."
Anastasia Lin, Miss World Canada 2016, thanked practitioners for their courage and determination despite the harsh suppression, "They have inspired me and many other people to be better citizens of society."
Support from New Yorkers
New Yorkers have shown a great deal of support for Falun Dafa over the years.
A woman who works at the United Nations Headquarters said that she has seen many events held by Falun Dafa practitioners and she does her best to help. "I am impressed by the peace of the group meditation and I may want to learn the exercises too," she said.
Susan and her two children watched the event for 45 minutes. She thanked the practitioners for bringing peace and calm to this busy city. She and her children joined the march because "we want to experience this peaceful and wonderful energy." She said that the brutal persecution, especially the Chinese regime's forced organ harvesting from living Falun Dafa practitioners, is "the most terrible thing in this world."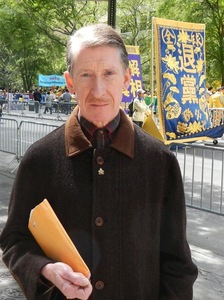 David Lane hopes the brutality in China will end soon.
David Lane, who is Catholic, said he would pray for practitioners. Regarding the forced organ harvesting, he said, "It is a really horrifying crime. Events like this one today are very important because it will help more people know what has happened, and help stop it."
Quitting the Chinese Communist Party
Upon learning how the Chinese Communist Party (CCP) has been harming Chinese citizens over the past several decades, 272 million people have renounced their association with the Party and its affiliates. Li Meng and seven other people from China watched the event and said that they would like to join the efforts to help end the persecution.
Mr. Gao, an immigrant from Tianjin, China, said that this was the first time he had seen a march of this scale. He was very impressed. "Like many people, I was forced to join the CCP's Youth League, otherwise, I couldn't go to high school." He renounced his membership in the Communist Youth League earlier this year.
A Chinese student from Fujian, China, stood for a long time watching the rally and march. He was impressed by the energy of the music played by the Tian Guo Marching Band. Through talking with practitioners, he learned how the communist party has defamed Falun Dafa with hate propaganda and agreed to separate himself from the regime.
"After being brainwashed in China for decades, I have now learned the importance of independent thinking," he said.