Four-Day Celebration of Falun Dafa Day Kicks Off at Union Square with Group Exercises and Performing Arts Show
(Minghui.org) The four-day celebration of the 18th Falun Dafa Day in New York City began at Union Square with a large group exercise demonstration on Thursday morning.
May 13 is not only World Falun Dafa Day, but also marks the 25th anniversary of the public introduction of this ancient Chinese cultivation practice and the 66th birthday of Master Li Hongzhi, the founder of Falun Dafa.
More than 10,000 practitioners from 57 countries and regions will be participating in various Falun Dafa events all over New York City on May 11-14.
On Thursday morning, over 600 practitioners from all walks of life and all ages assembled in Union Square to do the Falun Dafa exercises for about two hours.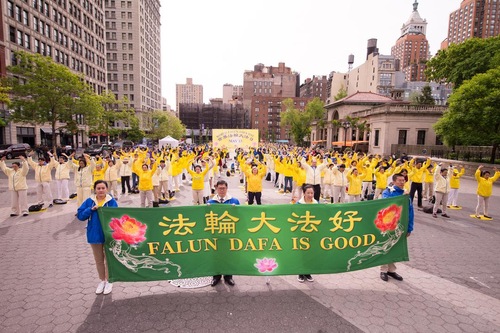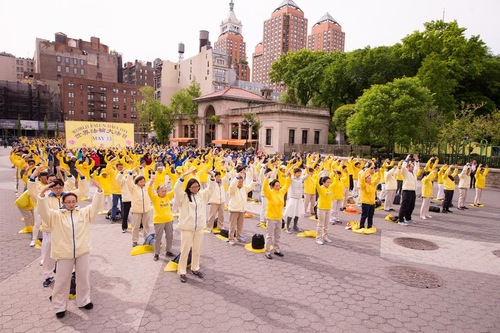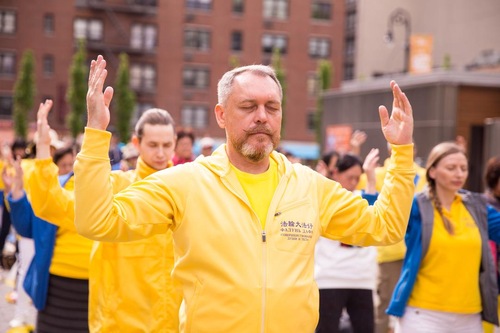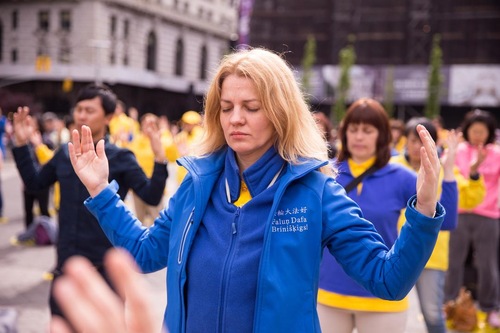 Doing the exercises together on Union Square Thursday morning
They also handed out informational materials, trying to raise public awareness of the 18-year-long persecution of Falun Gong in China. Waves of passersby watched the event and signed the petition condemning the human rights violations in China.
Ronald Woodhead, a young actor who spoke fluent Chinese, told practitioners that he used to live near the Chinese consulate in Munich, Germany, and often saw Falun Dafa practitioners peacefully protesting the persecution, which impressed him deeply. He signed the petition to express his support.
Sabitri Seebarran is a local health consultant and an editor of a public health magazine. He knew about the state-sanctioned involuntary organ harvesting in China and thinks that the new U.S. government is not being forceful enough on this issue. He hopes the political leaders will make human rights issues a priority while doing business with China, and do something to help end the persecution.
Artistic performances were presented in the afternoon. The local Tian Guo Marching Band played first, followed by a choir and solo instruments, including the pipa (a traditional Chinese instrument), guitar, keyboard, and oboe.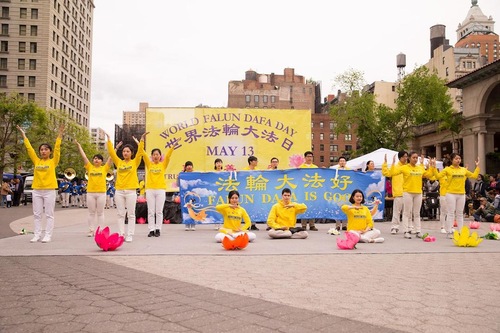 Demonstrating the exercises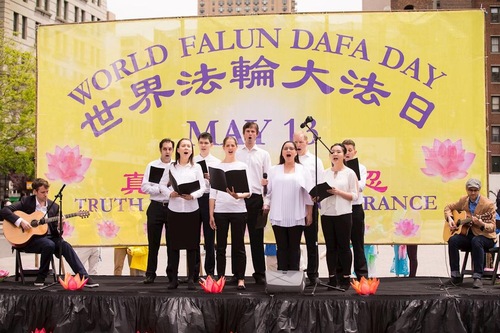 The choir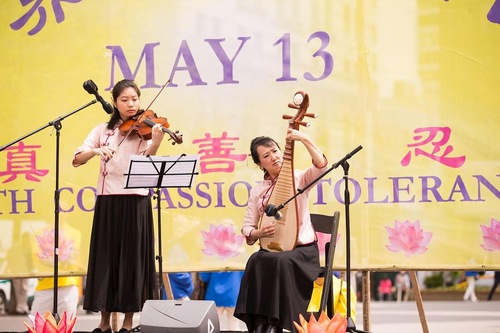 Pipa solo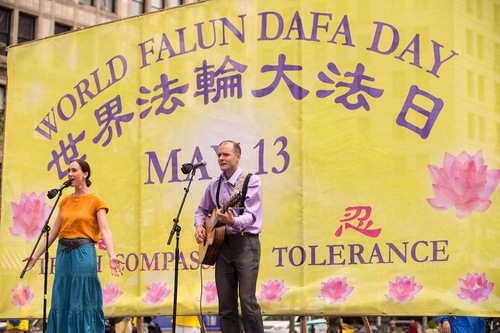 Two Western practitioners performing a song they composed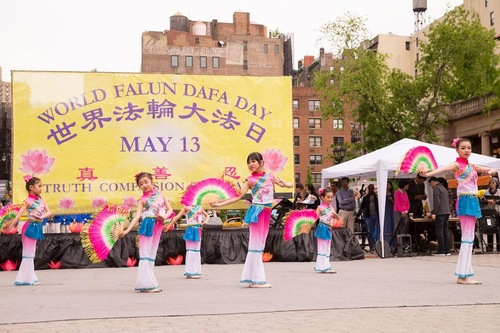 A traditional Chinese dance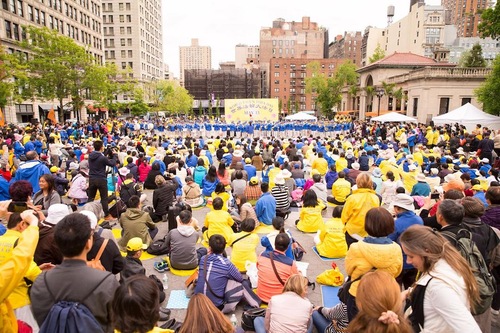 The audience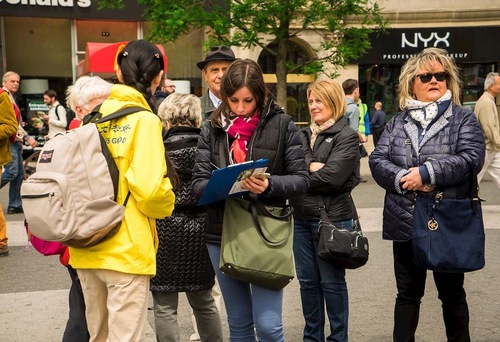 A practitioner (in yellow) collecting signatures
A spokesman for the Falun Dafa Association in New York briefly described the guiding principles of the practice—Truthfulness-Compassion-Forbearance—and showed the audience the proclamations and letters of congratulations from more than 100 government officials and lawmakers in the state of New York.
Many passersby were touched by the performances.
Andy Chen, an IT manager who works for a company near Union Square, stopped to observe the practitioners slowly move their arms to do one of Falun Dafa's standing exercises.
Chen first heard about the practice when the Chinese regime set out to discredit it with defamatory propaganda, which was spread both inside and outside of China. After analyzing the facts and spotting the loopholes in the regime's propaganda, Chen realized what was really going on.
"The Chinese regime is only interested in materialism, money, power, and control," said Chen, a staunch Christian who immigrated to the United States from China about two decades ago. "Of course the regime opposes Falun Dafa, because it is a traditional, spiritual practice that awakens people's compassion, and uplifts their morality."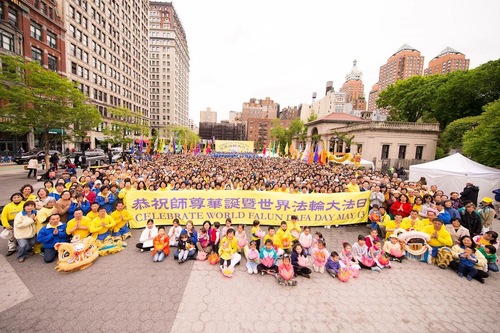 All who attended the celebration at Union Square get their picture taken together to wish Master Li Hongzhi a happy birthday.
http://www.minghui.org/mh/articles/2017/5/12/纽约欢歌载舞-庆祝世界法轮大法日-347688.html