Canada: Alberta MPs Celebrate 25th Anniversary of Falun Dafa's Public Introduction
May 10, 2017 | By a Falun Dafa practitioner in Canada
(Minghui.org) May 13, 2017, marks the 18th World Falun Dafa Day and the 25th anniversary of Falun Dafa's introduction to the public. Nine Canadian ministers in Alberta sent congratulatory letters to the Falun Dafa Associations of Edmonton and Calgary.
Besides their warm greetings on this joyful occasion, the ministers commended Falun Dafa's teachings – Truthfulness-Compassion-Forbearance – and acknowledged Falun Dafa's contributions to society. They also condemned the persecution of practitioners in China and expressed their support for practitioners' efforts to end the persecution.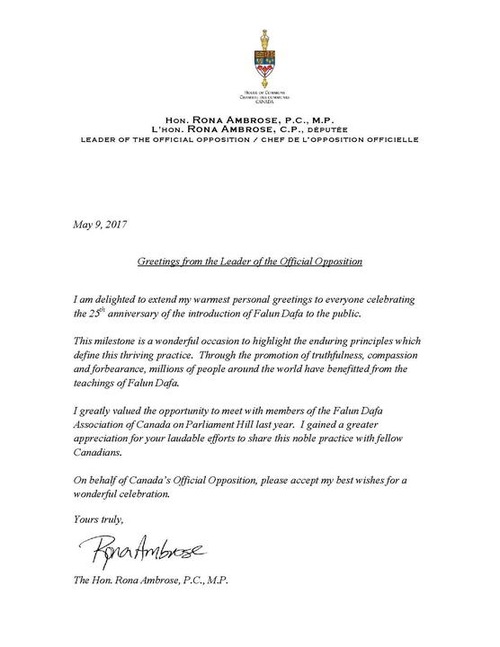 Letter of Greetings from Edmonton MP Rona Ambrose, the Leader of the Official Opposition
MP Rona Ambrose wrote: "I greatly valued the opportunity to meet with members of the Falun Dafa Association of Canada on Parliament Hill last year. I gained a greater appreciation for your laudable efforts to share this noble practice with fellow Canadians."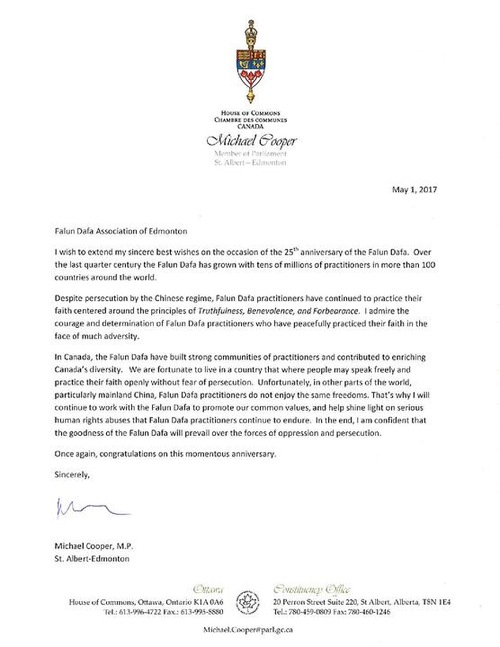 Congratulatory letter from MP Michael Cooper to the Falun Dafa Association of Edmonton
Edmonton MP Michael Cooper wrote: "I admire the courage and determination of Falun Dafa practitioners who have peacefully practiced their faith in the face of much adversity.
"...I will continue to work with the Falun Dafa to promote our common values, and help shine light on serious human rights abuses that Falun Dafa practitioners continue to endure. In the end, I am confident that the goodness of the Falun Dafa will prevail over the forces of oppression and persecution."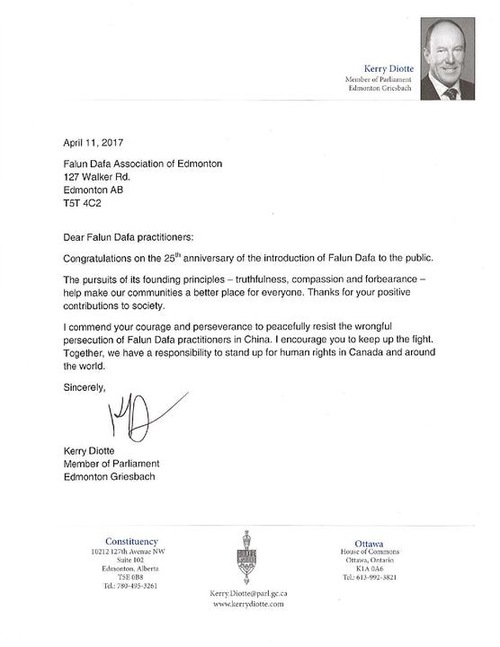 Letter from MP Kerry Diotte of Edmonton Griesbach to the Falun Dafa Association of Edmonton
MP Kerry Diotte commended Falun Dafa practitioners' "positive contributions to society" in his letter. He also praised their "courage and perseverance to peacefully resist the wrongful persecution of Falun Dafa practitioners in China."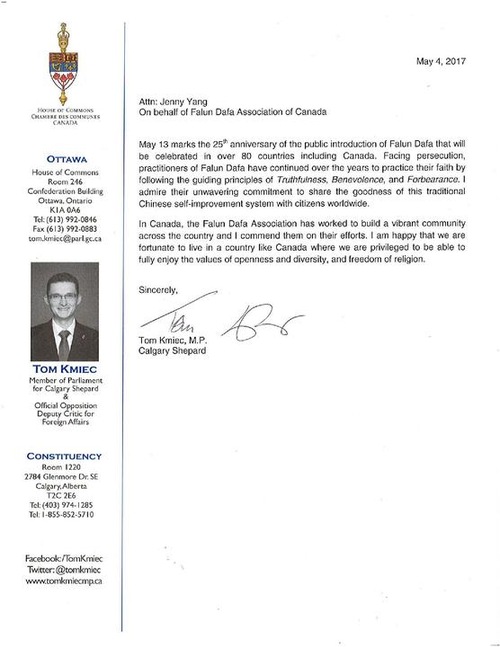 Letter from Calgary MP Shepard Tom Kmiec
"Facing persecution, practitioners of Falun Dafa have continued over the years to practice their faith by following the guiding principles of Truthfulness, Benevolence, and Forbearance. I admire their unwavering commitment to share the goodness of this traditional Chinese self-improvement system with citizens worldwide," wrote MP Tom Kmiec.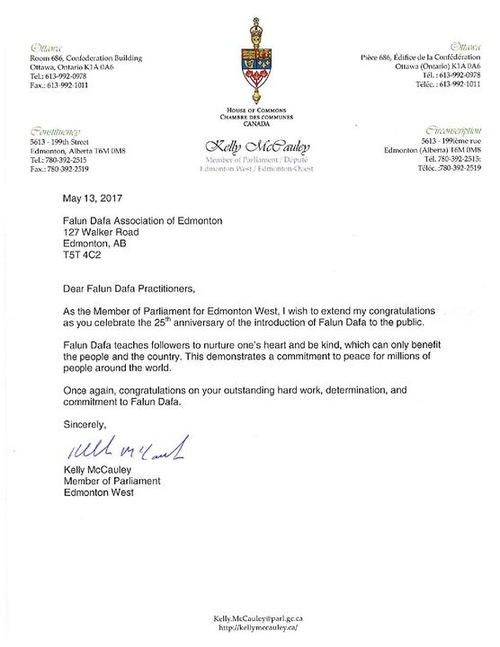 Letter from the MP for Edmonton West Kelly McCauley to the Falun Dafa Association of Edmonton
"Falun Dafa teaches followers to nurture one's heart and be kind, which can only benefit the people and the country. This demonstrates a commitment to peace for millions of people around the world," wrote MP Kelly McCauley.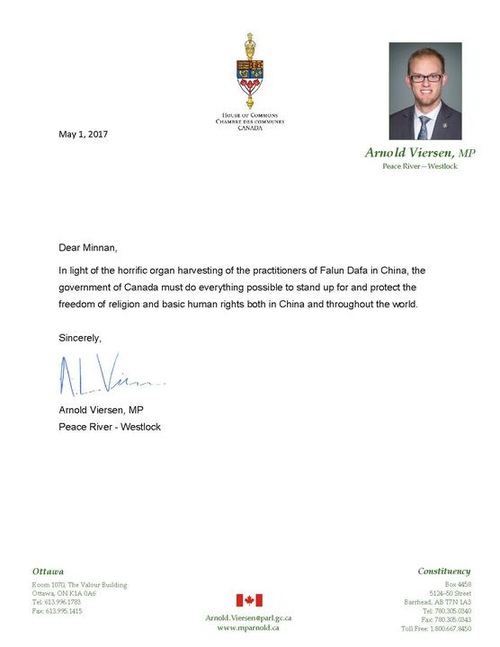 Letter from MP Arnold Viersen of Peace River-Westlock
MP Arnold Viersen wrote: "In light of the horrific organ harvesting of the practitioners of Falun Dafa in China, the government of Canada must do everything possible to stand up for and protect the freedom of religion and basic human rights both in China and throughout the world."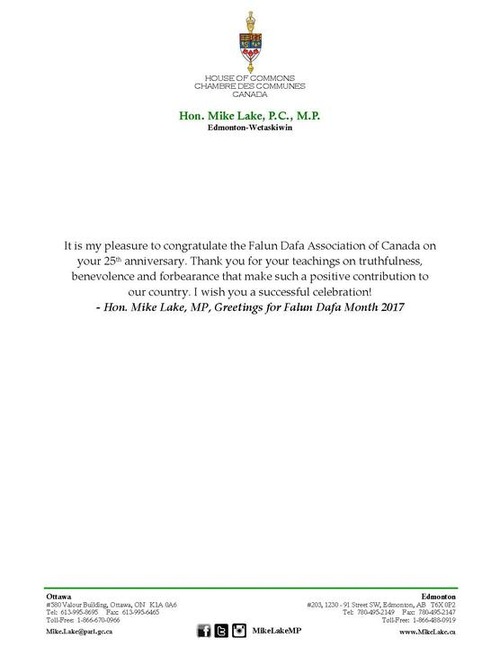 Letter of Greetings from MP Mike Lake of Edmonton-Wetaskiwin
In his letter, MP Mike Lake wrote: "It is my pleasure to congratulate the Falun Dafa Association of Canada on your 25th anniversary. Thank you for your teachings on truthfulness, benevolence and forbearance that make such a positive contribution to our country. I wish you a successful celebration!"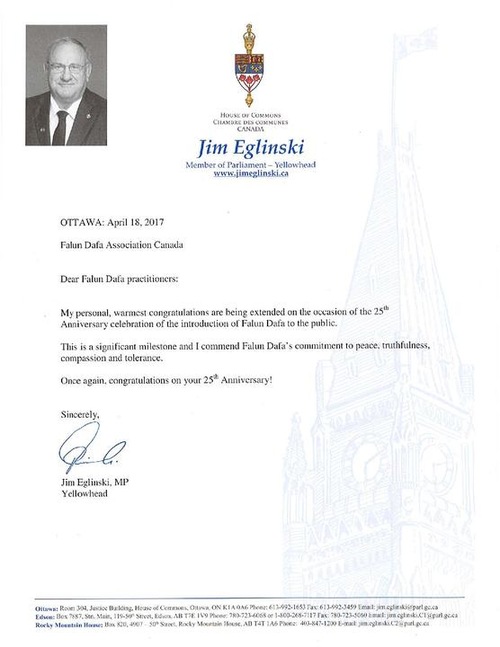 Letter from MP Jim Eglinski of Yellowhead
MP Jim Eglinski called the anniversary celebration "a significant milestone." He wrote: "This is a significant milestone and I commend Falun Dafa's commitment to peace, truthfulness, compassion and tolerance."MP for the Calgary Confederation Len Webber also sent a letter of greeting in recognition of the 25th anniversary of Falun Dafa's public introduction.