Organ Transplants in China: Survivors Call on the Trudeau Government in Canada
(Minghui.org) "Organ Transplants in China: Survivors Call on the Trudeau Government" by reporter Catherine Lévesque appeared in the Québec edition of Huffington Post on April 7, 2017.
Two survivors of forced labor camps in China expressed their hope that the Canadian government will act to end this scourge that will result in the deaths of tens of thousands of Chinese in complete secrecy each year.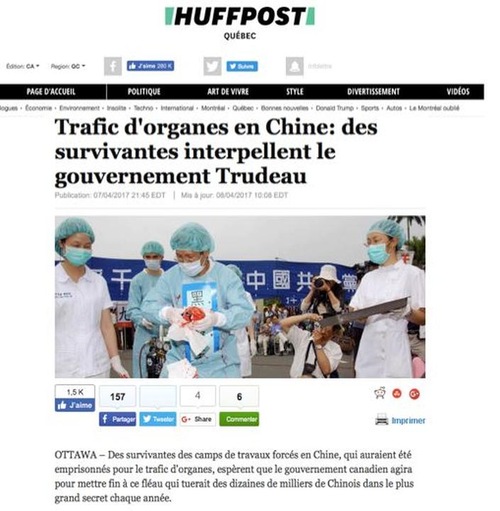 Huffington Post article "Organ Transplants in China: Survivors Call on the Trudeau Government" (Screen shot)
The reporter interviewed two Falun Gong practitioners who had been incarcerated in China, Cindy Song and Jing Tian. Cindy Song was 26 years old in 2001 when she was arrested and sent to a forced labor camp as a prisoner of conscience for three years in the eastern city of Zibo. Her crime? She followed the teachings of Falun Gong.
The report noted that the Chinese Communist Party (CCP) has been persecuting Falun Gong practitioners, many of whom disappeared mysteriously after their arrest, for nearly 18 years.
Ms. Song's days in the camp began at 6 a.m. and ended at about 11 p.m., sometimes midnight. Her meal times were limited to five minutes and she had to ask permission to go to the bathroom. The prisoners were never allowed to speak among themselves.
"But the time [spent working] was considered rather peaceful," she said, which was in sharp contrast to the torture she was subjected to.
When she was not working 18 or 19 hours a day, Ms. Song was beaten, placed in solitary confinement, subjected to brainwashing sessions, or deprived of sleep for days at a time. Once, she was forced to stand on her feet for nine days and nights.
Prisoners like her were also forced to submit to medical tests. Before she ever got to the labor camp, a doctor forced Ms. Song to provide blood and urine samples and get an X-ray.
In the labor camp, she had to fingerprint a form to consent to donate her organs. From time to time, her guards said that they had "quotas" to fill, and threatened to send her to a "special prison" from which she would not return.
Atrocity Revealed in 2006
One of the first to admit that political prisoners were being killed for their organs was the ex-wife of a surgeon who operated in a concentration camp in Sujiatun in northeast China. She disclosed this atrocity in March 2006 on condition of anonymity.
Her husband had told her that he was removing the corneas from prisoners who practiced Falun Gong, some of whom were still alive. The hospital where he worked also removed livers, kidneys, and skin before throwing the bodies into an incinerator to destroy any evidence of wrongdoing.
Jing Tian, who was detained and sent to forced labor camps several times between 1999 and 2003, said that it was at that point that she understood why she had been examined so often during her time in detention. "I was shocked. I could not believe it," she said through an interpreter.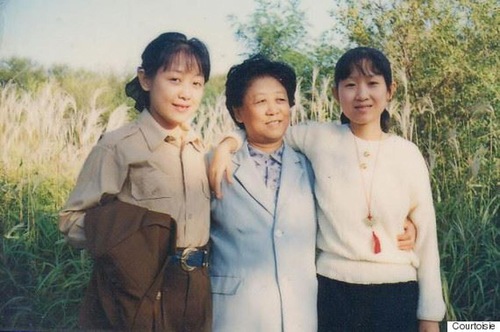 Jing Tian (left), her mother (middle) and her sister Jing Cai (right).
She, too, suffered terribly. During her time in custody, she was tied to a tree, barely dressed, in the middle of winter or tied over a brick kiln. She saw some prisoners being beaten to death.
Mrs. Jing remembers that doctors took eight test tubes of blood from her and that she had to answer questions about her family members and former colleagues.
"Because I lived in a big city, because I had many acquaintances, and because I was close to my family, they would not do anything [to me]. However, they continued to conduct tests on a regular basis."
Other prisoners were not so fortunate. Some of them arrived in the middle of the night and were gone before dawn, she said.
A Bill in Ottawa
The issue of organ trafficking is back on the agenda, as Conservative MP Garnett Genuis will try to revive former Liberal cabinet minister Irwin Cotler's Bill C-561, which only went to a first reading in the House of Commons in 2013.
C-561 would impose criminal penalties on persons involved in organ trafficking, whether in Canada or abroad, which refers to the transplanting of organs acquired as a result of a financial transaction or without the consent of the donor.
"Here in Canada, we have a legal void that needs to be addressed," Genuis said in a speech this week. "There is no law that prevents a Canadian from going abroad to receive an organ issued through exploitation.
"Supporting organ trafficking is a crime against humanity under international law, so it should be a crime here in Canada as well."
Former MP David Kilgour and human rights lawyer David Matas co-authored a report published in 2006 that shed light on the extent of organ trafficking of political prisoners in China. Their report was considered "extremist" and was banned in China and Russia.
The two men and journalist Ethan Guttmann repeated the exercise ten years later in 2016, producing a voluminous report of 798 pages in which they estimate that the Chinese communist regime orchestrated up to 1.5 million organ transplants from 2000 to 2015.
China, on the other hand estimates that about 10,000 transplants were conducted each year and that prisoners' organs were taken with their prior consent.
Canada Must Keep Its Eyes "wide open"
Because the Trudeau government wants to strengthen ties with China, Kilgour believes that Canada must keep its eyes wide open towards the issue of human rights and stand up for "Canadian values."
"People are afraid that this bill [C-561] will not go through, because it would offend China. But how could it offend them if they say they do not do that kind of thing?" he said, emphasizing the irony of China's stance.
Cindy Song's torture sessions came to an end a few months before she was released in the fall of 2004. Her father pressured the authorities every day until she was released from the labor camp.
In hindsight, Ms. Song believes that the mobilization surrounding her imprisonment saved her life. "I believe that, without the help of my parents, I would have 'disappeared,'" explained the 42-year-old woman.
Ms. Jing Tian went on many hunger strikes to protest the conditions of her detention. She was released for good after not eating for 50 days, since she was on the brink of death.
The 47-year-old woman believes that the authorities sent her home because they wanted to avoid any bad publicity surrounding her death. In any case, they could not have taken her organs because they were in such bad shape after her hunger strike, she said.
A New Life in Canada
Both women have since moved to Canada and live relatively peaceful lives. Ms. Song studied law and aspires to become a lawyer. Ms. Jing enjoys gardening and visits Vancouver's tourist sites to denounce the actions of the Chinese regime.
"It is important to inform people about what is happening in China. In Canada, it's hard to imagine things like this happening around the world. But they are really going on," says Ms. Song.
She hopes that the Trudeau government will keep this in mind when negotiating a free trade treaty with China. "When you do business, you should know a lot about the other party," she says. "If he commits mass murder, will you still do business with him?
"It's a genocide of modern times. It's happening right now. The way we react appeals to our humanity and our moral sense."