Practitioners Gather for Experience-Sharing Conference in Vancouver, Canada
April 28, 2017 | By Minghui correspondent Zhang Ran
(Minghui.org) Practitioners in British Columbia, Canada, attended the 2017 Vancouver Experience-Sharing Conference on April 23. More than 20 speakers talked about the challenges they faced in the process of cultivating their hearts and minds.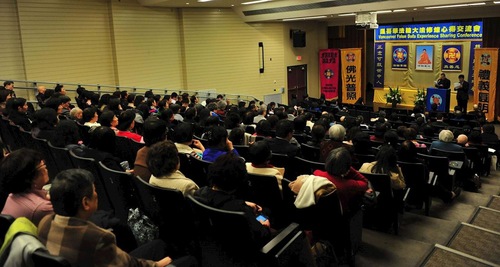 More than 20 practitioners spoke at the 2017 Vancouver Experience Sharing Conference on April 23, 2017
Chinese Tourists
Because of the ongoing suppression of Falun Dafa in China, many Chinese people have been influenced by hate propaganda put out by the Chinese Communist Party. That is why Ms. Lü has been going to Gastown, a national historic site, for the past five years to talk to people about Falun Dafa and the persecution in China.
"It was challenging. Some of them laughed at me and some of them swore at me," she recalled. Considering herself a Falun Dafa practitioner, Ms. Lü was able to talk to them with patience and kindness. "I am a volunteer, and I am not doing this for fame or money. I just want to tell you something important that you did not know," she often told tourists.
In time, many Chinese people became aware of the facts about Falun Dafa and would accept materials. Hearing how the communist party had been mistreating Chinese, a large number of them agreed to renounce their memberships in the communist organizations.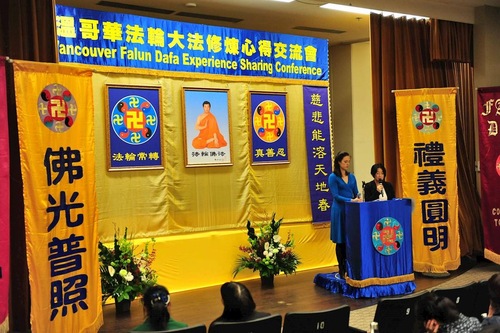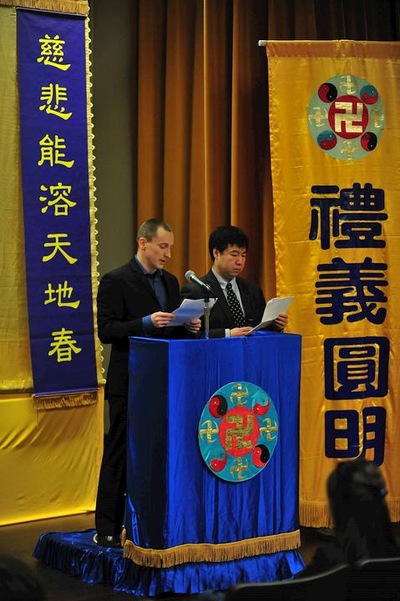 The conference was held in both English and Chinese.
Improving Mind Nature
With experience as a graphic editor, Ms. Yu used to review work others had done and provide comments. After joining the Epoch Times newspaper, she found herself on the other side of the table and was often criticized. In the beginning, she felt uncomfortable with the change. Then she realized that this was part of her cultivation and that it was an opportunity for her to improve her xinxing.
Later, the newspaper expanded and she was assigned to work on special editions. Not long after she got familiar with what was involved, her responsibilities were redirected to other pages of the newspaper. Then she was moved back to the special editions that she had worked on earlier.
Knowing the discomfort she felt was related to human notions, she spent more time studying the Falun Dafa teachings. As her negative feelings vanished, she found that she was more productive and the quality of her work improved.
Having a Pure Heart
Ms. Wei often participated in activities to promote Shen Yun. For a while, she did not do well and was disappointed with her performance. Looking inward, she noticed she was attached to selling more tickets, which would make her look better in front of others. So she began to let go of these notions and the situation quickly improved.
Ms. Zhou had similar experiences. She was busy all day promoting Shen Yun and telling people about Falun Dafa at tourist sites. But deep in her mind, she found her cultivation state was not as good as before. So, starting from last year, she began to put greater emphasis on studying the Fa teachings, doing the exercises, and sending forth righteous thoughts.
Gradually, she was able to get rid of the human notions that interfered with her. As she began to hand copy the Falun Dafa books instead of just read them, she found she was able to understand them better.
"It is as if I have just started to practice," she said. "Having a pure heart is critical to cultivating well and it makes a big difference."