Daughter Overseas Calls for the Release of Mother and Sister Imprisoned in China
April 24, 2017 | By a family member
(Minghui.org) Several dozen Falun Gong practitioners in Xian City, Shaanxi Province were illegally arrested on March 22, 2017. Among them were my mother, Ms. Li Yuhua, and sister, Ms. Liu Chunxia. My sister is held at the Xinchengqu Detention Center. The whereabouts of my mother is unknown.
My Mother Imprisoned for Over Four Years
Officers from the Huian Police Station first arrested my mother in 1999 when she went to Beijing to appeal for the right to practice Falun Gong. Officer Fu Baosheng tortured my mother with an electric shock baton and restrained her on the Tiger Bench for three days. My mother was nearly 60 years old then. She was not allowed to eat and drink. Later, she was sent to the Lajiatan Detention Center in Hu County where she was detained for over a month.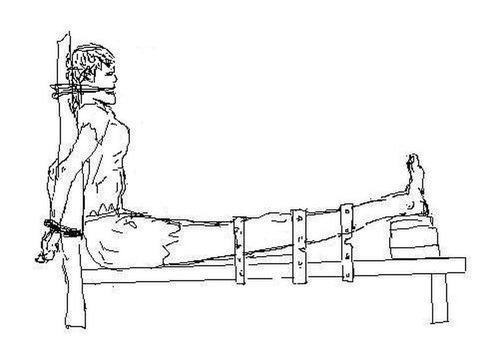 Torture illustration: Tiger Bench
In 2000, my mother was held at the Xian Women's Forced Labor Camp for one year. She was forced to work long hours each day. She was tortured, deprived of sleep, forced to stand still for extended periods, and forced to bend over to in a painful posture for long periods.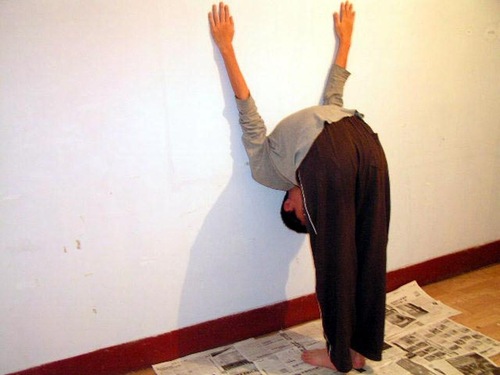 Torture re-enactment: "Riding an Airplane"
In 2001, my mother was again detained for three months by officers from the Hu County Police Department. She was held in the Hu County Detention Center and then in the Changan County Detention Center. The police also attempted to extort money from her.
In early August 2002, officers from the 610 Office of Shaanxi Province arrested my mother and interrogated her for extended rounds while subjecting her to sleep deprivation. She went on a hunger strike to protest the torture and ended up being sentenced to three years.
My Sister Was Jailed for Five Years
My sister, Ms. Liu Chunxia, was an engineer at a Huian company. She was laid off due to her belief and detained in a brainwashing center. She was forced to record her thoughts each week. The monitoring team from her company later went to her home to track her whereabouts each night.
In March 2001, she fled from the Huian Police Station and became a displaced person to avoid further arrest.
Seven months later, my sister was arrested by company security officers in Baoji City, Shaanxi Province. Police officer Cheng Kangmao beat my sister, deprived her of sleep and handcuffed her to a bench until the next morning. As a form of torture, she was forced to stretch out her arms for an extended period of time.
The Qishan County Court illegally sentenced my sister to five years of imprisonment. She was not allowed to defend herself in court and was among the first group of Falun Gong practitioners in Shaanxi Province to be imprisoned.
In the women's prison, my sister refused to wear the prison uniform, so the guards took her coat away and forced her outside during the winter.
Her husband was also illegally detained in Weinan Prison for eight years (from 2008 to 2016) for his belief in Falun Gong.
My father suffered extreme duress and insomnia as a result of the persecution. He would often have nightmares about the arrest of his family members. He became frightened by the sound of anyone knocking on his door and the telephone ringing. He passed away suddenly in February 2010.
Whole Family Benefited from Falun Gong
My mother, Ms. Li Yuhua, suffered from emphysema, hypertension, cervical spondylosis and fibroids since her youth. She had to go to the hospital often, and my father was left to tend to us three daughters. She had painful uterine fibroids in 1996. Before she went for surgery, her neighbor introduced Falun Gong to her. She began the practice, and several months later, all her ailments were healed without any medical treatments.
Mother was a storekeeper in Huian Company, Xian City. She, like many other employees, often stole items from the store. After she began practicing Falun Gong, Mom applied Falun Gong's principle of Truthfulness-Compassion-Forbearance to her life and returned all the items to the company that she previously took. She also donated money for the items returned which could not be resold.
As a result of my mother's physical and mental improvement, my two sisters and I also began to practice Falun Gong. We became good daughters after the practice. My father also let people know that Falun Gong was great!
Mother's Day is approaching. I hope that my mother and sister will return home soon. I also call on the authorities to release all of the detained Falun Gong practitioners as soon as possible.
Related articles:Xi'an, Shaanxi Province: Dozens of Falun Gong Practitioners Arrested