Macau: Event at St. Dominic's Church Commemorates 18th Anniversary of Falun Gong's April 25 Protest in Beijing
(Minghui.org) The plaza in front of St. Dominic's Church, a popular Macau tourist attraction dating back to 1587, was the setting this past weekend for an event to raise awareness about Falun Gong.
The event was held to commemorate the 18th anniversary of a history-changing protest in Beijing.
On April 25, 1999, approximately 10,000 Falun Gong practitioners gathered peacefully on the streets of Beijing after the unexplained arrest of some 50 fellow practitioners in the nearby city of Tianjin. The location was adjacent to the Central Appeals Office, where they hoped their case would be heard. Police on hand directed them to line up on several streets in the area, also home to Zhongnanhai, the Party's central government compound.
The 10,000 left quietly later that day after meeting with Premier Zhu Rongji and securing the release of those wrongly arrested in Tianjin.
But Party leader Jiang Zemin had his propaganda ministry publicize the gathering not as the peaceful protest that it was, but instead as a "siege of Zhongnanhai", the central government compound. This propaganda stunt was used to turn public opinion against Falun Gong, and as an excuse for launching the brutal crackdown that began just a few months later. Nearly 18 years of persecution have continued ever since.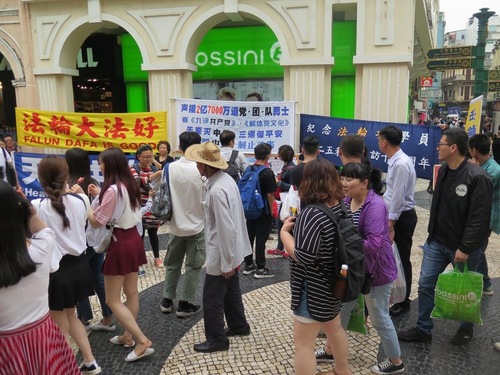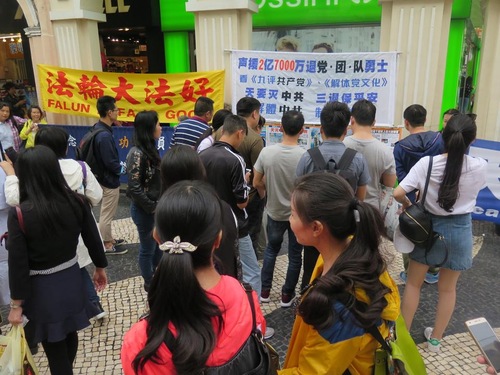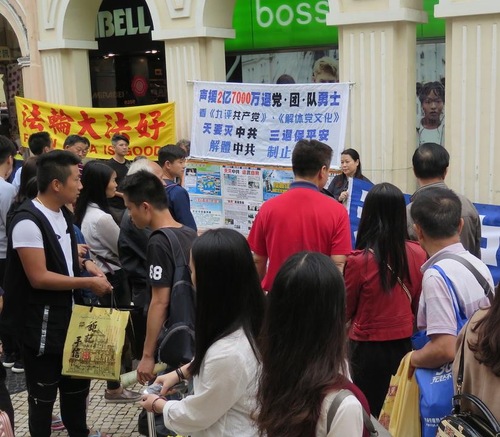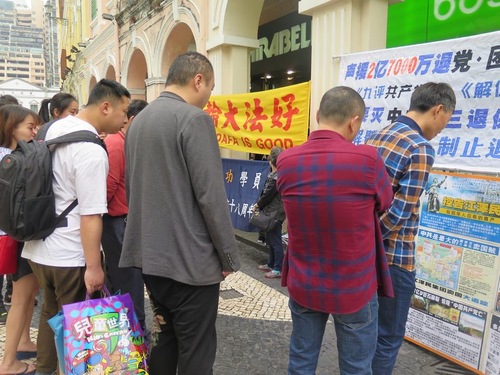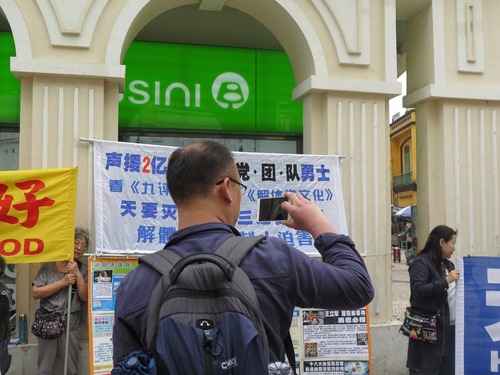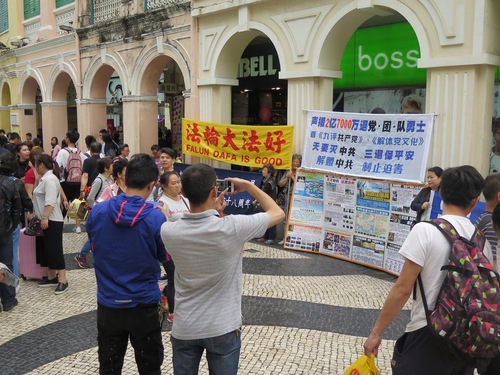 Waves of tourists read practitioners' materials.
Display boards and banners were set up in the pedestrian area in front of St. Dominics.
The displays showed the brutality of the persecution of Falun Gong in China, talked about the more than 200,000 criminal complaints that have been filed against Jiang Zemin for his role in the persecution, and offered people a chance to learn about the true nature of China's communist party.
Crowds of tourists stopped by, reading the materials, taking pictures and videos, and talking to practitioners. Many Chinese people took the opportunity to renounce Party membership with help from the practitioners.
One Chinese government official said, "What I can do to help you in China is really limited. But had I lived overseas, I would pass out flyers with you guys on street. The communist party is really evil. It has been many years since I last paid Party membership dues. The persecution of Falun Gong is wrong."
He and three of his friends all quit the Party on the spot.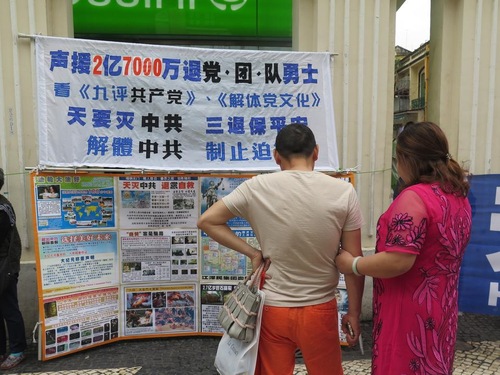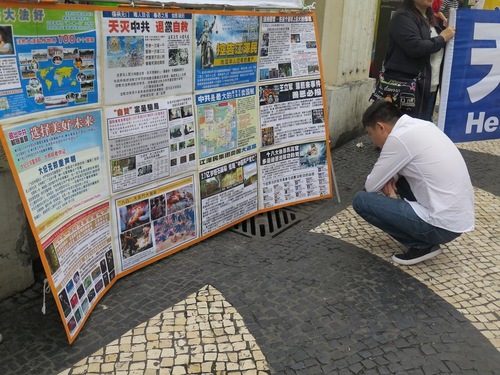 People read Falun Gong materials.
On April 23-24, 1999, police officials in Tianjin, a city near Beijing, assaulted and arrested dozens of Falun Gong practitioners who had gathered outside a magazine office to discuss errors in a recently-published article attacking Falun Gong. As word spread of the arrests and more Falun Gong practitioners inquired with officials, they were told they had to take their appeals to Beijing. The following day, April 25, some 10,000 Falun Gong practitioners spontaneously gathered at the central appeals office in Beijing, as they had been instructed by Tianjin officials. The gathering was peaceful and orderly. Several Falun Gong representatives were called in to meet with Chinese Premier, Zhu Rongji, and members of his staff. That evening, the concerns of Falun Gong practitioners were addressed, the arrested practitioners in Tianjin were released, and everyone went home.