Gathering for Falun Gong Exercises on University Campuses in Metro Detroit
April 15, 2017 | By a Falun Gong practitioner in Michigan
(Minghui.org) This April, Falun Gong (also called Falun Dafa) practitioners in the Metro Detroit area came together to do the exercises on university campuses
University of Michigan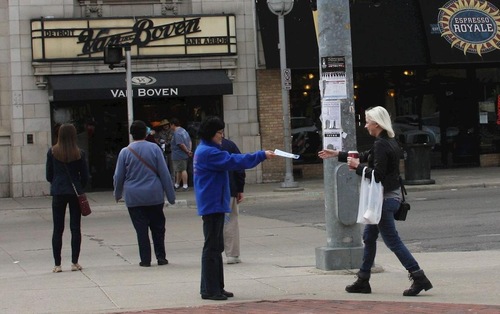 A Falun Gong practitioner hands out introductory flyers at the University of Michigan (UM) Ann Arbor.
On a cool spring day in Ann Arbor on Sunday, April 2, Falun Gong practitioners quietly did the exercises on the University of Michigan campus. Many people stopped to watch, and were given a flyer about the practice.
One man stopped and carefully watched practitioners doing the exercises. He read the flyer and talked to a practitioner. He and his wife had brought their son for a campus tour that day.
The man said, "I meditate for ten minutes each day, but I can only concentrate for one or two minutes. I've been watching the lady in the yellow T-shirt for ten minutes now. She has been tranquil the entire time. I'm very impressed." He learned a lot about Falun Dafa and the persecution from talking with the practitioner, and said he would learn more online.
Wayne State University
It was a warm day on April 9. Practitioners from Windsor, Canada joined Michigan practitioners to do the exercises at Wayne State University in Detroit. Practitioners also distributed flyers calling for an end to the Chinese Communist Party's (CCP) forced organ harvesting from living Falun Gong practitioners.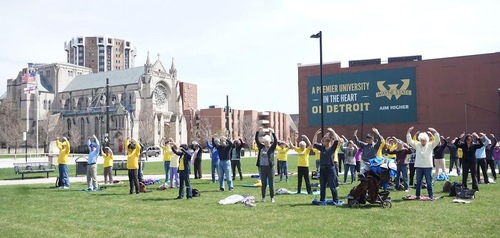 Practitioners do the exercises at Wayne State University.
Two Chinese couples took flyers and expressed their sympathy for the persecuted victims.
A military veteran stopped to watch and said he would like to help spread the word. He planned to tell the association he belongs to about the persecution of Falun Gong in China.
Another man told a practitioner that he was waiting for an organ transplant surgery. Some people told him to go to China because organs were readily available. He decided not to, because he thought it sounded suspicious to be able to get an organ so quickly. When he heard about the CCP's organ harvesting, he was shocked but said he believed it.
Falun Gong practitioners in Metro Detroit plan to continue their activities to introduce Falun Gong and expose the persecution.