Austria: Vienna City Council Passes Resolution Condemning Illegal Organ Trade in China
April 13, 2017 | By Zheng Qing, a Minghui correspondent in Vienna, Austria
(Minghui.org) The Vienna City Council unanimously passed a resolution on April 7, 2017, condemning the state-sanctioned illegal organ trade in China. The resolution was put forth by Councilors Gudrun Kugler, Peter Florianschütz, and El-Nagashi Faika.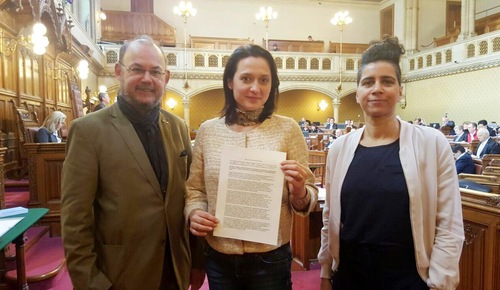 Councilor Gudrun Kugler (middle) is one of the sponsors of the resolution.
The Vienna City Council resolution condemns the state-sanctioned organ harvesting system in China, especially the large-scale organ harvesting from practitioners of Falun Gong.
The Council calls on the Austrian government to intervene and take action to ensure that the illegal organ transplants in China be openly discussed and penalized.
It suggests creating an international committee to investigate the organ transplant situation in China and to prevent illegal organ harvesting. It also calls on the international community to urge China to release all non-violent prisoners of conscience.
The resolution notes that illegal organ harvesting is a crime and a violation of basic human rights; that China ranks second in the world in the number of transplants, second only to the United States; and that, although the Chinese government claims that the organs come from willing donors, there is convincing evidence that a large number of people are killed for their organs.
According to China's official documents, approximately 10,000 organ transplants are performed each year. Compared to other countries, however, the waiting time for an organ is extremely short, and the sources of tens of thousands of transplanted organs are unaccounted for.
A 2016 European Parliament hearing report found systemic, reliable evidence indicating that over the past 15 years, hundreds of thousands of people have been killed as a result of forced organ harvesting.
According to the resolution, the involuntary donors are people who have been tortured in forced labor camps and death-row prisoners. They include Falun Gong practitioners, religious followers, and minorities including Tibetans and Uyghurs.
The Chinese government allows forced organ harvesting and keeps it an absolute secret. Though the Chinese government announced in 2015 that it had banned harvesting organs from death row prisoners, it is still ongoing.