Japan's Tian Guo Marching Band Holds Experience Sharing Conference on Tenth Anniversary of Band's Founding
March 29, 2017 | By a Falun Gong practitioner in Japan
(Minghui.org) The Japan Tian Guo Marching Band held a Falun Dafa cultivation experience sharing conference to celebrate its tenth anniversary on March 20, 2017. Around 150 people participated in the conference and 17 members of the band shared their experiences.
The Japan Tian Guo Marching Band, composed entirely of Falun Gong practitioners, was founded in May 2007 and gave its first public performance on April 23, 2008. There are now 170 members in the band.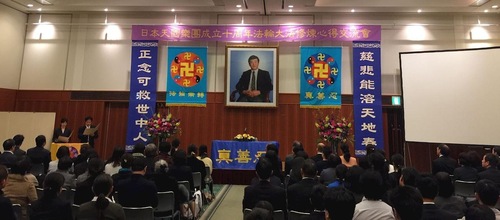 Experience sharing conference on the occasion of the tenth anniversary of the Japan Tian Guo Marching Band.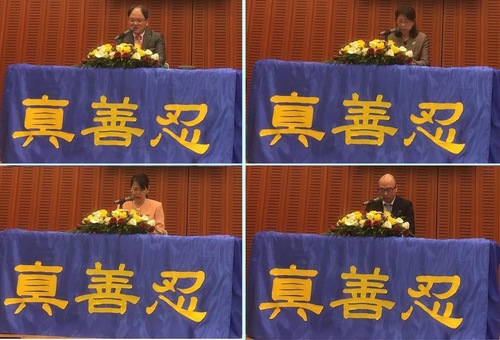 Practitioners share their stories onstage.
Performing Throughout the Asia-Pacific Region
The band has participated in 230 public performances since its establishment, performing throughout Japan from north to south. Some members have participated in events with the Asian-Pacific branch of the band and have visited Hong Kong, India, Saipan, and Guam.
The band always leads the Falun Gong marches. A practitioner said that pedestrians were more eager to accept Falun Gong flyers when the band is part of the marches.
Marches in Hong Kong, to raise awareness about Falun Gong and the persecution in China, generally last over three and a half hours. The grand march on July 1, 2014 lasted over nine hours. The band members encouraged each other every step of the way and every member made it the entire length of the march.
Many of the spectators in Hong Kong were tourists from China. They stood along the march route and took photos or video footage with their smart phones or tablets. Many applauded and gave the thumbs up.
The band once participated in a large celebration of Buddhism in India, with 1.5 million people in attendance. They performed on stage while several practitioners demonstrated the Falun Gong exercises, and received good coverage from the mainstream media.
Practicing Diligently and Witnessing Marvelous Improvement
Most of the band members have no musical background and most had not even touched a musical instrument when the band was first established.
Ms. Shimizu shared in her speech that she did not have a sense of music and rhythm initially, and she felt that she was not suited to be a musician. But she persevered, as she enlightened that playing in the band was her cultivation path that had been arranged for her.
From studying the Fa, Ms. Shimizu understood that she would be able to play the instrument as long as she learned it with her whole heart. She then kept practicing for three or four hours daily. One day she suddenly received inspiration and wisdom. She was able to hear the melody and play the right notes, and she learned to play her instrument well.
Many members also work and participate in other Falun Dafa projects. One member shared that he would start practicing after 10:00 p.m. for one to two hours daily after working, using a silencer to avoid disturbing the neighbors.
Improving Heart Nature in the Band
Ms. Tang shared that she initially became complacent, as she already had a good sense of the music. Then she recalled Master's teaching.
Master said, "So Dafa disciples, you must not get bigheaded if you've acquired some little human skills. They're nothing to get bigheaded about. The fact is, you've learned what you've learned because you had that wish and accordingly arrangements were made for you back in the past since it would be needed in validating the Fa, that's all." (from "Teaching the Fa at the 2004 Western U.S. Fa Conference" in Teaching the Fa at the Conference V)
She enlightened that her participation in the band was her mission and that it was simply what a Dafa practitioner should do. Participating in the band is for validating Dafa and awakening sentient beings; there should be no human notions or human mentality involved. She realized that any complacency developed upon hearing praise or developing the mentality of showing off must be discarded.
Some band members shared that playing in the band is a process of getting rid of self. While playing together, one should listen to the others and blend one's own music to make the band more harmonious. At that moment, a musician just feels the vibration of his own instrument but not the individual sound.
Audience Moved
Ms. Zhang, also a member of the band, said she had tears in her eyes while listening to the sharing of other practitioners. The presenters' looking inward, their righteous thoughts and actions, and Master's grand compassion touched her. She said she'd previously thought that she was the only one without a musical background, but she found out that many did not know much about music either when they joined the band. She now understands music and is even more inspired to practice diligently.