"We Will Do What We Can to Stop the Brutality"
March 28, 2017 | By a Falun Dafa practitioner in Sweden
(Minghui.org) Since the beginning of March 2017, Falun Dafa practitioners have been coming to Stureplan in Stockholm on Mondays and Fridays, to introduce Dafa to the public and to raise awareness of the ongoing suppression in China. The people of Stockholm have shown a great deal of support for Dafa and for ending the persecution.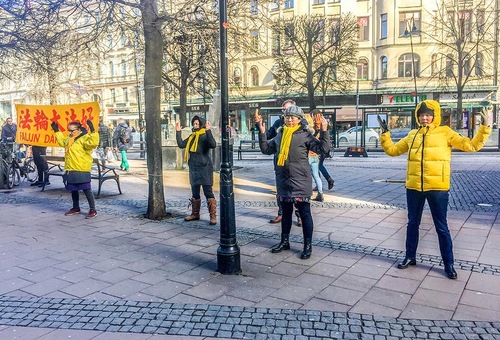 Falun Gong practitioners have been coming to Stureplan, a prominent center of commerce and recreation, every Monday and Friday in March for group exercises.
Home to banks and other financial institutions, Stureplan is also well known throughout Sweden as a high-end shopping and dining center. Many passersby on the square stopped by the practitioners' table on Friday March 17. Impressed by the gentle exercises and serene music, they wanted to know more about it.
"This is beautiful!" said one woman who stopped by with her friend. She said that she'd learned the Falun Dafa exercises previously, but eventually stopped because of her busy work schedule. "Seeing you practitioners doing the exercises here, I remember how good it is. I think I will pick it up again," she said.
When a practitioner talked about how people in China were persecuted for the practice, the woman said that was terrible. "The Communist Party does not like these three words," she affirmed, pointing to a banner with the words "Truthfulness, Compassion, Tolerance." "This is because the regime is vicious. That is for sure." She and her friend signed a petition calling for an end to the persecution in China.
Four students from a nearby high school told the practitioners that they were working on a social studies project on human rights. They talked with a practitioner about the situation in China and were surprised to hear how severe the suppression has been over the past 18 years. As the practitioner explained to them that practitioners in China are killed for their organs, the young people became very serious and took notes of the information.
"Although we're young, we will do what we can to stop the brutality," said one of the youths. He and the other three students signed the petition, which will be submitted to government agencies and human rights organizations. They said that they would also share the information on blogs and other social media platforms.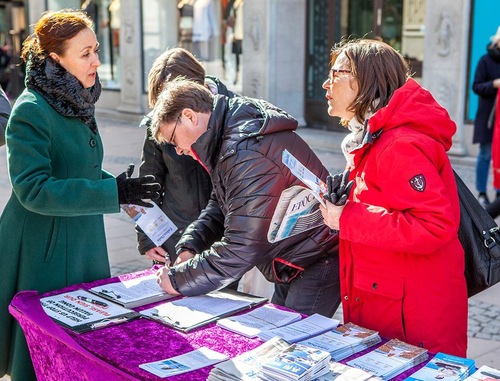 Talking with passersby about the ongoing suppression in China.
"Please Tell Me More"
On March 24, local resident Maria was drawn by the practitioners' group exercises. "The music and meditation look so nice that I don't want to leave," she said to a practitioner. Upon hearing that Falun Dafa is severely persecuted in China, she was shocked, "Please tell me more—what has happened?"
Over the course of their conversation, Maria said that she felt sorry for practitioners who suffered for their belief. She signed a petition against the persecution and made plans to learn the exercises at a local practice site. "Falun Dafa looks good to me and I will give it a try," she said.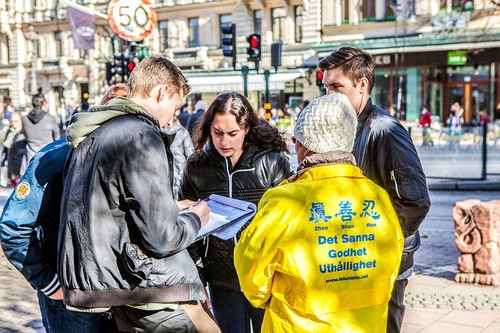 Passersby on Stureplan sign a petition calling for an end to the atrocities taking place in China.
Tim, a Swede of Chinese descent, works in senior management for a financial firm in Stockholm. He had talked with practitioners previously and knew about Falun Dafa, and was glad to see them again.
"Please keep up what you're doing," he encouraged the practitioners. "Some people may just take [informational] materials and leave, but they will think about it and talk about it later on. They will definitely pay attention to this [the suppression in China]."