Tianjin Man Finally Gets to Appeal His Case, Five Years into a 7-Year Term
March 28, 2017 | By a Minghui correspondent in Jiangxi Province, China
(Minghui.org) Mr. Huang Liqiao, an engineer in Tianjin, was arrested on April 7, 2012 and sentenced to 7 years in prison months later for refusing to renounce Falun Gong, a spiritual discipline being persecuted by the Chinese communist regime.
Mr. Huang immediately filed an appeal, but Binhai Prison withheld the paperwork. He tried a few more times over the years, only to find out that none of his appeal letters were sent out.
His wife, Ms. Ge Xiulan, has been working to seek his release since day one. She was detained for 25 days at one point and had been denied visits with her husband since his arrest.
Upon her release, she filed a complaint against the prison, which eventually relented and granted a meeting with her husband.
Ms. Ge brought a lawyer with her to see her husband on March 21, 2017. The guards prohibited the lawyer from taking notes or asking Mr. Huang about his imprisonment.
Ms. Ge and the lawyer visited Tianjin First Intermediate Court the next day to submit Mr. Huang's appeal to contest the unjust prison sentence.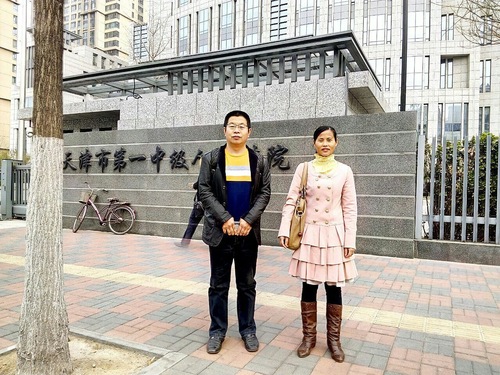 Ms. Ge and the lawyer in front of the higher court
Related Report:Wife Arrested After Three Years of Appealing Husband's Seven-Year Sentence