(Minghui.org) According to information compiled by Minghui.org, the month of February 2017 recorded 339 cases of Falun Gong practitioners arrested and harassed by police under the Chinese Communist Party (CCP). Among them, 255 practitioners were arrested, and 84 were harassed. Ten of the practitioners had a total of 65,000 yuan confiscated by police.
Many of the arrested practitioners kept reminding the police that no law in China criminalizes Falun Gong and that they should never have been targeted for exercising their constitutional right to freedom of belief. As a result, forty-two practitioners were released on the same day of their arrests, while 30 others returned home days or weeks later.
Ms. Deng Yulan, 77, is a resident of Suining City, Sichuan Province. She was seized on February 19 while talking to people about Falun Gong. Her family was asked to pick her up an hour later.
Ms. Han Xuejiao, a young professional working in Shanghai, was arrested on February 17 for her faith in Falun Gong. Her great aunt, who lives in Dallas, Texas, kept calling for her release. In the meantime, her family in Shanghai went to relevant departments numerous times to seek her freedom. She was released on March 17.
In addition to arresting practitioners, the police have also harassed a total of 84 practitioners, the oldest of whom was 84 years old. As practitioners protested against the harassment, some officers resorted to despicable means. One practitioner surnamed Liang in Zhucheng City, Shandong province refused to report to the police station on February 23, 2017, only to have his home ransacked by police the next day. Mr. Liang's home was searched again on February 27, when the police installed a tapping device on his phone. His parents haven't dared to talk to him on the phone since then.
The arrests and harassment took place in 25 provinces and centrally controlled municipalities. Shandong Province and Hebei Province led with the highest number of arrests (35 each) and the most incidents of harassment (23 and 10, respectively).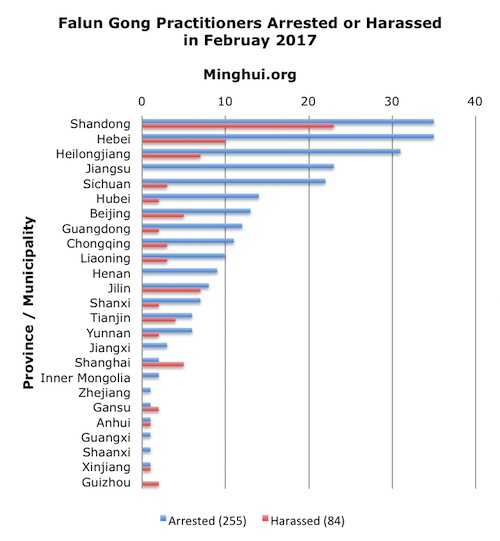 Earlier, Minghui.org reported 72 cases of Falun Gong practitioners sentenced for their faith in February 2017. Due to the CCP's information control, the number of Falun Gong practitioners who were sentenced cannot always be reported in a timely manner, nor is all the information readily available.
Arrested for Requesting Public Information
A man in Shanxi Province was arrested after he submitted a request to the China Central Television (CCTV) for information disclosure on a report about Falun Gong. Mr. Zhang Shuyong watched the CCTV news on January 14, 2017, which broadcast a speech by the president of the Supreme People's Court defaming Falun Gong. Many other local media cited the speech in later reports.
At the time of the report, Mr. Zhang is still detained.
Deceiving the Public
On February 25, 2017, police in Harbin City, Heilongjiang Province arrested 16 Falun Gong practitioners. The officers wore plainclothes and came in unmarked cars. They claimed that they were arresting corrupt officials, while a bit later one policeman told bystanders that they were responding to a domestic dispute.
On February 28, the police in Guangzhou City, Guangdong Province arrested practitioner Mr. Li Zhibo. They lied to the landlord that they were conducting household checks on the occupants and asked for the door to be opened. Later, they cut off the electricity and broke into the house.
Once they entered the house, Mr. Li was arrested and the house was ransacked. Many personal items were confiscated. The police told his family that a video recording shows Mr. Li distributing Falun Gong informational materials and assured his family that he will return home very soon.
Repeated Arrests
Mr. Tian Kaishan of Baoding City, Hebei Province went to his bank on February 10, 2017 and was reported to police, who rushed there to find that he had left. To make Mr. Tian return, the police and the bank staged a phone call, informing him that there was still unfinished paperwork. He was arrested when he returned.
Mr. Tian was previously arrested and detained on November 5, 2016. To resist the persecution, he went on a hunger strike and was released on November 14 after the detention center staff saw that he was very weak. The police later went to his home and could not find him. Mr. Tian is now wanted by the police.
Brainwashing Practitioners
Ms. Yao Xiuxin from Shengli oilfield, Dongying City, Shandong Province was arrested on February 17 for distributing Falun Gong informational materials. She was sent to the brainwashing center.
On that day, her house was ransacked and many Falun Gong materials were confiscated. Since February 22, the police have forced her children's employers to stop their work so that they can accompany Ms. Yao at the brainwashing center.
Involuntary Commitment to Mental Hospital
Ms. Li Yanfang of Zaozhuang city in Shandong province was arrested on February 27 when she was distributing Falun Gong informational materials. The police then sent the 48-year-old woman to the local mental hospital, even though she was perfectly healthy.