"I Finally Found Them!" – A Retired Doctor's Predestined Relationship with Falun Dafa
(Minghui.org) "I have been waiting to meet somebody very, very close to my soul. My spirit led me here and I finally found them! They are so kind, so generous, so open," said Jane, a retired family doctor from Toronto, after she attended a meditation session at the Stan Wadlow Clubhouse. The free class was offered by local Falun Dafa practitioners every Saturday between January 7 and early March.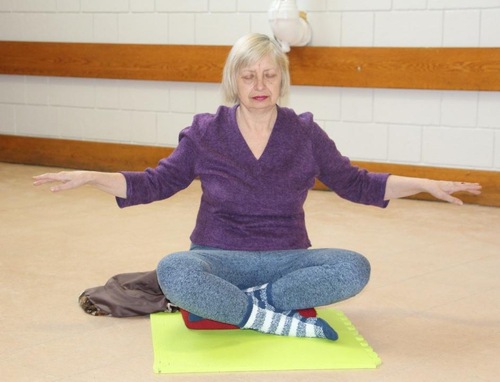 Jane, a retired family doctor, does the sitting meditation.
A Chance Missed
Seven years ago when Jane was shopping downtown she came across Falun Dafa practitioners raising awareness about the ongoing persecution of Dafa in China. She took flyers and signed a petition against the persecution.
Jane was interested in learning the Falun Dafa exercises. She called the contact number on the flyer and was told that practitioners met to do the exercises every Sunday at 10 a.m. at Queens Park.
However, on the day that she looked for the practitioners, no one happened to be at the park. Jane thought, "Maybe it's not my time."
Wish Fulfilled
It was seven years before she found Falun Dafa again. She said that during those years, "Falun Dafa always followed me, I don't know why." In December last year, she found a newspaper [The Epoch Times] in front her. She opened it and saw an advertisement about Falun Dafa meditation classes.
She was amazed, and said, "It's exactly the time!" She went to the class and met the practitioners that she'd wanted to join seven years ago.
The Calmness that Falun Dafa Brings
Several months ago, Jane bought books written by Master Li Hongzhi (the founder of Falun Dafa). Although she has read countless books – on psychology, religion, etc. – Dafa's principal book, Zhuan Falun, is very different. She has found that through reading this book, her body relaxes and her mind has broadened.
One day not long after she began to read Zhuan Falun she had a major conflict with a family member. Trying to take her mind off of what happened, she began watching TV, but it did not help. In frustration, she found herself repeatedly saying, "I'm a practitioner." However, she laughed as she said it and said, "I'm not [a practitioner], I just began to practice." As she related the story later, "One side of me was laughing, and the other side kept repeating 'I'm a practitioner.' I would laugh and then say that I'm a practitioner. I soon calmed down.
"It was an amazing experience. It was the first time I was able to set a situation aside and not be truly angry," Jane said. She said that usually nothing could calm her, but she became calm after she repeated, "I'm a practitioner," a few times.
Heaviness Gone after Meditating for a Month
During the four years before Jane began practicing Dafa she felt increasingly heavy, and finally could hardly move. She said, "It was so hard for me to even go shopping. When I tried to carry something, I felt sick. After doing the exercises for a month I felt light when I walked. The heavy feeling was gone." She is grateful for the gifts that Master Li has given her.