London: Introducing Falun Dafa at Campus Interfaith Activity
March 26, 2017 | By Minghui correspondent Tang Xiuming
(Minghui.org) King's College London (KCL) hosted a "Faith Fusion" event on March 23, 2017, as part of the university's Interfaith Week to celebrate diversity and spirituality on campus. The event, billed as "a night where performing arts is blended with religion and culture," brought together various student organizations to showcase diverse cultures and beliefs through dance, music and poetry.
The on-campus chapter of the Falun Dafa Society participated in the festivities, introducing the peaceful spiritual practice (also known as Falun Gong) and raising awareness of the persecution it faces in China.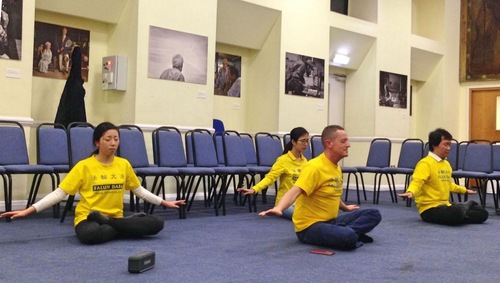 Demonstrating the Falun Dafa exercises at King's College London.
The Dafa practitioners demonstrated the exercises that are a major part of the practice, and shared their experiences in living according to Dafa's principles of Truthfulness-Compassion-Forbearance. One practitioner explained how his father in China was imprisoned for 15 years for refusing to give up his practice of Falun Dafa. Several of the attendees were visibly moved by his story.
Event Coordinator: "Falun Gong manifests immense energy"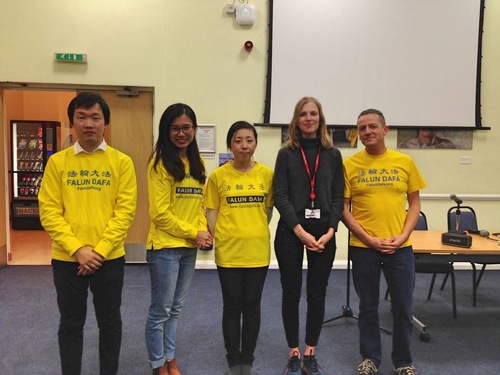 King's College student organization coordinator with members of the Falun Dafa Society.
Emma, a KCL student organization coordinator and organizer of Faith Fusion, learned about Falun Dafa for the first time at the event. She said she was pleased to see the exercise demonstration and experience the immense energy manifested.
Emma said, "Many people still do not know about Falun Dafa and what is happening to it in China. Events like this are good to help students become aware of other cultures and beliefs."
President of KCL Hindu Association: "It is great that there are nearly 100 million Falun Gong practitioners!"
Seven young women of Asian descent who belong to the KCL Hindu Association performed classical Indian dance at the Faith Fusion event. They are from different colleges and departments and all grew up in Europe.
They learned about Falun Gong for the first time that evening. One said, "You practitioners look very serene. You appeared to be in tranquility when you were sitting in meditation on the stage."
Akshaya, President of the Hindu Association and the choreographer of the Indian dance, was moved by the uncompromising courage of Falun Gong practitioners in China. She said, "This is our first time to learn about Falun Gong. We are all interested in it. The peace and tranquility are awesome!"
She continued, "The story of the persecution that the practitioner shared is moving. What I am impressed about most is that nearly 100 million people practice Falun Gong though it is persecuted in China. That's great!"
Chair of KCL Christian Association: "People cannot live without faith"
The Chair of the KCL Christian Association had heard of the persecution of Falun Gong previously, but learned at Faith Fusion what Falun Dafa truly is, and came to better understand the worldwide efforts to end the persecution.
He said, "I know that Christians are also persecuted in China. People cannot live without faith. The story of Falun Gong suggests this too."
He indicated that his faith in God gave him courage, hope and direction no matter what he faced in life. "From Falun Gong, I see the same hope," he said.