Ms. Jiang Yahui from Tianjin Detained for Two Years
March 25, 2017 | By a Minghui correspondent in Tianjin, China
(Minghui.org) Falun Gong practitioner Ms. Jiang Yahui, 43, and her husband have been detained for two years. The couple was arrested at home on March 2, 2015. They were tried by the Nankai District Court in Tianjin on January 8, 2016.
Ms. Jiang is being held in the Nankai District Detention Center.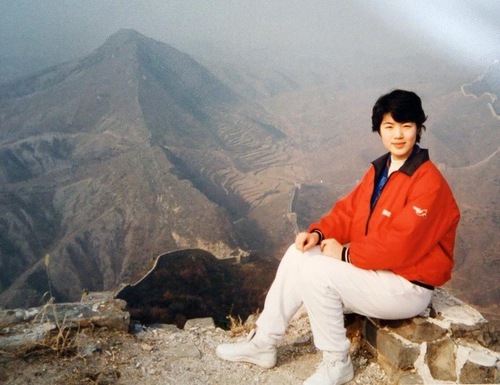 Ms. Jiang Yahui
Couple Arrested and Tried
The power went off in Ms. Jiang's home around 9 a.m. on March 2, 2015. When her husband, Mr. Yang Hong, went out to check the meter in the hallway, someone rushed towards him and pushed him back into his home. While the door was open another man ran in. Within two minutes, more than 20 people had barged in and ransacked the place.
From their conversation, the couple learned that the intruders were from the Tianjin City Police Department, Nankai Police Department, Huayuan Police Station, and the Domestic Security Division. They confiscated a notebook computer, a DVD duplicator tower, several printers, a card machine, and personal items worth tens of thousands of yuan.
The search went on for over an hour. The couple was then taken to the police station and later to the Nankai District Detention Center.
The couple was tried in the No. 3 Tribunal of Nankai District Court on January 8, 2016. They were brought into the courtroom in handcuffs.
Their lawyer pleaded not guilty on their behalf. The trial lasted over five hours.
Multiple Arrests and Abused in Labor Camp
Ms. Jiang graduated from Renmin University of China, where she majored in Economy and Trade. She started to practice Falun Dafa in 1996. She was arrested and detained many times after the Chinese Communist Party (CCP) launched the persecution of Falun Gong in July 1999.
Ms. Jiang and her mother Ms. Wang Kuizan were arrested by Enjizhuang Police Station officers in Beijing in July 1999. Both she and her mother were detained for 18 days.
Ms. Jiang was detained again for a month in September 1999.
Ms. Jiang and her mother were arrested at home on April 5, 2006. They were each given two years of forced labor and taken to the Xin'an Forced Labor Camp. During their incarceration, guard Su Xiangrong struck Ms. Jiang with extreme force. Su also instigated Wang Jing and Yang Fei, two drug addicts, to verbally abuse Ms. Jiang and deprive her of water, sleep, and use of the toilet. Ms. Jiang was forced to stand for long periods of time, and her legs swelled.
The guards forced her to use her own washbasin as a toilet. When it was mealtime the guards put her bowl of food on the "toilet basin."
In the heat of summer, the two drug addicts and Su dragged Ms. Jiang to the fields and ordered her to pull weeds. When Ms. Jiang refused to obey, they brutally beat her, dragged her to a bathroom, and doused her with more than 20 basins of cold water.
Sometimes Falun Gong practitioners were not given enough food. The guards would throw food away instead of giving it to them. Practitioners were often forced to stand in the corner, facing the wall. The guards turned a blind eye when the drug addicts used the money in practitioners' accounts to purchase items for themselves.
After she returned home in April 2008, Ms. Jiang was harassed frequently by officers from the Enjizhuang Police Station.
She later worked as a tour guide at the Haitao International Travel Agency in Beijing. The agency fired her in January 2015 for talking to tourists about Falun Gong.
Parties involved in the persecution:Xie Wenlong (谢文龙), deputy director, Huayuan New Town Police Station: +86-022-27601679Zuo Lin (左林), chief, Nankai Police Department: +86-13802106489, +86-13920461373Feng Weihua (冯卫华), secretary of the Nankai District Political and Legal Affairs Committee: +86-022-27586752