Practitioner Files Lawsuit Against the Head of Wuqing District Detention Center for Torture
March 15, 2017 | By a Minghui correspondent in Tianjin, China
(Minghui.org) Mr. Yang Yuyong, a Falun Gong practitioner from Tianjin, filed charges against the head of the Wuqing District Detention Center and a guard surnamed Liu for torture. His attorney recently submitted the lawsuits to the Tianjin Procuratorate, the Tianjin Police Department and other related departments.
The head of Xitianzhuang Village and officers from the Tianjin Domestic Security Division, the Wuqing District Domestic Security Division, and the Huanghuadian Police Station illegally arrested Mr. Yang and his wife on December 7, 2016. They gagged Mr. Yang and took the couple to the Huanghuadian Police Station.
The officers transferred Mr. Yang to the Wuqing District Detention Center, where he was tortured by being made to sit on a small stool for long periods of time. Additionally, he was shackled and handcuffed, and brutally beaten.
Small Stool Torture
Because Mr. Yang refused to perform forced labor, guard Liu tortured Mr. Yang by forcing him to sit still on a small stool from 6:00 a.m. to 10:00 p.m. He was allowed 10 minutes a day to eat a meal and use the bathroom.
Heavy Shackles and Handcuffs
As Mr. Yang refused to submit to the guards' demands, Liu put him in handcuffs and shackles for several days. A heavy iron ball was chained to each foot. The handcuffs and the foot shackles were secured together. When Mr. Yang's lawyer came to see him, they refused to remove the shackles. The shackles were finally removed after the lawyer complained.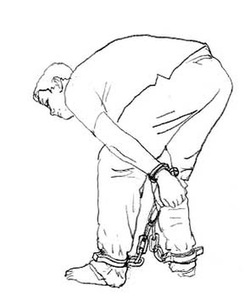 Torture Illustration: Handcuffed and Shackled
Beating
Liu took Mr. Yang to a small cell because he refused to sign an admission of guilt document. He ordered two inmates to pull down Mr. Yang's pants and hold him down. Liu then brutally beat Mr. Yang's buttocks with a stick until the stick broke. The scars from the beating are still visible.
Liu told that Mr. Yang not mention the beating or other abuses to his lawyer, threatening that the next time he would use a thicker stick to beat him.
Large Scale Arrest of Practitioners
The arrest of Mr. Yang and his wife was part of a large scale arrest of Falun Gong practitioners. About 20 practitioners from Tianjin, including an 85-year-old man, were arrested on December 7 and 8. Officers from the Tianjin Police Department had tapped their phones and followed practitioners and their family members. Some practitioners were secretly monitored for a year.