Falun Gong Practitioners Face Unrelenting Torture in Qianjin Prison
February 28, 2017 | By a Minghui correspondent in Beijing, China
(Minghui.org) The guards in Qianjin Prison in Beijing have colluded with inmates to monitor and torture Falun Gong practitioners.
Mr. Xu, in his 50s, was sentenced to four-and-a-half years in 2014. He was taken to the No. 3 Ward of Qianjin Prison in January 2015 and held in a small cell.
He was regularly beaten and verbally abused by Gu Yue, Du Yunpeng, and Zhao Donglin, who were inmates assigned by prison authorities to closely monitor practitioners. The inmates broke two of Mr. Xu's front teeth.
He was also hit with a stool and eventually suffered a mental collapse. His head and hands now shake uncontrollably.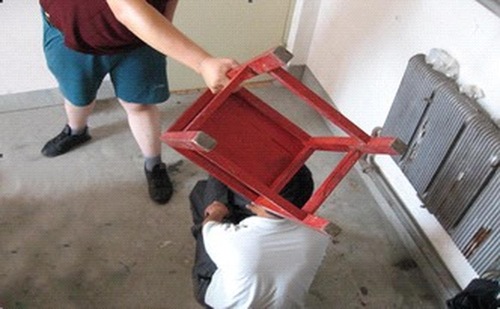 Torture reenactment: Beaten with a stool
Mr. Xu reported the inmates to political head Liu Guanghui and team head Yao Yiping. They took no action to stop the brutality and actually promoted Gu Yue to team leader of the inmates.
Mr. Xu then filed a complaint with the Procuratorate office located inside the prison. His complaint was never investigated.
Mr. Wang Zechen, 70, was held in the same ward since April 2015 after being sentenced to eight years in 2010. Li Hongjie, an inmate assigned to monitor Mr. Wang, stole his money. He also used a hair clipper to remove Mr. Wang's eyebrows.
Mr. Wang reported the mistreatment to prison officials Liu Guanghui and Yao Yiping, yet only received perfunctory responses.
He then filed a complaint with the Procuratorate office, but to no avail.
Liu Guanghui and Yao Yiping also colluded with the 610 Office to obstruct practitioner Mr. Li Shengshi's released from prison on September 10, 2016. His family was not allowed to take him home, and he was transferred directly to the Sujiatuo Brainwashing Center.