Once Imprisoned for 10 Years, Liaoning Man Sentenced Again for His Faith
February 21, 2017 | By a Minghui correspondent in Liaoning Province, China
(Minghui.org) Dengta City Falun Gong practitioner Mr. Gao Hui has endured over 15 years of persecution for his faith. At the end of 2014 he was illegally arrested again and given another prison sentence. He has been confined in a small cell in Shenyang First Prison after he shouted "Falun Dafa is good" during an inspection. He is not allowed to have family visits.
Latest Arrest
Mr. Gao was arrested from home by officers from the Dengta Police Department on July 14, 2014. The police also ransacked his home and confiscated computers, Dafa books, and a photo of Falun Gong's founder Master Li. He was brutally persecuted in the Liaoyang Detention Center, where he was handcuffed and shackled every day.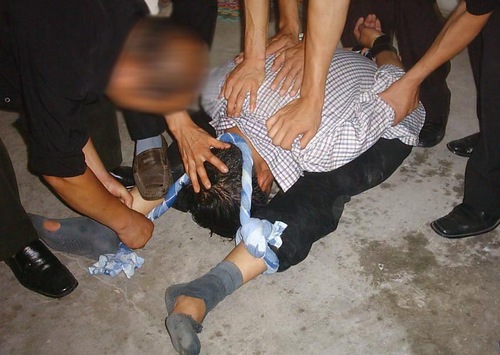 Torture reenactment: Handcuffing and shackling
On December 17, 2014, Mr. Gao was illegally tried and sentenced to six years in prison by presiding judge Wang Shubin. He refused to accept the verdict and appealed to the Liaoyang Intermediate Court but was taken to Shenyang First Prison in July 2015.
Previous Arrests
Mr. Gao and his wife started practicing Falun Gong in July 1996. By following the principles of the cultivation practice, their illnesses disappeared. They became very healthy and Mr. Gao worked hard to pay off the debt from their previous medical expenses.
Mr. Gao's first arrest took place on April 23, 2001. Officers from the Liutiao Police Station arrested Mr. Gao and detained him at the Dengta Detention Center.
In the detention center, he endured physical and mental tortures. For 27 days straight, guards poured freezing water over his naked body. The persecution continued for another 18 days at the Liaoyang Detention Center.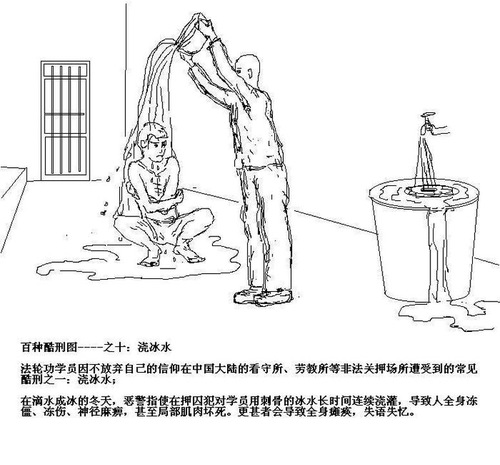 Torture illustration: Dousing with cold water
Mr. Gao escaped another arrest on October 15, 2001, by leaving home for ten months. He thus became a wanted person, and there was a warrant out for his arrest.
He was arrested again on August 9, 2002. The authorities confiscated 2,600 yuan from him. Mr. Gao was severely beaten at the Nantai Police Station before he was taken to the Liaoyang Detention Center. He was sentenced to ten years in prison by the Dengta Court on October 15, without family present.
In January 2003, Mr. Gao was transferred to Wafangdian Prison and tortured. He was severely beaten and passed out several times. Three of his ribs were broken, but he never received medical attention. He was bedridden for more than a year.
Mr. Gao was taken to Jinzhou Prison on December 19, 2007, and endured similar suffering until his release on October 23, 2011.
Participants in the Persecution of Mr. Gao Hui
Zhang Zhicheng: captain, Domestic Security Brigade, +86-13604193459Li Chenglin: police officer, Domestic Security Brigade, +86-13130717222Zhou Kai; chief, Liutiao Police Station, +86-13504203955Wang Shubi: presiding judge, Liaoyang Court, +86-419-858-2425 (O)
Related Report:Dengta City Court Sentences Mr. Gao Hui to Ten Years in Prison