Stockholm, Sweden: Tourists from Around the World Condemn Brutality in China
December 07, 2017 | By Minghui correspondent He Ping
(Minghui.org) As the holiday season approaches, the public square of Mynttorget and its adjacent Royal Palace in Stockholm are once again bustling with tourists. Falun Dafa practitioners held activities there on December 2 to tell them about the practice and the ongoing suppression in China.
Many tourists stopped to learn more, including those from other Nordic nations, United Kingdom, France, Germany, Italy, and other countries. Quite a few them signed petitions calling for an end to the atrocities in China. "Keep it up!" said one man with a thumbs-up.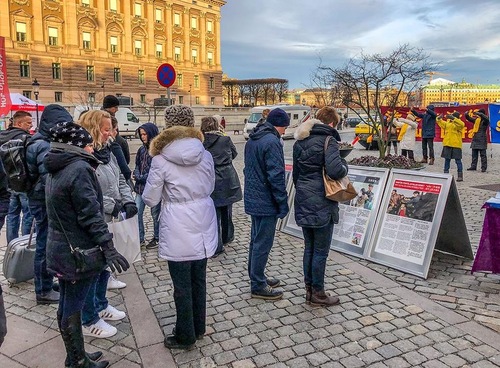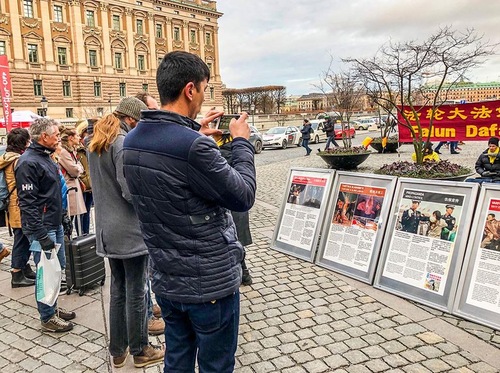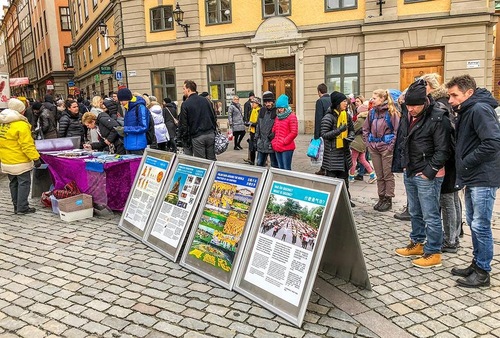 Pedestrians read posters at Mynttorget near the Royal Palace in Stockholm on December 2, 2017.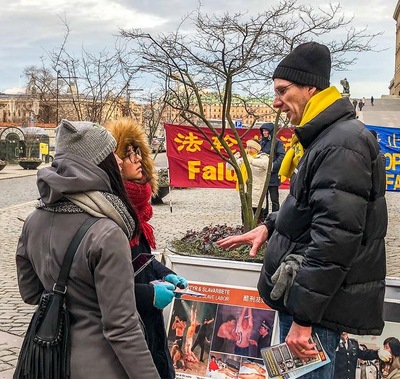 A practitioner describes various tortures suffered by practitioners in China.
One woman listened quietly as practitioners talked to other passersby about the suppression in China. Later she introduced herself to the practitioners as the president of a journalist association for human rights. She had traveled there for an awards ceremony on human rights. She took a lot of pictures of the event as well as the petition form, saying she would post them on her social media networks.
Regarding the Chinese regime's forced organ harvesting crimes targeting Falun Gong prisoners of conscience, she said, "I will tell more people about this. This is something we cannot ignore." She left her contact information to receive updates.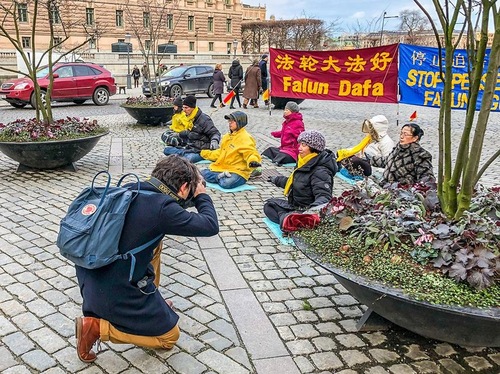 A human rights journalist takes photos of the sitting meditation.
Several Chinese also stopped at the display. Three young men said they were able to access overseas news in China using software that overrides internet blockade. They were excited to see practitioners freely doing the exercises with their own eyes.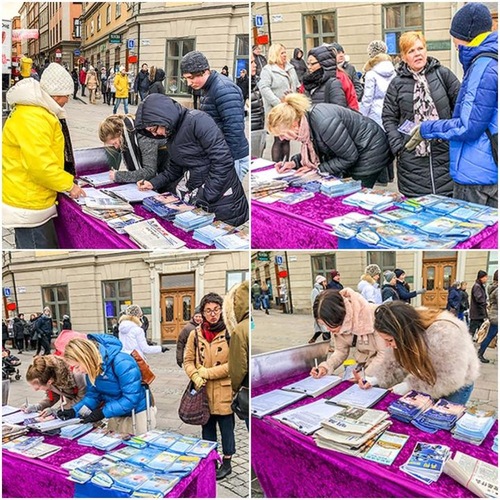 Passersby sign petitions to support Falun Gong.
One of the young men decided to withdraw his membership in China's Communist Party organizations to take a stance against the brutal persecution.