German Practitioners Gather for Experience-Sharing Before the New Year
December 30, 2017 | By a German Falun Dafa practitioner
(Minghui.org) Practitioners in Frankfurt gathered twice at the year's end to share cultivation experiences and to wish a Happy New Year to Master Li Hongzhi, the founder of Falun Dafa.
Our Responsibility

Falun Dafa practitioners in Frankfurt and nearby cities take a photo to wish Master Li Hongzhi a Happy New Year.
The first gathering took place on November 26 and practitioners from nearby cities also joined the event. Gila, a college student, came to Frankfurt from Afghanistan in 2008 with her parents and began to practice in 2015. In the beginning, she was hesitant to join the weekly public events to raise awareness, fearing she might be recognized by friends. Later seeing other practitioners, including some in their 70s, distributing pamphlets and talking to pedestrians, even in the rain, she was moved and decided to do better.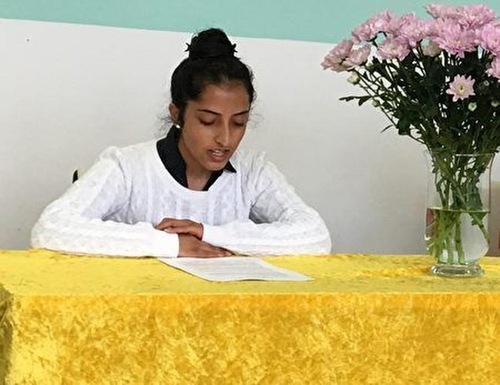 Gila, a college student who began to practice in 2015, tells her story.
One day when she handed a flyer to a Chinese tourist, that person took it and threw it in a trash can. This shocked Gila and made her feel more sympathetic toward Chinese who had been misled by slanderous propaganda from the communist party. Since then she often took part in activities to raise awareness.
"I realized that, as Dafa disciples, helping people know what is going on is our responsibility," said Gila. "If we fail to do so, how can people get such information and be aware of the severe persecution?"
Overcoming Selfishness
Hessdorf, a German lawyer, said he used to feel uneasy when communicating with others. When looking within according to the principles of Truthfulness-Compassion-Forbearance, he discovered it was his selfishness.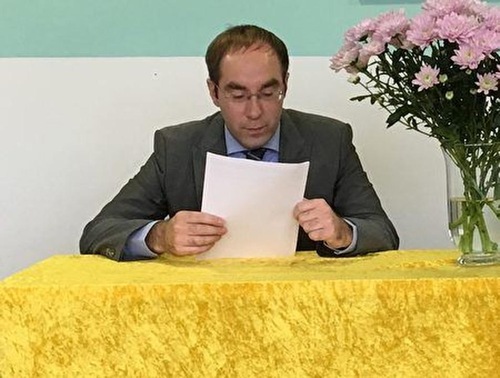 German lawyer Hessdorf explained how he overcame selfishness.
"I was not a good listener, because I was always thinking about my own things," he said during the sharing."When other people talked a lot, I would be annoyed, thinking there might not be enough time for me to speak. Anyway, it was all about self-interest, something that prevented me from listening to others with patience." Later, he became more considerate of others, including helping them know about the brutal persecution in China.
One day on the way to visit a friend, he had to wait in the train station for one hour. As he thought about distributing pamphlets there, something in his mind told him not to do so. He realized it was his selfishness. So he decided to deny this selfish thought and to save people. After distributing materials, he boarded the train and was glad to see some people reading the pamphlets he had given them.
Helping Chinese Tourists
Ms. Wen, 76, began to practice Falun Dafa in 1999. Knowing that many Chinese people had been poisoned by hate propaganda from the communist party, she often distributes materials and plays audio files to Chinese tourists. Seeing her doing so at such an elderly age, some people thanked her and gave her thumbs-up. When some Chinese tourists who did not understand and hurled bad words at her, she considered it an opportunity to improve xinxing and was not deterred.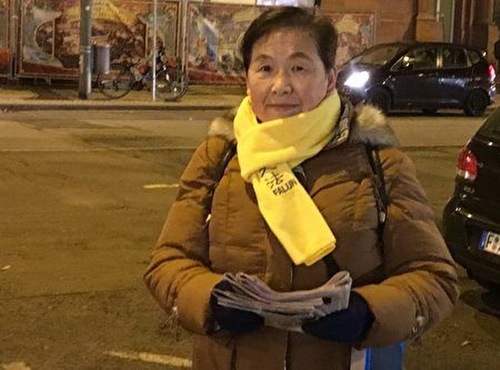 Ms. Wen, 76, distributes materials to Chinese tourists.
Surprised by her energy at this age, some Chinese tourists talked with Ms. Wen and she told them of the benefits of Falun Dafa. She used to suffer from hepatitis, arthritis, nerve problems, and gallstones. She was very weak and could not go to work. Following advice from a friend, she decided to give Falun Dafa a try.
"Within two months, my body underwent many changes. I knew the hepatitis was gone because there was no pain. The doctors examined me again and were surprised, 'I remember you were hospitalized here not long ago, how come the illness suddenly disappeared?' They checked for gallstones and it was the same thing. I was very happy," said Ms. Wen.
New Year Wishes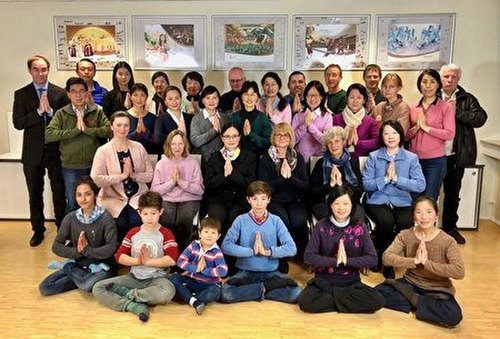 Practitioners gathered on December 15 to exchange understandings and wish Master Li a Happy New Year.
The second gathering happened on December 15, in which practitioners met, held experience-sharing, and wished a Happy New Year to Master Li. Among them, the oldest was 79-year-old Egbert and the youngest was 4-year-old Jacob.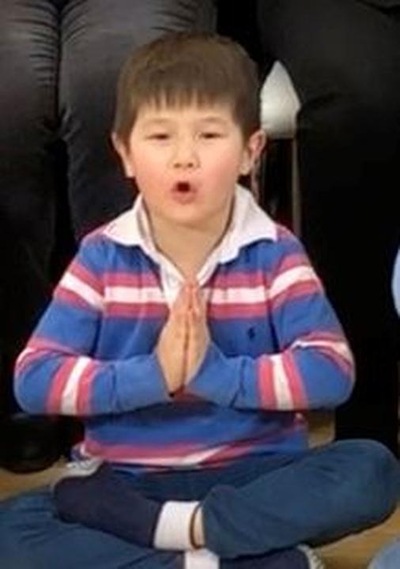 Four-year-old Jacob said he was very thankful to Master Li.
Two poems written by German practitioners were also shared at this event:
Following Master
Throughout time and tides,we have been following the sacred predestined relationship,Coming closely after Master,we joined this earthly world.Countless sentient beings,are all searching for the path to return home,Assisting Master with Fa-rectification,is how we Dafa disciples fulfill our vows.
Gratitude to Master
With all degeneration surfacing,the final Kalpa is rampant,Rise and fall over hundreds of millions of years,everything is going downward, heading for destruction.Shaking heaven and earthhere stands a Buddha of greatness,He offers salvation to all beings,returning to their origin in the heavens.