Truthfulness-Compassion-Forbearance Art Exhibition Touches Alberta
December 02, 2017 | By a practitioner in Canada
(Minghui.org) Tammy Depilteau could not help her tears, standing in front of the painting titled "The Crime of Forced Organ Harvesting."
The painting was part of the exhibition of some 30 artworks in the "Truthfulness, Compassion, Forbearance International Art Exhibition" held at the University of Alberta, Canada on November 22-24. The artworks reflect the principles of the ancient Chinese self-improvement practice Falun Gong and expose the 18-year persecution of Falun Gong in China.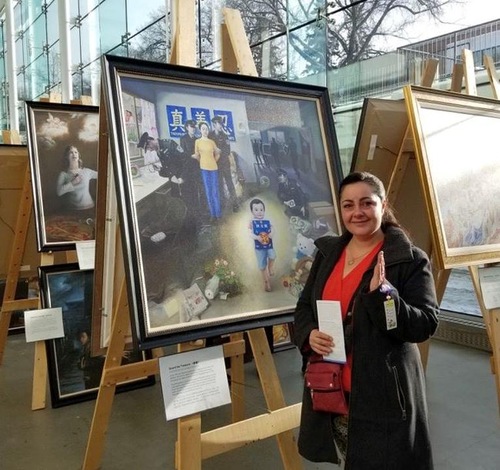 Tammy Depilteau said that she never realized that the persecution of Falun Gong in China was so severe.
Ms. Depilteau wrote in the guest book, "...beauty can sometimes be bullied by ugliness, but ugliness can never keep beauty from manifesting its purity. In the shadow of suppression, the power of the universe will penetrate the darkness."
The exhibition was held during graduation season, and waves of parents and other family members of graduating students passed by the paintings. People were shocked by the brutality of the persecution as revealed in the paintings. Many of them left touching words in the guest book and signed the petition that calls upon the Canadian Prime Minister to take action to rescue imprisoned Falun Gong practitioners in China – many of whom are family members of Canadian citizens.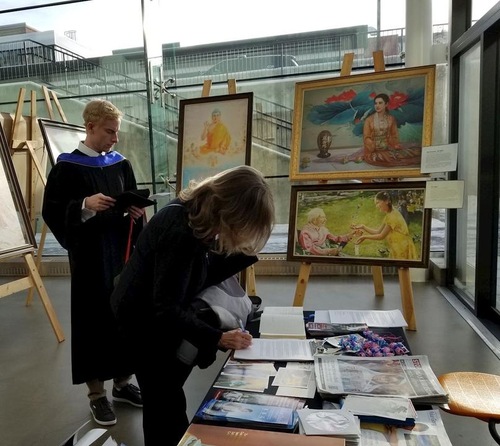 Students and parents sign the petition requesting the Canadian Prime Minister to help end the persecution of Falun Gong.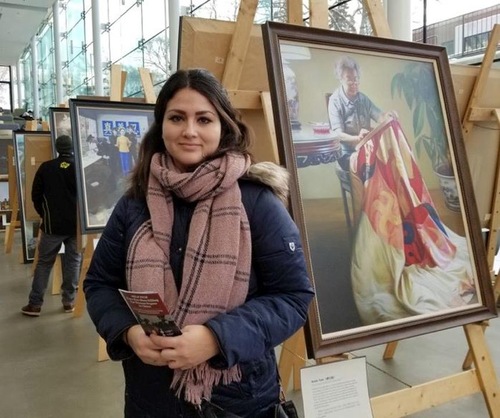 Jazmin Bonizzoni expressed sympathy for Falun Gong practitioners in China. "The artworks encourage me to work harder for a better world," she said.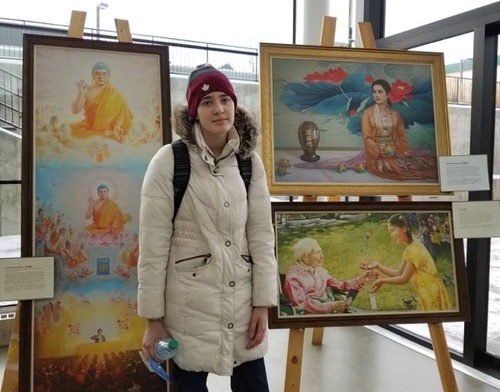 Chiara Mackinnon carefully viewed every painting. She believes that people should not ignore the suppression, for ignorance is not the solution. Those who are trying to make the world better should not only stop the violence, but also help those who are suffering from these crimes.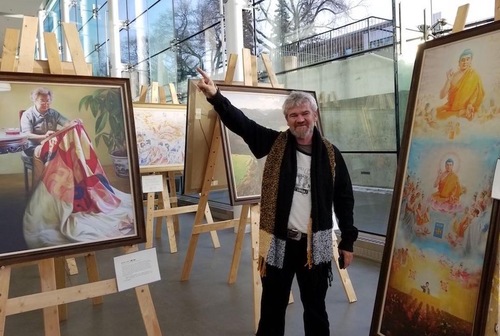 Real Denton, a reporter from Fair Radio held a 30-minute interview with the practitioners, giving them the opportunity to explain to the radio audience what Falun Gong is, why the Chinese government persecutes it, details of the state-sanctioned organ harvesting, and what people can do to help.
Mr. Denton said that he has encountered many Falun Gong activities all over the world, but he never really paid attention. Today was the first time that he realized that Falun Gong was so beautiful and beneficial. He was amazed by the healing power of the practice and the positive impact it has brought to society.
Mr. Denton hopes that the radio interview will help more people learn the truth and join the peaceful resistance.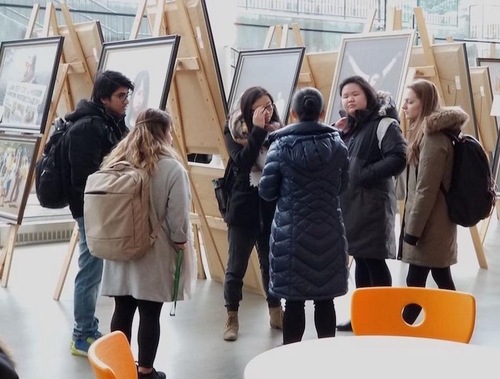 Students listen to a Falun Gong practitioner talk about the artworks.
Many Chinese students were also touched by the paintings. A visiting scholar said that she was a professional artist, and found the artworks very powerful. She said that she would spend more time studying the paintings.