Cyprus: Raising Awareness of the Persecution of Falun Gong on World Human Rights Day
December 17, 2017 | By a Falun Dafa practitioner in Cyprus
(Minghui.org) December 10th each year is World Human Rights Day. On that day, in the old town of Nicosia, Cyprus, local Falun Gong practitioners gathered to raise awareness of the biggest human rights violation in China: the persecution of Falun Gong.
Practitioners passed out fliers, demonstrated the Falun Gong exercises, and talked to passersby about the persecution of their peaceful spiritual practice in China that has continued since 1999.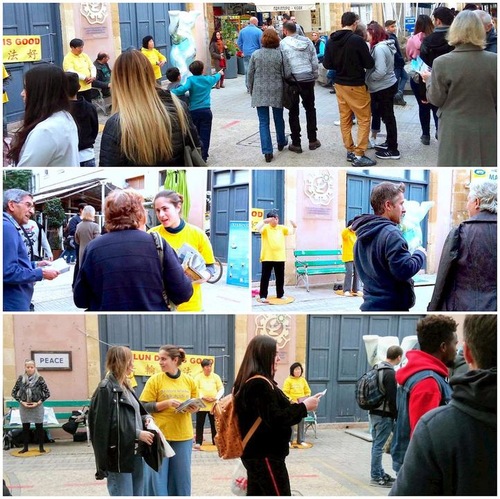 World Human Rights Day activities in the old town of Nicosia, Cyprus, raise awareness of the persecution of Falun Gong in China.
Two mothers and their teenage girls enjoyed the peaceful Falun Gong exercise demonstration, especially the peace and solemnity they observed in one Chinese person in particular while meditating. They were shocked to learn that this person had been imprisoned and tortured in China because of practicing this exercise.
Hearing the story, they were very moved by the woman's persistence with her belief and asked her to pose in a photo with them.
A man from the nation of Georgia was very impressed by the demonstration. Coming from a former communist country, he understood and was sympathetic to those who are persecuted in China. He wanted to learn the exercises himself and said he'd look for a local practice site when he returned to Georgia.
Two senior ladies wanted to give the exercises a try. After they learned the first exercise, they felt relaxed and energized and said they would come to the group practice site to learn the other exercises.
A woman with 3 children asked what it means to cultivate, and why Falun Gong is persecuted in China. After hearing the facts, she decided to join the local group practice on Sunday. "We will come for sure," she added.
A Romanian couple remarked that Falun Gong's core principles of Truthfulness-Compassion-Forbearance are exactly what the world lacks. "Most people are selfish. It is better to have more people like you (Falun Gong practitioners)." The wife commented.