Sydney, Australia: "Falun Dafa Is Extraordinary"
December 12, 2017 | By Minghui correspondent Hua Qing
(Minghui.org) Falun Dafa practitioners have been holding events in the past several weeks in Sydney, Australia, informing local residents and tourists about the practice. Below are some of the responses.
Burwood
Burwood is a suburb about 6 miles west of the Sydney central business district. When practitioners came here on November 12, many pedestrians thanked them for telling them about the persecution in China.
"I know how vicious and painful persecution is since my grandfather experienced something similar," said Georgie Kimberley from Hungary. He described the situation when Hungary was under communist rule several decades ago. He said he hopes the persecution of Falun Dafa will not last much longer.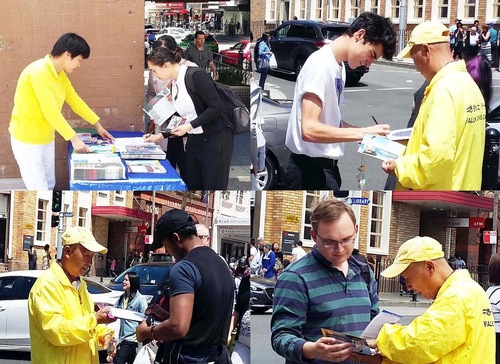 Passersby sign petitions in Burwood on November 12, 2017, condemning the suppression in China.
Tuiet Doan from Vietnam heard about Falun Dafa from practitioners three years ago. "Since we met last time, I began to do the exercises myself at home—it feels so good," she said. She works six days a week and the practice helps her to maintain her health and relieve stress.
When Doan's younger brother visited Beijing several years ago, he met a practitioner who taught him the exercises and he has been practicing it since then. "My entire family is thankful for Falun Dafa, because it makes our life happier and it makes it easier to handle stress and challenges at work," said Doan.
Parramatta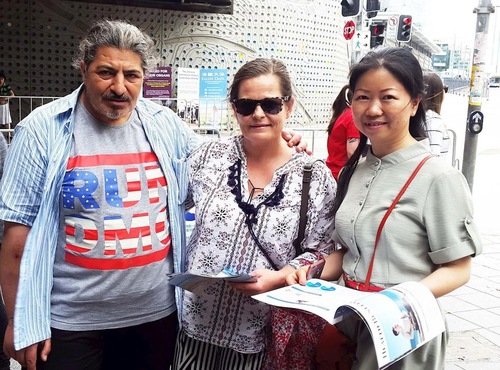 Natalie Lauren (middle) and her husband talked with a practitioner in Parramatta on December 2, 2017. She said she would like to learn Falun Dafa exercises.
Parramatta, 10 miles west of Burwood, is the oldest inland European settlement in Australia. When practitioners held an outdoor display near Westfield Parramatta, one of the largest Australian shopping centers, on December 2, local resident Natalie Lauren was glad to see practitioners again.
"We should all cherish the principles of Truthfulness-Compassion-Forbearance," Lauren said. She often saw practitioners doing the exercises outside and could see that the practice brought peace and energy. "I would like to practice it with you," she added.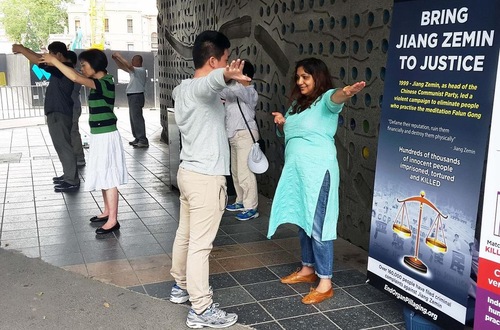 Seewaa Seth (right) learns the Falun Dafa exercises from a practitioner.
Seewaa Seth from India said she had done meditation before and asked a practitioner to teach her the movements of the Falun Dafa exercises. After doing the first exercise, she was very impressed, saying, "The energy field is great."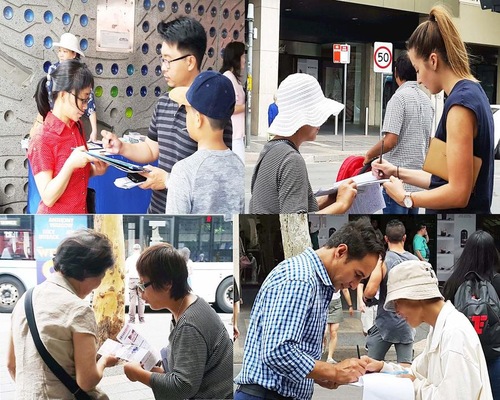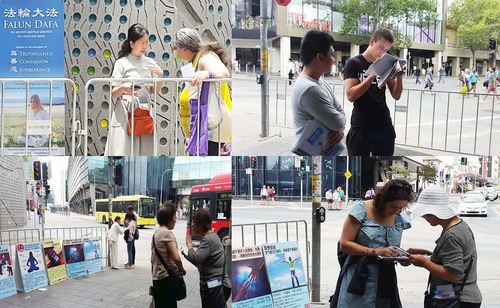 Passersby signed petitions in Parramatta to support practitioners.
Eastwood
Eastwood, a northwestern suburb of Sydney, has a large Asian community. When practitioners came here on November 19, many Chinese read the posters and some talked with practitioners.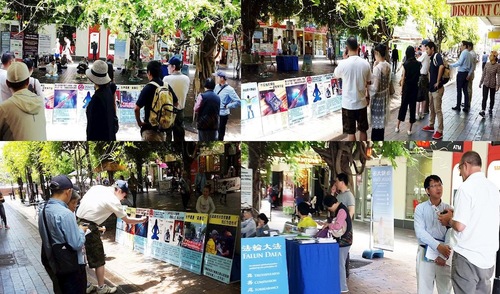 Chinese people learn about Falun Dafa at Eastwood on November 19, 2017.
Mr. Wang from Shanghai who was in Australia visit his family said he knew the Chinese communist regime had done many bad things and spread lies about Falun Dafa. He was also aware that Falun Dafa improves health and benefits the society. "I just cannot understand why the Chinese Communist Party would suppress Falun Dafa. Is it because it was intimidated when the number of practitioners exceeded that of Party members?" he suggested.
Mr. Wang said he knew communist party ideology contradicts Falun Dafa's principles of Truthfulness-Compassion-Forbearance and does not allow freedom of speech. He said both he and his daughter would like to withdraw their memberships in China's communist organizations. "I have taken lots of photos on this trip. I will share them when I return to China and urge people to quit the Party, too," he said.
Campsie
When practitioners held a signature drive in Campsie, a suburb in southwestern Sydney, on November 25, many Chinese who come there to shop read the Falun Dafa information and talked with practitioners.
Ms. Hong said she had heard about the persecution before at different events. After talking with a practitioner further about it, she agreed to withdraw her membership in China's communist organizations.
Another Chinese woman said she would like to get a copy of Zhuan Falun, the main teachings of Falun Dafa. "There are so many practitioners and they do not give up their belief even when they are so badly persecuted in China," she said. "Falun Dafa is extraordinary—I don't want to miss out on it."