After Her Third Arrest, University Teacher Jiang Yongqin's Whereabouts Unknown
November 08, 2017 | By a Minghui correspondent in Zhejing Province, China
(Minghui.org) Falun Gong practitioner Ms. Jiang Yongqin, an outstanding teacher from Zhejiang Sci-Tech University, was recently taken away by Pan Erjian, deputy captain of the local domestic security division. Informants said she was arrested and taken to the Fuyang Brainwashing Center. Her family members have not been able to find out her exact whereabouts.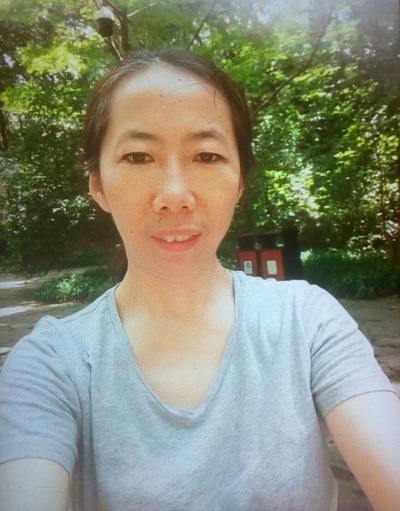 Photo of Ms. Jiang Yongqin
Ms. Jiang, born in Changchun City, Jilin Province, worked as a teacher at the Experimental Teaching Center for Mechanics at Zhejiang Sci-Tech University.
Since practicing Falun Dafa, Ms. Jiang has followed the principles of Truthfulness-Compassion-Forbearance. At work, she became a key technical person at the Mechanical Engineering College. She was a homeroom teacher and treated every student with compassion. She was regarded as an excellent teacher.
However, such an excellent teacher was arrested and imprisoned.
Ms. Jiang's Most Recent Arrest
At approximately 9:00am on October 10, Pan Erjian, deputy captain of Xiasha Domestic Security Division knocked on Ms. Jiang's door. He said he wanted to have a talk with her. He tricked her into leaving her apartment and forced her into a police car that was hidden around her building.
Pan told Ms. Jiang's husband that they would take her to the Fuyang Brainwashing Center due to the incoming 19th National Conference. Ms. Jiang's husband called an emergency number for help, but the police didn't take any action. Instead, the police said the officials at a higher level had already given them permission to make the arrest.
The secretary of her residential community shirked responsibility for her arrest. Officials from local 610 Office and Domestic Security Division would not permit Ms. Jiang's family to see her. They claimed they would release her when the 19th National Party Congress concluded, but did not honor their promise.
Joining police from Hangzhou City 610 Office and Xiasha Domestic Security Division were several officials from Yunshui Residential Community of Baiyang Street Xiasha District in this, Ms. Jiang's third arrest.
Three-Year Prison Term
On September 26, 2009, police officers from the Jianggan District 610 Office and Domestic Security Team took her into custody at a suburban women's prison while she was working at the university. The police also ransacked her home and confiscated her desk-top computer, laptop and cell phone.
In February 2010, Ms. Jiang was sentenced to three years in prison and sent to the Zhejiang Women's Prison. Her four-year-old daughter and elderly, sickly in-laws are left without care at home.
Laid off for Belief in Falun Gong, Detained for One Month
After Ms. Jiang was released from prison, the university laid her off due to her belief in Falun Gong. As a result, she lost her only financial resource and lived a very difficult life. But she didn't give up her belief, nor did she hold any hatred towards the persecutors. However, the authorities never stopped persecuting her.
In November 2015, police officers from Xiasha Domestic Security Division and Baiyang Police Station broke into Ms. Jiang's new workplace, arrested her and took her to the Hangzhou City Detention Center. They took her house keys and ransacked her home. They confiscated her many Falun Gong books, a computer and other personal belongings.
Ms. Jiang was not released until December 9, 2015 after that arrest.
Persecutors Constantly Harass Ms. Jiang
Police from Hangzhou Xiasha Domestic Security Division and local 610 Office ordered securities and officers from her residential community to closely monitor her as a person of interest. Once visit or phone call to her in four months is a must regular thing.
The authorities harassed her whenever conferences or public activities were held in Hangzhou City. This recent arrest was during the recent 19th National Party Congress.
Ms. Jiang joined the wave of suing Jiang Zemin, the former CCP dictator who launched the persecution of Falun Gong, but was retaliated against by the 610 Office for doing so. They seriously damaged her human rights and freedom, and interfered with her life and work.
Related Article:Teacher Jiang Yongqin of Zhejiang Sci-Tech University Sentenced to Prison
Persecutor List:Pan Erjian, Deputy Captain of Xiasha District Domestic Security Division, HanghouCity, +11-86-13588160142
Ye Weilai, secretary of Yuanshui Residential Community: +11-86-13777822817
Deputy Director of Baiyang Street Committee: +11-86-15988130281
Gao Yan, security and clerk of residential community: 13606500545
Chen, security of Yunshui Residential Community: +11-86-13957171734