Over 6,000 Falun Gong Practitioners Demonstrate the Exercises in Taipei
November 27, 2017 | By a Minghui correspondent in Taiwan
(Minghui.org) Before the annual Falun Gong Experience Sharing Conference in Taiwan, 6,400 practitioners held a large scale event at Liberty Square in Taipei on November 25, 2017. The attendees demonstrated the exercises, and introduced the ancient Chinese self-improvement cultivation practice to tourists from around the world.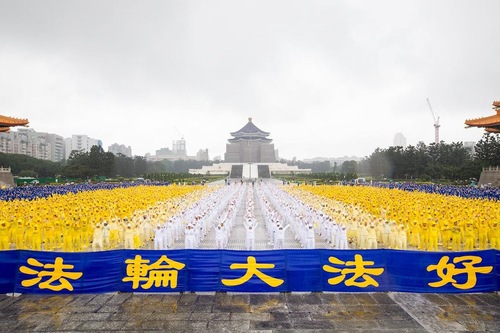 The banner reads, "Falun Dafa is Good."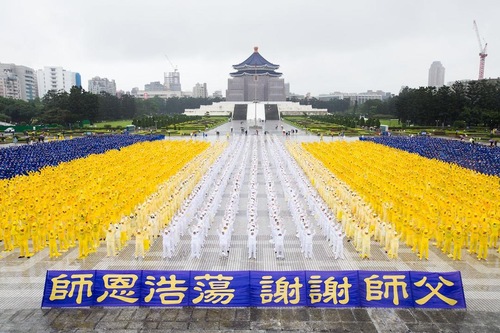 The banner reads, "Thank you Master."
Chinese Tourists Quit the Communist Party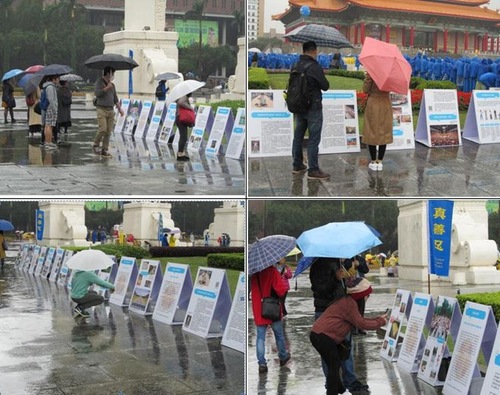 Chinese tourists view the Falun Gong displays.
One of the purposes of the event was to raise awareness of the persecution of Falun Gong in China, and expose the brutal history of the Communist Party to the world, especially to Chinese tourists who can only access censored information on the mainland.
Mr. Lu, a Chinese visitor from the U.S.A., didn't understand why practitioners try to convince people to quit the Party. But once he learned the facts about the brutal persecution, he was moved. He no longer wanted to stand with the Party, and was happy to have a chance to formally abandon it.
Many tourists from China took photos and videos of the practitioners' event, and many accepted reading materials.
Foreign Tourists: The Event Demonstrates Peace, Freedom, and Beauty
Lucas Silva, an engineer, praised the exercise demonstration, saying, "It's beautiful. I've never seen such a large-scale event with such good discipline. It's very special, and it perfectly shows what Falun Gong is.
"Nothing is more wonderful than freedom. Today's events raised the voice of the peaceful resistance through such a peaceful way. It's wonderful," he added.
Sabine Jacob from the U.S.A. was glad to see Falun Gong in Taiwan. "Freedom of speech and belief is the foundation of a country," she said. "I am glad to see that Falun Gong enjoys freedom in Taiwan. You should be proud of it."
Sabine's husband was also touched by practitioners' efforts. He commented, "People have the right to know the truth. They should be able to share information freely. It is important for people to know what Falun Gong really is. They will decide what is right and what is wrong."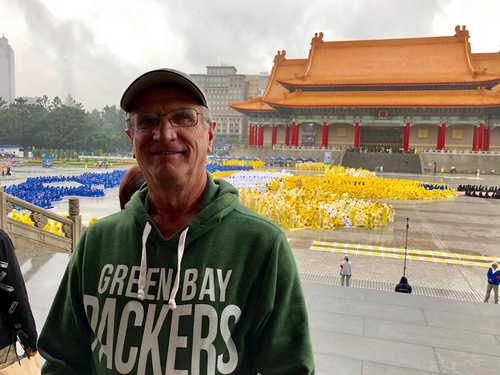 Stern supports his wife practicing Falun Gong.
Stern's wife practices Falun Gong. He expressed his support, saying, "Although I have a different belief than my wife, I support her and applaud her for her effort to tell people what Falun Gong really is. I often tell my kids that freedom is not free. One must fight for it. You need to stand out, speak for it, and you need to even be willing to sacrifice your life. If you want freedom, you must work for it."
He added, "Everybody wants freedom. I believe that the Communist Party will crash soon."
Truthfulness-Compassion-Forbearance Brings People Hope
Professor Jeong Ki Tae from South Korea has been practicing Falun Gong for 17 years. He said, "Falun Gong has helped me to quit many bad habits. It also gives me a clear mind in my scientific research. More importantly, it teaches people why morality is the most important in life."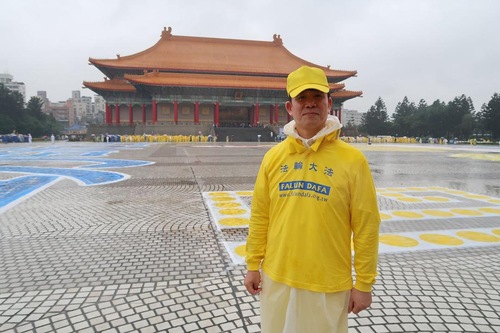 Prof. Jeong said he hopes the event will help people see the beauty of Falun Gong.
Karen Dunscombe from Australia said she could feel the strong energy field at the event. Karen used to feel empty and depressed before she started practicing Falun Gong. She said, "Falun Dafa teaches me how to live, how to be a good person, and what the purpose of life is."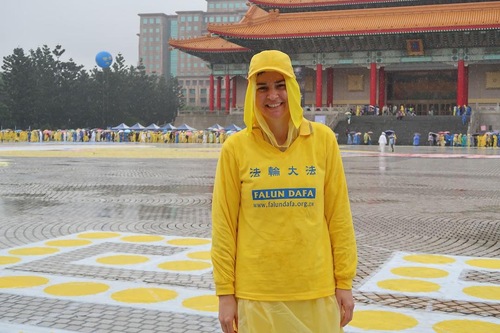 Karen wants to express her appreciation to Master Li Hongzhi (the founder of Falun Gong) through the large-scale group activities.
At the end of the event, the participants expressed thanks to Master Li Hongzhi for all his help and guidance. They also wished Master Li a Happy New Year.