Turkey: Falun Dafa Practitioners Promote "Zhuan Falun" at International Book Fair
(Minghui.org) The International Istanbul Book Fair, which welcomes half a million visitors every year, took place this year in Tuyap, Istanbul on November 4-12, 2017. Falun Dafa practitioners from Turkey participated in the fair on November 4-5 and 11-12, where they introduced Dafa's principal book, Zhuan Falun, and raised awareness of the 18-year-long persecution of Falun Dafa in China.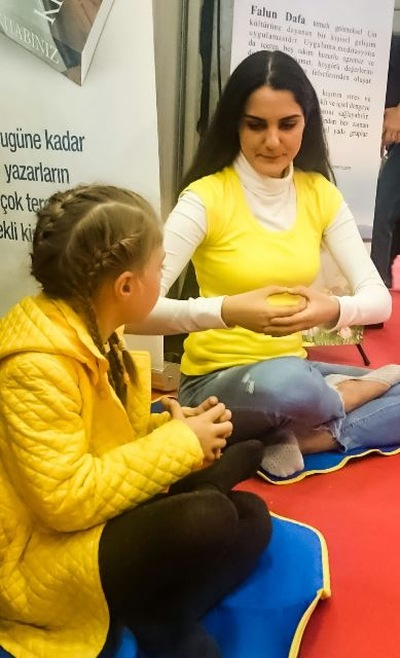 A young girl learns the Falun Dafa (also known as Falun Gong) exercises at the book fair.
Retired teacher Hatice Gülfırat, who performed the Falun Dafa exercises during the fair, said, "I was stuck in traffic for three hours while I was on my way to the fair and I was a little bit tired by the time I located the Falun Dafa stand, but after I did the exercises I became relaxed."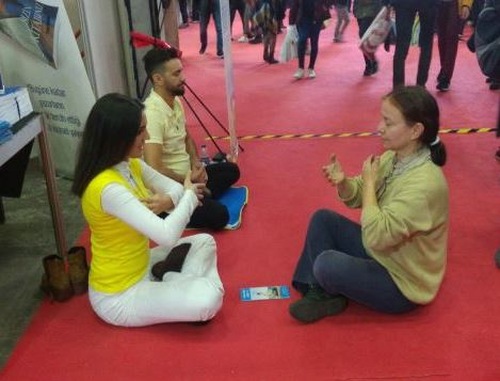 Retired teacher Hatice Gülfırat said that the Falun Dafa exercises eliminated her tension.
Rabia and Ayse, two high school students from Trakya, joined in the sitting meditation exercises. One remarked, "We felt like we were not there during the meditation, like we were watching ourselves from the outside. The calm and slow exercises are nice and relaxing. The movements in yoga are challenging, but Falun Dafa makes you flexible and relaxed."
Ziya Sevim, a truck driver by profession, stopped at the Falun Dafa booth and talked with practitioners. He explained, "I want to be aware of my own energy and my internal power. I want to understand who I am. A person should start by changing himself instead of trying to change the outside world." He then bought a copy of Zhuan Falun. "I want to give it to myself as a gift," he added.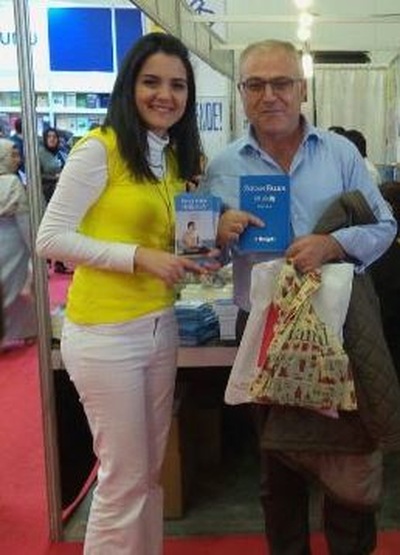 Truck driver Ziya Sevim buys a copy of Zhuan Falun.
Visitors to the book fair learn the Falun Dafa exercises.
During the fair, practitioners raised awareness about the persecution of this peaceful practice in China and collected signatures on a petition calling for its end. About 4,000 brochures were distributed during the four days, and dozens of copies of Zhuan Falun were sold.