Participants of the First Nine-Day Falun Dafa Seminar in Israel Gain Insight and Tranquility
November 01, 2017 | By practitioners in Israel
(Minghui.org) A nine-day Falun Dafa seminar featuring the original video lecture series of the founder of the practice, Master Li Hongzhi, was held in Israel for the first time, in Tel-Aviv.
Israeli practitioners held the seminar in the same manner as Master Li's seminars given throughout China from 1992-1994, in which he taught the spiritual principles of Falun Dafa and the exercises. Each day, one lecture was screened, followed by exercise instruction using Master Li's demonstration video and the help of veteran practitioners.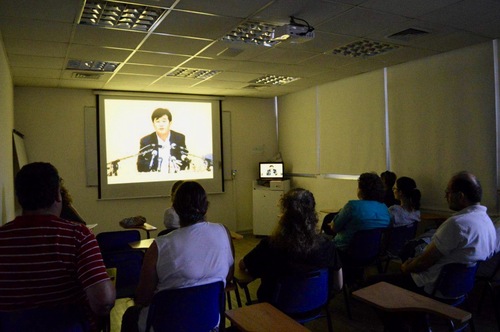 Participants at the Nine-Day Seminar watching Mr. Li Hongzhi's lectures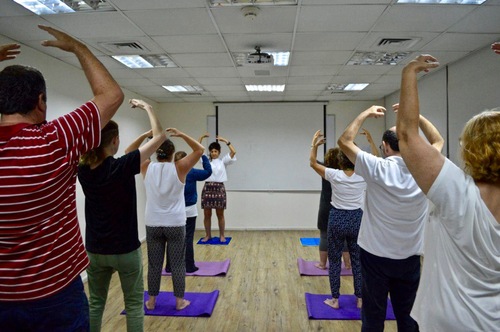 Participants learn the exercises after a lecture.
"Really Fascinating Nine Days"
Maggie Rivlin came to the seminar with her husband, Dorn. She and Dorn had practiced Falun Dafa in the past but stopped six years ago. "About 8 or 9 years ago, I was introduced to Falun Dafa and even practiced it," said Maggie. "I heard about the seminar and thought it would be a great opportunity to return to it, because it really suits me."
"You get profound explanations, and the more you learn, the more you understand things about the universe, about yourself, and about human nature," she said. "After the first two days of the seminar, I checked my blood sugar level. Recently, my levels have been high. I have not been watching my diet, so I was very surprised to see that my blood sugar level had dropped significantly!" She attributed it to the deep tranquility she was able to reach during the seminar.
Dorn added, "These were nine really fascinating days, a very empowering experience. It feels great to be back!"
Another participant was also returning to the practice after learning Dafa a few years ago. "I would like to walk this path again and assimilate to its principles of Truthfulness-Compassion-Forbearance."
She added that Falun Dafa helped her overcome many things, including anxiety and fear. "When you hold on to things, it makes it difficult to find inner peace, which I feel I have had more of since taking this seminar."
She said the seminar also helped her overcome her fear of death. She explained, "Every exercise strengthens one's sense of morality, one's ability to be introspective, and one's attention span. The lectures are still on my mind."
Lia Fink said that she had received a Falun Dafa flyer 12 years ago and has kept it ever since. "I was drawn to the principles of Truthfulness-Compassion-Forbearance, and I knew I was part of it," she said.
Master Li's lectures had an impact on the veteran practitioners in attendance as well. "Watching the lectures on video together was simply amazing. We were constantly experiencing new insights. I did not want it to end! It was simply fantastic," one said.
On the last day, one of the young participants came into the classroom looking a bit flustered. She said that, on her way to the seminar, a car almost ran her over. She said she practically stopped the car with her hand–it was that close. When she was asked if she was afraid at the time, she said she was not. She realized that the situation had helped her eliminate karma, but she was not hurt or scared, just as Master Li described in one of his lectures.
People from all over the country attended the seminar. Some of them traveled for hours each day just for the opportunity to hear the lectures.
More seminars are planned in the future.