Taipei, Taiwan: Introducing Falun Gong at a Mid-Autumn Festival Party
October 05, 2017 | By a Falun Gong practitioner
(Minghui.org) Falun Gong practitioners participated in a Mid-Autumn Festival celebration in Yanpingli, Taipei, Taiwan, on October 1, 2017. They demonstrated the Falun Gong exercises on stage and were warmly applauded.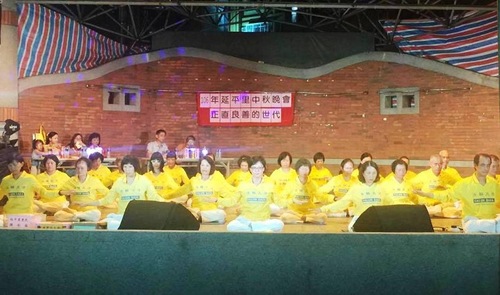 Falun Gong practitioners demonstrate the exercises.
Some members of the audience imitated the hand gestures of the practitioners on stage. An older lady told a practitioner that she didn't know if her gestures were correct or not. She said the practitioners on stage had glowing faces and orderly hand movements. She wanted to practice Falun Gong but was worried she couldn't, because she had trouble walking.
The practitioner told her to not worry, that the most important thing was a sincere heart. He gave the lady information on group practice sites, where she could learn the exercises for free, and an origami lotus flower. The lady and her grandson both seemed pleased.
Another resident said she saw the practitioners' exercise demonstration last year but was busy with her small child and did not have time to learn more about the practice. This year she learned all five exercises at the event.
She said, "Falun Gong is really good. The exercises are simple, but they make one feel solemn, righteous, and graceful."
She felt energy in her head. She'd had a headache recently but felt refreshed after practicing the exercises. She said the practitioners were sharing something truly valuable.