Group Exercise Practice in Paris Presents Beauty of Falun Dafa
October 04, 2017 | By Minghui correspondent in Paris
(Minghui.org) A group of Falun Gong practitioners in yellow and blue outfits introduced the practice to the public in Parc des Buttes-Chaumont on September 30. They practiced the Falun Gong (also called Falun Dafa) exercises with their peaceful music playing softly in the background.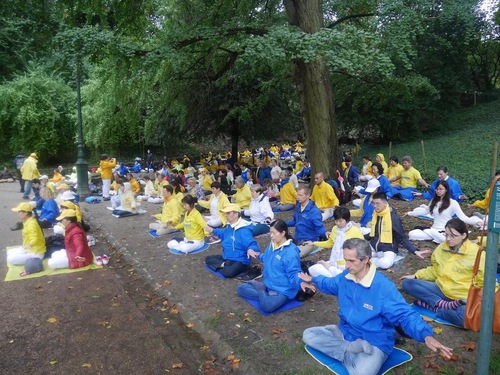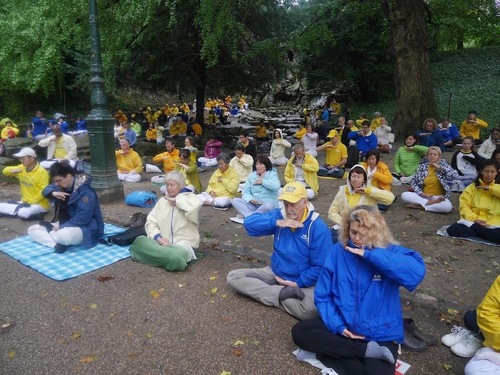 Practitioners from across Europe gathered in Paris for a conference and related activities. Here, a group practices the Falun Gong exercises in Parc des Buttes-Chaumont.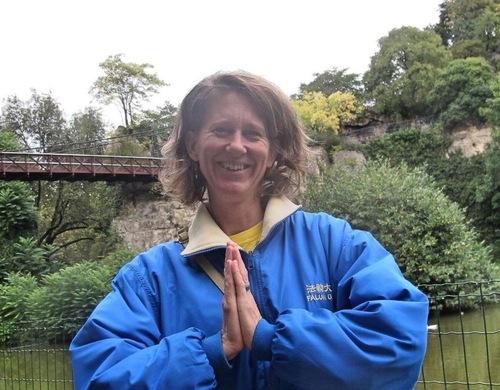 Sibylle from Switzerland says Falun Dafa is great.
Sibylle from Switzerland said, "I started practicing Falun Gong in 2004. I have been experiencing changes every since then. I used to like this and that, but now I know what I truly like is only Falun Dafa and Truthfulness-Compassion-Forbearance. Dafa makes me calm, and gives me confidence and strength. I went to teach in India six years ago. My students were thirteen and fourteen-year-olds. We all know kids of this age are hard to teach. They are very hard to quiet down. However, they had a huge change after I introduced Falun Gong to them. They became quiet and sweet children and great students. Falun Dafa is great!"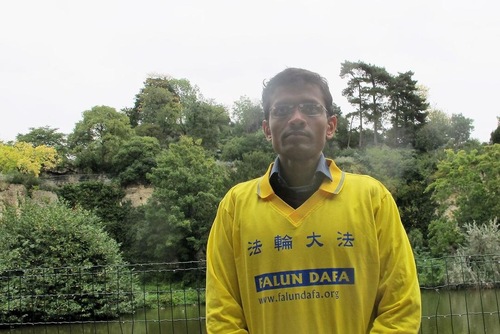 Computer engineer Hemant feels he's found exactly what he's been looking for reading the book Zhuan Falun.
Twenty-nine-year-old Hemant is a computer engineer. He found out about Falun Gong from a practitioner when he was in India in 2009. He learned the exercise movements and got a copy of the book Zhuan Falun. When he read the first chapter, he knew his life was about to completely change. He felt so happy after reading the book, because he found the answers he had been seeking in life.
Practicing Dafa has brought Hemant great spiritual benefits and he feels has also made him more efficient at work. He said, "I have learned how to look inward when I run into problems. I learned how to reflect upon myself, which improved my work environment. My colleagues enjoy working with me more, now."
Mr. Edouard, a retired government official, says Falun Gong is good no matter where it is.
Mr. Edouard, a retired government official, happened to see the beautiful group exercise in the park. Mr. Edouard had heard about Falun Gong and the persecution in China. He said, "China's autocratic power is a threat to the world peace. The more powerful it is, the more threat it poses to the world peace. It's due to its nature...Falun Gong teaches Truthfulness-Compassion-Forbearance. Those principles are good no matter where they is!"
Mr. Christophe Macy watched the Falun Gong meditation while holding his child in his arms. He said, "The Truthfulness-Compassion-Forbearance principles of Falun Gong have been forgotten by many people in France. Truthfulness-Compassion-Forbearance shouldn't be forgotten. It should last forever." Pointing at his child, he added, "I would like to see my child learn Truthfulness-Compassion-Forbearance."