France: Learning the Falun Gong Exercises in Annecy
October 30, 2017 | By a Falun Gong practitioner in France
(Minghui.org) Falun Gong practitioners in France were invited to teach the exercises in Charles Bosson Park in Annecy, an alpine town in southeastern France, on October 14 and 15, 2017.
The people in Annecy who had learned about Falun Gong at the Forum des Alternatives in September this year asked practitioners to return to Annecy to help them correct their movements and tell them more about this cultivation practice.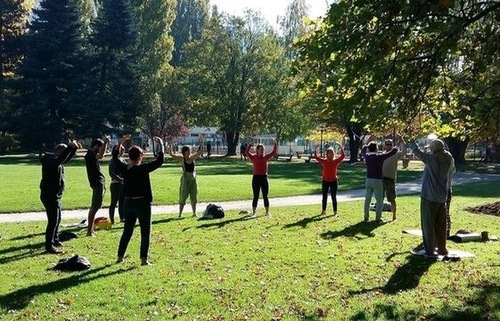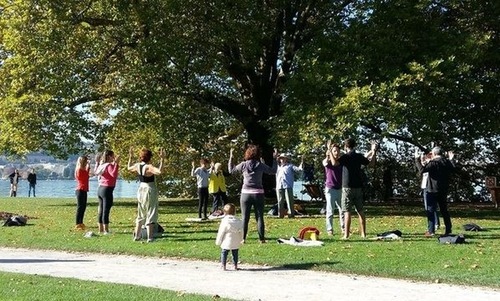 Falun Gong practitioners teach the exercises in Annecy, France.
Practitioners taught the exercises on the shore of a lake in Charles Bosson Park. Those who participated felt strong energy and a sense of inner peace. Several new practitioners have started reading the Falun Gong books and doing the exercises at home.
Anaïs, who was doing the exercises with a group for the first time, was surprised to find herself becoming absolutely tranquil. She had been plagued with anxiety for some time, and the exercises brought her great relief.
Bruno from Spain experienced a huge shift in his outlook, as if something in his heart had been reignited, leaving him with a great sense of harmony.
Albert, who had attended three Falun Gong exercise teaching sessions during the Forum des Alternatives in September, had been doing the exercises by himself at home. He personally attested to the benefits of the practice. He wanted to set up a time and location to do the exercises and share experiences with a group.
Those who participated in the sessions expressed a desire to meet regularly at the same place and then to find a place indoors to meet in the winter.
Several tourists from France, Switzerland, Italy, Germany, and Spain also learned the exercises in the park.