University of South Carolina at Aiken Offers Honors Course on Falun Dafa
October 03, 2017 | By a Minghui correspondent in South Carolina
(Minghui.org) Starting from Fall 2017, University of South Carolina (USC) at Aiken is offering a new honors course, Introduction to Falun Dafa Meditation and Cultivation (HONS 201). It's taught by tenured professor Dr. Xie Tian. This special class is designed for highly motivated students with a minimum GPA of 3.5.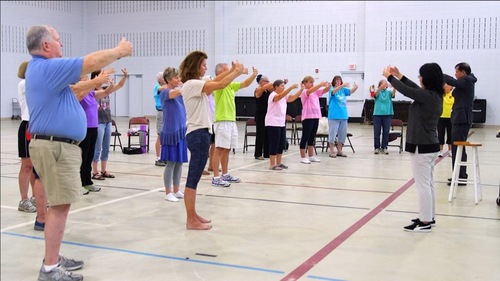 Students of Academy of Lifelong Learning at USC learns Falun Gong exercises.
"My students have a strong interest in and are serious about learning the class material. They asked me questions about Xinxing, acupuncture, energy, gong, etc. I see them smile when reading Zhuan Falun (the main study book of Falun Dafa)." Dr. Xie said.
Cultivation of Falun Dafa is completely voluntary and doesn't have any set requirement. However, a college course has to be designed to have tests. Dr. Xie encouraged his students to prolong their exercise time for the second and the fifth exercise as a test criteria. Students are required to write an experience sharing paper at the end of the course.
"We are ready for the Third Lecture of Zhuan Falun and the fourth exercise. Students will learn about the concepts of Falun Dafa, Eastern meditation, self-cultivation, the cultivation culture in Asia, the book Zhuan Falun, and the persecution of Falun Dafa by the Chinese Communist Party. They will have first-hand experience in making improvement on health and spirit throughout their own cultivation." Dr. Xie said. He is happy that a class of the same topic will continue to be offered at the Academy of Lifelong Learning, which started in 2016 and had 29 adult students.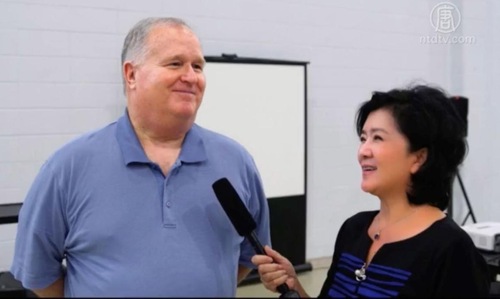 Dr. Thomas Hallman, retired chancellor of the university, joined the first Falun Dafa class at at Academy of Lifelong Learning in 2016 and is interested in learning more about Falun Gong.