"Truthfulness-Compassion-Forbearance Is What I've Been Looking For"
October 29, 2017 | By a Falun Gong practitioner in Boston
(Minghui.org) The annual lantern festival in Boston's Chinatown was held on October 21. Falun Gong practitioners set up a booth to participate in the event, which draws many from across the metro area to celebrate Chinese culture. On the same day, local practitioners participated in the Cracker Festival in Westminster, MA.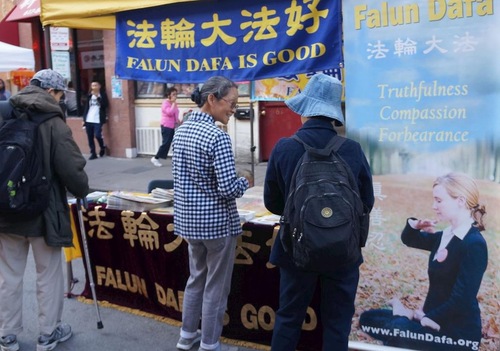 Falun Gong booth in Chinatown lantern festival
At the Chinatown lantern festival, there were many Chinese visitors. Several asked where to buy Falun Gong books and exercise instruction DVDs. Others took Falun Gong informational materials, including brochures, newspapers, and copies of the Nine Commentaries on the Communist Party.
One couple visiting from China looked at the materials on display carefully. The wife said it was impossible to take them back to China. The husband did not say a word but kept looking. At last, he picked up a couple of things and quietly placed them into his bag and left.
Four visitors from Europe paused. Two ladies took Falun Gong flyers and said they wanted to learn more since they had heard about the persecution in China. They said that they had also heard that practicing Falun Gong is beneficial to one's health and that the persecution is baseless.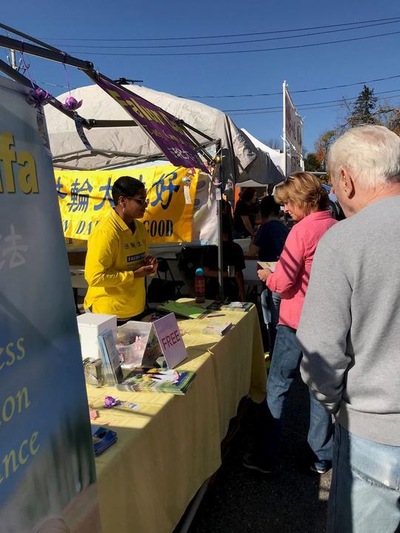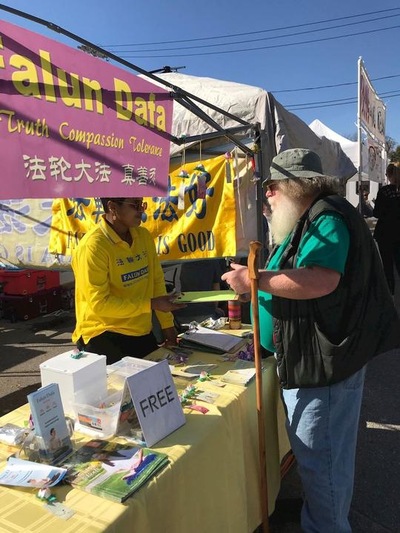 Visitors at the Cracker Festival in Westminster pause to learn about Falun Gong
At the Cracker Festival in Westminster, many people paused in front of the Falun Gong booth to learn more.
A man named John said he had been looking something for like Falun Gong his whole life. He practiced Taiji before. He said, "I've finally found this. Truthfulness-Compassion-Forbearance is what I have been looking for. I want to practice it."
He asked where he could learn Falun Gong and left his contact information to follow up later.
Another senior said he liked the word "Forbearance" and wished to learn more about it. He said following Truthfulness-Compassion-Forbearance would help minimize conflict. Learning about the persecution of people in China, he said that it was because the communist party is evil. He was clearly pleased to have learned about Falun Gong and took some materials with him to share with others.
A young man who often meditates said he wanted to learn more about Falun Gong, as did many others who left their contact information for later follow-up.