Germany: "I Like the Energy in This Beautiful Practice"
October 19, 2017 | By a Falun Dafa practitioner in Germany
(Minghui.org) German practitioners in the Black Forest area came to Weil am Rhein on October 14, 2017 to tell people about the meditation discipline of Falun Dafa. Located near the borders of Germany, France, and Switzerland, Weil am Rhein is the most southwesterly town in Germany and a suburb of the Swiss city of Basel.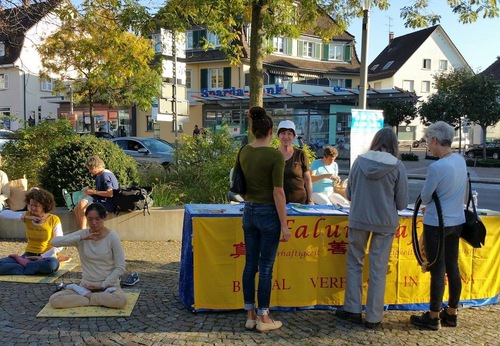 Practitioners talk to passersby.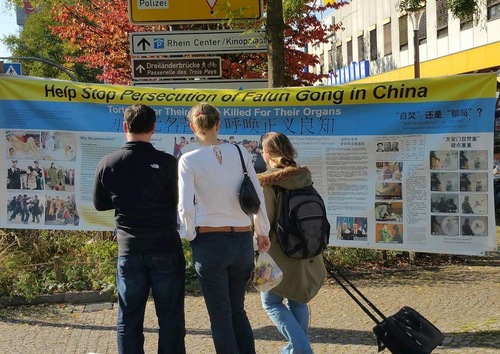 Tourists read posters to learn about the persecution of Falun Dafa in China.
Ms. Huge had heard about Falun Dafa on the radio and the internet. "I know the Chinese Communist Party is suppressing this practice. I hoped the situation would have changed so that people could live a free life," she said. She was shocked to hear of the killing of practitioners for their organs in China and signed a petition against the brutality.
"Keep up the good work. The communist party has no future, and it will collapse soon. The forced organ harvesting will stop," she said.
She also commented, "I like the energy in this beautiful practice," and said she wanted to learn the exercises and join the meditation group.
Ms. Bruker said she did not know about Falun Dafa previously. She read a pamphlet and was surprised to hear about the harvesting of organs from living practitioners in China. She signed a petition to help practitioners and asked if she could make a donation. A practitioner thanked her but explained that they do not accept donations.
One tourist from the Philippines read the pamphlet and said forced organ harvesting is unacceptable. "I did not know a government would support something like this. Whoever does this must be brought to justice."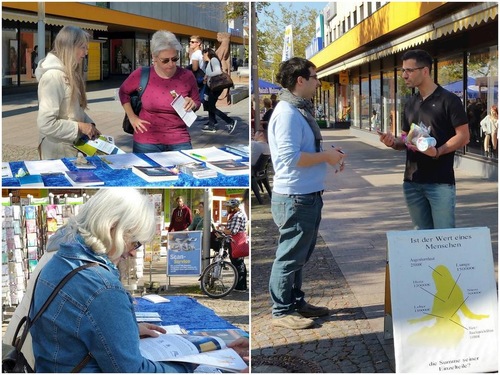 Passersby learn about Falun Dafa and sign petitions to support practitioners.
A man from Switzerland asked, "This is horrible. Why haven't I seen many reports about this?" The practitioner told him that Human Harvest, an award-winning documentary exposing forced organ harvesting in China, had been aired on 3SAT in Germany, Switzerland, and Austria in 2016. The man said he expected more media coverage and signed a petition to urge the end of this atrocity.
Several Chinese tourists also stopped and talked with practitioners. Some of them agreed to quit the Chinese Communist Party upon hearing of the crimes committed by the regime. When one man was hesitant to do so, a tourist from Russia said she knew that the Communist Party has always used lies and violence in its rule. "And that is why it was wiped out in history," she added.
The Chinese tourist thanked her and the practitioners. He said, "Now I know why this is important. Please help me quit the communist organizations too."