Inner Mongolia Woman and Son Remain Imprisoned While Husband Passes Away
October 13, 2017 | By a Minghui correspondent in Inner Mongolia, China
(Minghui.org) While Ms. Tang Liwen, 78, and her younger son remain imprisoned for their faith, her husband passed away, and her older son, who has a mental disorder, is now left to fend for himself. Neither of them know the grim news.
Ms. Tang has been arrested six times since the persecution of Falun Gong began in 1999. Her family has endured tremendous physical and mental suffering and serious financial loss.
Ms. Tang is currently incarcerated in Hohhot City Women's Prison and her son in Baoanzhao Prison.
Latest Arrest
In May 2015, Ms. Tang and her younger son filed a criminal complaint with the Supreme People's Procuratorate and the Supreme People's Court against former Chinese dictator Jiang Zemin. Their residential community took measures against them in retaliation by installing a gate code system after her son bought a car. It was removed after they were arrested.
Ms. Tang, her son, and two other practitioners were arrested on September 6, 2015 for telling people about Falun Gong and its persecution by the communist regime. She was sentenced to eight years in prison and her son to seven years.
Previous Incidents of Persecution
Ms. Tang started to practice Falun Gong, also known as Falun Dafa, in 1997. After she did, all her health problems went away. After she and other practitioners went to Beijing to petition the central government after it launched the persecution campaign in 1999, she was sent to a forced labor camp for three years.
Ms. Tang was arrested five more times and her home ransacked repeatedly after she was released in 2001.
She was once tied to a "death bed" torture device for nine days. She was beaten for shouting "Falun Dafa is good" and shackled for two weeks. Her teeth were broken, and her hair was pulled out.
She went on a hunger strike for nine days.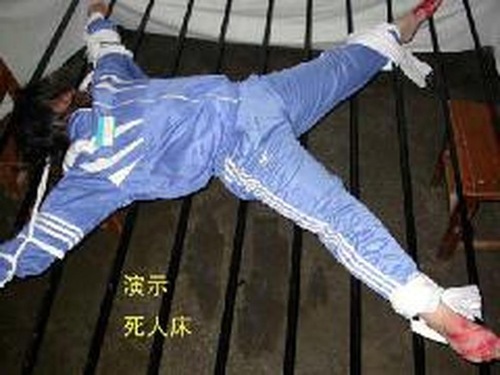 Torture reenactment: Death Bed
On January 4, 2008, Ms. Tang was arrested again for handing out information about Dafa. She was tortured in Tongliao City Hexi Detention Center when she was held there for nine months.
The guards made her carry a big wooden board, handcuffed her to an iron pipe, and force-fed her salt water and unknown substances. When she became weak, they sent her to Tongliao Infectious Disease Hospital. She became incontinent and suffered a mental breakdown.
She was tried by the Kequ Court on August 21. The trial was held in the detention center because she was in such poor shape as a result of torture.
Ms. Tang was given seven years in prison and taken to Hohhot City Women's Prison. She was forced to do slave labor for long hours and read propaganda that slandered Falun Dafa every day.
The guards instigated inmates to force-feed practitioners drugs even when their blood pressure was only slightly elevated, which is common for older people.
Elderly Husband Passes Away from Grief
During Ms. Tang's nine months in Hexi Detention Center in 2008, her husband, Mr. Wang Jiuwu, who was then 78, was harassed and closely monitored by police officers and neighborhood committee members.
Mr. Wang once traveled almost 800 miles to visit his wife in Hohhot Women's Prison in 2010. A guard refused to allow him to see her no matter how hard he begged. He sold their house in order to get her released.
Mr. Wang was 85 when his wife and son were arrested in 2015. He had tried to appeal many times to the appropriate departments, including the police stations, the Procuratorate, and the court. He also hired an attorney for their defense, to no avail.
This blow was too great for him to bear, and Mr. Wang fell sick in December 2016. Whenever he was awake, he cried and said nonstop, "They are so cruel...."
He passed away on June 5, 2017.
Ms. Tang's 90-year-old mother also died of grief in 2008 when her daughter was arrested and sentenced.
Related Articles
A 68-Year-Old Woman Is Detained, Tortured, and Sentenced to Seven Years in PrisonMs. Tang Liwen Tried by Inner Mongolia CourtMs. Tang Liwen Brought to Trial by Inner Mongolia Court