Norway: Raising Awareness of the Persecution in China During "Arendalsuka"
October 01, 2017 | By a Falun Dafa practitioner in Norway
(Minghui.org) From August 14 to 17, the beautiful beach city Arendal hosted the annual "Arendalsuka" event. Politicians, business leaders, lobbyists, and media came to the southern coastal city for meetings and debates that are free and open to the public.
Falun Gong practitioners passed out fliers to the meeting attendees, introducing Falun Dafa (as the peaceful spiritual practice is also known) and raising awareness about the brutal persecution in China.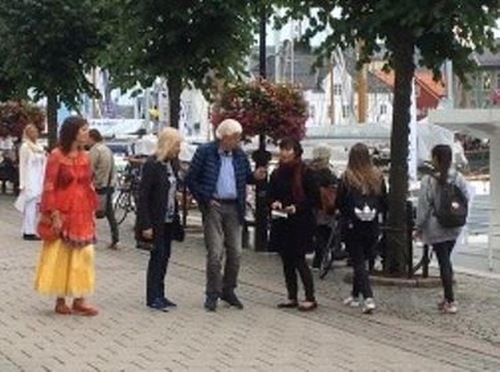 Talking to "Arendalsuka" attendees about the persecution of Falun Gong and forced organ harvesting atrocities in China.
Practitioners explained how the Parliament had updated the law regarding organ transplants and would impose more sanctions on those who participate in organ trafficking.
Addressing some people's questions that organ harvesting atrocities have also happened in countries other than China, the practitioners told them that "transplant tourism" and organ trafficking in China is different from any other countries in the world because it is organized by the government.
In other places, those who participate in organ harvesting crimes are prosecuted. In China, they are protected, and in fact are part of the ruling regime.
Politicians and business leaders were shocked to hear the facts and commented that the public must be made aware. Many asked for more fliers for their colleagues.