Greetings to Master from Pingtung, Taiwan: "Practicing Falun Dafa Is the Happiest Thing in My Life"
January 27, 2017 | By Minghui correspondents Sun Bai and Su Rong
(Minghui.org) As the Chinese New Year approaches, practitioners from across China have sent their warmest greetings to Master Li Hongzhi, the founder of Falun Dafa. Below are a few accounts submitted by practitioners in Pingtung County in southern Taiwan.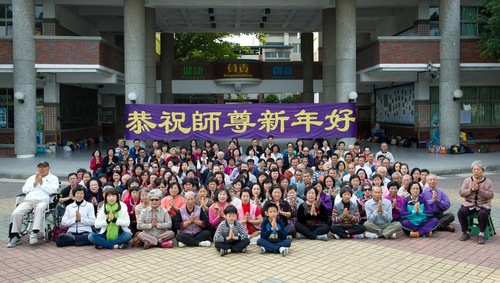 Falun Dafa practitioners wish Master Li a happy new year at Chaozhou Elementary School in Pingdong, Taiwan.
A New Beginning
Ruixun, who works at a news media company, began to practice Falun Dafa 16 years ago. He once had an immune disorder that led to dietary problems and insomnia. "I visited many doctors and tried Chinese medicine. But after almost two years and spending $40,000 to $50,000 USD, there was no improvement." He also tried Tai Chi and other exercises, to no avail.
Seeing Ruixun's condition, a friend recommended Falun Dafa to him. Doing the exercises for the first time made him feel comfortable and energetic. As he continued to do the exercises and read the books, his health improved dramatically, and he could go back to work.
Ruixun said, "If more people practice Falun Dafa, this society would be a better world."
Ruixun said that Falun Dafa also provides guidance in his life. "I usually complain a lot and feel lost. Now, I am clearer on what I am here for—it is the beginning of a new life. I am very thankful to Master for all these changes and sincerely wish him a happy new year."
"The Happiest Thing in My Life"
Middle school music teacher Cuihui heard about Falun Dafa from a coworker in 2001. Seeing a group of practitioners meditating on a playground, she was drawn by the peace and harmony of the group. Since then, she has participated in group exercises and read books by Master Li.
One of the changes that Cuihui experienced was in her severe nearsightedness and eye hypertonia that made it difficult for her to sleep. She saw ophthalmologists but could not find a cure. Cuihui found that her vision improved greatly after she began to practice Falun Dafa, and she can now see clearly.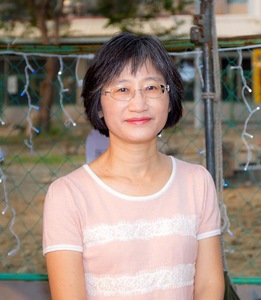 Music teacher Cuihui said Falun Dafa helps to improve her health and character.
Cuihui said Falun Dafa also teaches her to be a good person. Having worked as a counselor for several years, she used to lose her temper when encountering teenage rebellion in the classroom. "Now, I often remind myself to act as a practitioner. Because of my patience and compassion, students like me and often come to me when they have problems. I have to admit that practicing Falun Dafa is the happiest thing in my life."
"Master Helps Me All the Way"
Yunzhu, a college student majoring in music, started to practice Falun Dafa with her mother in kindergarten.
After attending Feitian Academy of the Arts at Yunlin in middle school, Yunzhu found herself living in a new environment. She had to live on her own, and the pressure from schoolwork was huge. Nonetheless, she did not want to give up the opportunity. "Those years were precious for me, because I was able to follow the Fa principles, look within, and constantly improve myself," she recalled.
Through Fa-study and help from teachers, she made great progress and was later admitted by National Taiwan University of Arts. Although there are no practitioners around her, Yunzhu said she always reminds herself to be diligent. When encountering interpersonal conflicts or difficulty in improving her music skills, she looks inward to find human notions that block her from moving forward.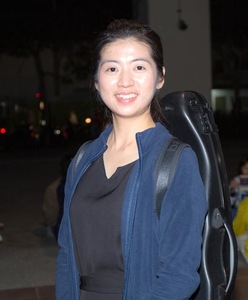 Yunzhu, a violinist at National Taiwan University of Arts, wishes Master Li a happy new year.
"My dream is to go to the Shen Yun Symphony Orchestra, because that is the best opportunity in the world," said Yunzhu. "But no matter what, I am very grateful because Master helps me all the way through my cultivation practice."