University of Pennsylvania: Falun Gong Participates in Chinese New Year Celebrations
January 25, 2017 | By a Falun Gong practitioner
(Minghui.org) Falun Gong practitioners were invited to participate in the 36th Chinese New Year celebration at the University of Pennsylvania on Saturday, January 21, 2017. It was their nineteenth year participating in the event.
The celebration was held at the University of Pennsylvania Museum of Archaeology and Anthropology, which is well-known for multicultural exchange and the exploration of human history. Thousands of people attended.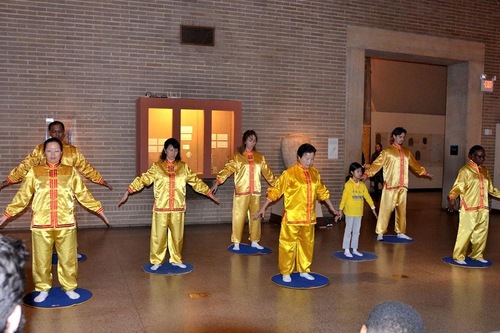 Falun Gong practitioners demonstrate the exercises on stage of Chinese New Year celebration in University of Pennsylvania on January 21, 2017.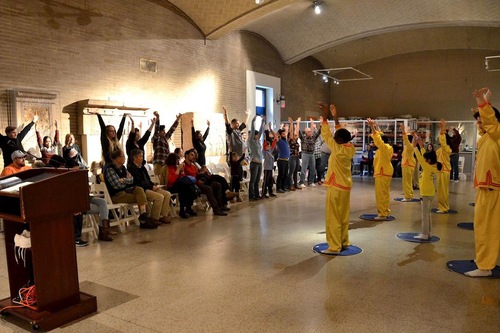 Audience learn the exercises on the spot.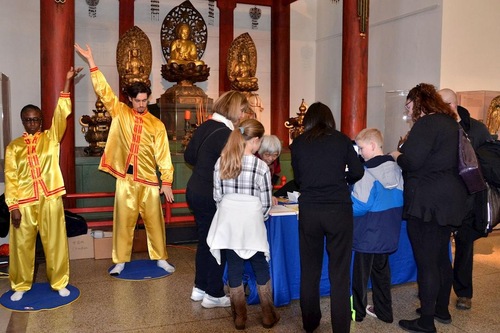 Visitors coming to Falun Gong stand to learn more about the practice.
The museum was crowded with visitors that day. The celebration was rich with various events, including music, dancing, calligraphy, lion dancing, martial arts, Taiji and Falun Gong exercise demonstrations, handicrafts, and child entertainment programs.
Falun Gong practitioners set up a stand and demonstrated the exercises on the stage. They introduced the beneficial effect of the practice on health and morality to the public. They also showed Chinese calligraphy. Many visitors visited the stand and watched the exercise demonstration.
Many people learned about the grace of Falun Gong and the persecution it faces in China. Prof. Tony Cosenza of the University of Pennsylvania said, "I like Chinese traditional culture as it has 5,000 years of history and is fascinating."
Falun Gong was new to him. He felt relaxed when learning the exercises. Regarding the persecution, he said that dictators oppress people. He hopes that the persecution will end soon.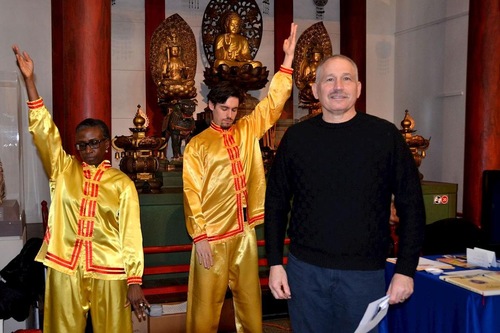 Professor Tony Cosenza hopes the persecution will end soon.
Sheila White felt refreshed and peaceful from learning the exercises. She said American people are busy every day and Falun Gong can help them relax. She said she had heard about the persecution and couldn't understand how something so peaceful could be treated that way.