Falun Dafa Practitioners Young and Old, and their Families, Send New Year Greetings to Revered Master Li Hongzhi
(Minghui.org) When Falun Dafa was first introduced in China in 1992, many started practicing, and usually, the entire family – young and old – would follow suit. At that time, people of all ages could be seen practicing the exercises in parks and various places between 1992 to 1995.
Many of these children have since grown up, becoming young adults and many are now in college. Despite the persecution of Dafa happening in China, they remain steadfast in their cultivation as they knew that Dafa has helped them a lot in their daily lives. Their gratitude is hard to describe in simple words. Similarly, young children born after the persecution started in 1999 also began practicing Dafa with their parents at a tender age.
There are also many young people who joined in when they heard of and witnessed the wonderfulness of Dafa.
For practitioners whose family members do not practice, their families are fully supportive of them and they have also taken this opportunity of the New Year to send their greetings to Master Li, the founder of Falun Dafa.
Young Practitioners Determine to Cultivate Well
A young adult from Shijingshan District in Beijing wrote, "We grew up basking in Dafa's glory and have now become young adults. We have made it through the years under Master's care. We have come to understand the meaning of life and will not waste our time. We will remember Master's words and rectify our human attachments in Dafa. We will do the three things well and save more people as this is our historic vow. Although I have never seen Master in person, I know that Master is right beside us. No words could describe my gratitude to Master. I will study more Fa and return home with Master."
A young practitioner born after July 20, 1999 [when the persecution began], thanks Master for looking after them every day. They have learned to use the Fa to assess their actions and thoughts. They will be diligent in cultivation and do the three things well so as to return home with Master.
A mother from Liaoning Province who has two young children aged 4 and 9 wishes Master a happy New Year. She said that her younger girl often speaks about Master helping her to overcome her tribulations while her older boy has taken the initiative to study Zhuan Falun every day first thing upon returning home from school. This increases his wisdom and he obtains high marks in all examinations. He has also learned to get along well with his sister.
Elderly Practitioners Obtain Good Health
An elderly couple from Zhaoyuan City, Shandong Province expressed their gratitude to Master for saving their lives. Before practicing Dafa, they were on the verge of death. It was Master who saved them and gave them good health.
Another couple in Baoding City, Hebei Province, who are in their 70s, echoed the same sentiments, while a 90-year-old practitioner from Dujiangyan in Chengdu City, Sichuan said that Master has extended his life.
An 87-year-old practitioner in Benxi City, Liaoning Province feels blessed after practicing Dafa and said that it seems as though he has returned to the happiness of his childhood times.
Non-Practitioners: "We Will Support Dafa Forever"
A mother-in-law of a practitioner also sent in her greetings through her daughter-in-law. She said, "My daughter-in-law asked me if I wanted to send my greetings to Master. I told her I am more than willing to. I will feel very honored and blessed if my greetings could be sent from Beijing to the U.S.. I will support Falun Dafa forever and support my daughter-in-law in practicing Dafa. I hope that other practitioners' family members will do the same."
A young woman in Huairou District in Beijing whose mother practices Dafa thanks Master for giving her a good mother and a happy home. Although her husband, child and she do not practice Dafa, they have seen the wonderfulness of Dafa displayed in their mother. They will forever support Dafa and support their mother in practicing.
The well wishers are from the following regions:
Jiamusi City, Harbin City, Muling City, Yichun City, Daqing City, Xunke County, Boli County and Daxing'anling in Heilongjiang ProvinceShandong University of ArtsBeijing Tsinghua UniversityZhaoyuan City, Rizhao City, Qufu City, Jinan City, Yantai City, Zibo City, Laiyang City, Qingdao City, Benxi City, Jiaozhou City and Sishui City in Shandong ProvinceFushun City, Shenyang City and Xinbin County in Liaoning ProvinceSouthwest Petroleum UniversityChina University of TechnologyXi'an Jiaotong UniversityNanjing Normal UniversityDalian University of TechnologyCommunications Industry in Heilongjiang ProvinceBeijing Normal UniversityCentral University of Finance and EconomicsNanchang University in Jiangxi ProvinceXiangtan UniversityChenzhou City and Hengyang City in Hunan ProvinceChengdu City, Nanchong City, Suining City, Deyang City, Anyue County, Kaijiang County and Cangxi County in Sichuan ProvinceNanpi County, Baoding City and Zhangjiakou City in Hebei ProvinceSichuan College of Architectural TechnologyChinese Academy of SciencesJilin Agricultural UniversityNortheast Normal UniversityJilin UniversityShijingshan District, Huairou District and Haidian District in BeijingXuchang City in Henan ProvinceJiangbei District in ChongqingPanshi City in Jilin ProvinceBinhai New Area, TianjinJincheng City in Shanxi Province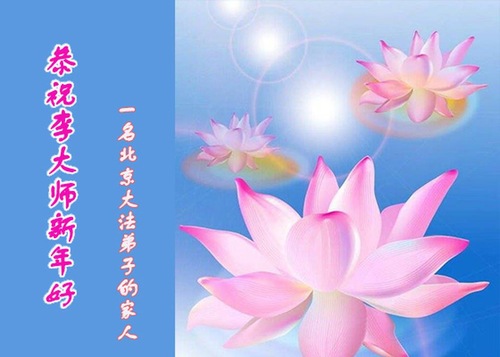 Related articles:http://greetings.minghui.org/mh/articles/2017/1/1/北京弟子的家人感谢师父-340119.htmlhttp://greetings.minghui.org/mh/articles/2017/1/1/修法轮大法-老人得福-340166.htmlhttp://greetings.minghui.org/mh/articles/2017/1/1/大法小弟子新年敬拜师尊-340171.html