Formerly Healthy Ms. Bai Gendi on the Verge of Death
January 19, 2017 | By a Minghui correspondent in Shanghai, China
(Minghui.org) Ms. Bai Gendi was serving a six-year-and-five-month prison term for upholding her belief in Falun Gong.
On August 24, 2016 she was transferred to the intensive care unit of a local hospital with a bleeding head wound. Her family was told that she had fallen out of a chair and hit her head, but they question this story and believe that the injury was caused by abuse in prison.
A brain scan showed a foreign object in Ms. Bai's brain. She was discharged from the hospital and taken home. She has been on a downhill spiral since August and is now on the verge of death.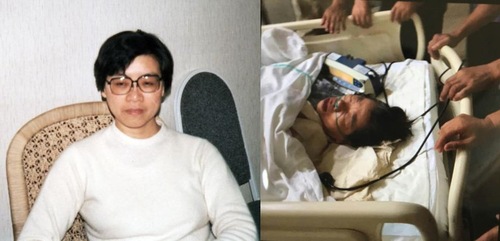 Ms. Bai Gendi.
Summary of Arrest and Detention
Ms. Bai was arrested on September 10, 2012 by officers from the Xuhui Police Station for practicing Falun Gong.
The Xuhui District Court sentenced her to a six-year-and-five-month prison term on May 3, 2013. The higher court rejected her appeal on June 18, 2013 and she was transferred to Shanghai Women's Prison in late June 2013.
Ms. Bai was locked in solitary confinement for almost a year for refusing to give up Falun Gong or wear a prison uniform. The guards confiscated the warm winter clothes sent by her family and forced her to wear short sleeves and short pants despite freezing weather. She was released from solitary confinement in the spring of 2014.
She was transferred to the intensive care unit at Songjiang People's Hospital on August 24, 2016, and discharged soon after.
Mental Disorder Resulting from Head Injury
Back home, Ms. Bai showed symptoms of brain trauma and mental illness. She frequently lost consciousness and suffered from delusions. She treated her family members as though they were prison guards, accusing them of poisoning her food.
Ms. Bai was taken to the hospital on September 30, 2016 after she passed out and no longer recognized anyone.
She returned home from the hospital, but was taken to the Sixth People's Hospital because of sudden fainting spells on November 30 and again on December 29, 2016. She suffers from excruciating headaches and is on intravenous feedings.
Officers from the 610 Office have been monitoring Ms. Bai constantly, whether she is at home or in the hospital.
Background
Ms. Bai Gendi was born on September 21, 1951. She resides on Leshan Road, Xuhui District, Shanghai. She was an employee of the Human Resources Department of the Beijing Oil Ministry and a mid-level manager at the East Sea Oil Company.
Ms. Bai was a healthy and intelligent person before her arrest. She has no history of epilepsy or mental illness. When her family visited her in prison in March 2016, she appeared to be of good health. However, less than one year later she became mentally and physically incapacitated. Her family demanded to see the prison's monitor videos but their request was denied.
Participants in the persecution of Ms. Bai:Songjiang Women's Prison: +86-21-57615998, ext. 2202Shanghai Jai Administration Bureau: +86-21-35104888Xuhui District Police Department: +86-21-64868911Xuhui District 610 Office: +86-21-64872222, ext 6000