Falun Gong Practitioners in Northern Taiwan Wish Master Li Hongzhi a Happy Chinese New Year
January 18, 2017 | By Zheng Yuyan, a Minghui correspondent in Taipei, Taiwan
(Minghui.org) Close to a thousand Falun Gong practitioners gathered at Taipei's Freedom Square on January 15, 2017 to wish Master Li Hongzhi a happy Chinese New Year.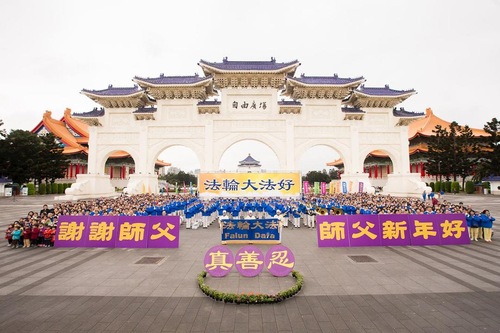 Gathering of Falun Gong practitioners.
The celebration included performances by the Tian Guo Marching Band, poem recitals from the book Hong Yin and dances by young practitioners, and practitioners' singing several songs to express their gratitude and respect for Master Li. The participants then did the five sets of Falun Gong exercises together, forming a solemn and grand scene.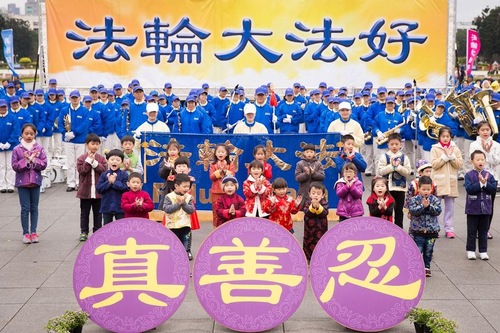 Young practitioners recite poems from the book Hong Yin.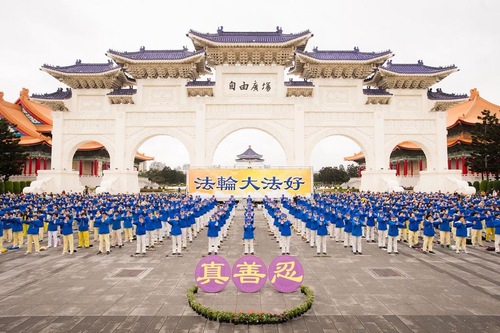 Nearly one thousand Falun Gong practitioners exercise together.
"You Are Truly Magnificent!"
Mr. Liu, a Taipei resident, told a practitioner that he saw Falun Gong practitioners in Taiwan and overseas raising awareness of the persecution in China. He said that these practitioners came from different countries and held various activities, rain or shine, hoping to end the persecution. Mr. Liu gave a thumbs-up and said, "You are truly magnificent."
A group of South Korean tourists were drawn to the practitioners' event. The practitioners gave them Falun Gong brochures and paper lotus flowers. Some were curious about the practice and wanted to find out where they could learn it when they got home.
Ms. Lin's granddaughter told another practitioner that she didn't practice because she worried that her prosthesis would hinder her from doing the exercises. After the practitioner explained to her that it didn't matter, she was excited and wanted to attend a Falun Gong instruction class.
Graduate Student Attributes Outstanding Performance to Falun Gong
Ms. Lin Jiayu
Ms. Lin Jiayu is a graduate student and studies art history. "The workload is heavy and demanding. The students often have to stay up late to finish their homework. They are always amazed by how I could easily finish the work and stay energetic," she said. All her friends know that she practices Falun Gong. Her professor even asked her to teach him the Falun Gong exercises.
Ms. Lin said that the practice allows her to stay clearheaded and rational. That is how she could easily complete her homework and still work efficiently as her professor's assistant.
She joined the Tian Guo Marching Band as a drummer when she was in college. When she performed in parades, she saw that spectators were often drawn to the parade by the positive energy in the music and then learned more about Falun Gong and the persecution. She said that it was worth all the hard work.
From Being Arrogant to Popular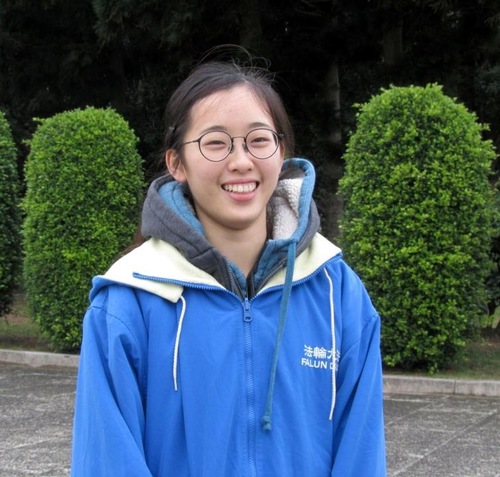 Ms. Liao Xiuyan
Ms. Liao Xiuyan's mother was severely injured in a car accident. One of her teachers introduced her mother to Falun Gong. Seeing her mother recover quickly from the injuries, her whole family took up Falun Gong as well.
Ms. Liao said she used to be spoiled and was often angered by trivial things. After she began practicing Falun Gong, she learned how to be considerate of others and how to look for her own shortcomings when encountering conflicts. Her classmates started to like her and befriend her. Her health also improved significantly.
A Happy Family Wish Master Li a Happy New Year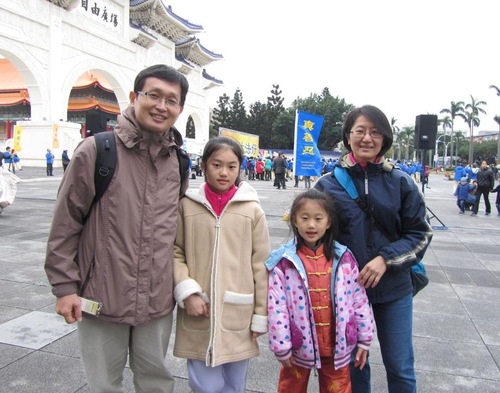 Mr. Zhuang Binhong and his family
Mr. Zhuang Binhong's father used to treat him harshly. After his parents learned Falun Gong years ago, they both became healthy. His father became kind and amiable. Mr. Zhuang thus has a great relationship with his father and took up Falun Gong as a result.
As a practitioner of Chinese medicine, he often felt physical and mental discomfort after performing acupuncture on his patients. He no longer experienced these symptoms after he learned Falun Gong.
His wife, though not a practitioner, supports his faith and and educates their two daughters using the principles of Truthfulness, Compassion, and Forbearance. "Compared to other children, mine are better disciplined and more considerate. They can easily be reasoned with, which makes my parenting work easier," she said.