(Minghui.org) A former worker from the Guangzhou Book Center was sentenced to a five-year prison term by the Haizhu District Court on December 30, 2016, for blogging about the persecution she was subjected to after refusing to renounce her faith in Falun Gong. Entitled "Gulag Memoirs," her posts documented how she has been repeatedly arrested, detained, and tortured since the persecution of Falun Gong began in 1999.
Ms. Huang Qian, 47, was arrested at her home in Guangzhou City on February 3, 2015, and taken to the Nanzhou Detention Center, where she was cuffed to an iron chair torture device during an interrogation.
Her initial trial took place on December 15, 2015 and adjourned without a verdict. Her attorneys pleaded not guilty on her behalf and asked for an acquittal. She currently plans to appeal to a higher court.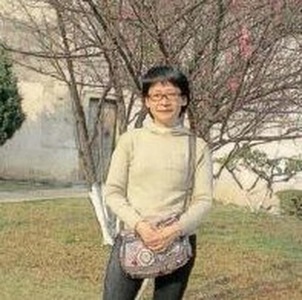 Ms. Huang Qian
Tortured for Appealing
Ms. Huang went to Beijing in May 2000 to legally appeal for the right to practice Falun Gong. She was arrested, beaten, and returned to Guangzhou where she was detained. She was then dismissed from her job at the Guangzhou Book Center for refusing to comply with the authorities.
Officers from the 610 Office attempted to take her to a brainwashing center in July 2000, where her mother and brother were already being held.
Shortly afterwards, Ms. Huang returned to Beijing to appeal and was arrested again. She was beaten and tortured for refusing to give her name and address.
She was put in the Wuqing County Detention Center in Tianjin. The chief of the Wuqing Police ordered three inmates to force her to give them her name and address. To torture her, they stripped her naked and burned her thighs with a cigarette, cut her with broken glass (including her private parts) and hit her on the face with shoes. She was covered with blood from the cuts, and her face was deformed and swollen.
Ms. Huang went to Beijing to appeal a third time in December 2000. She was arrested and taken to the Tiananmen Square Police Station, where she was repeatedly sprayed with a fire hose and shocked with electric batons for refusing to reveal her identity.
Three Years of Forced Labor
Ms. Huang was sentenced to a three-year term in June 2001 and incarcerated at the Chatou Women's Forced Labor Camp. The guards placed her in solitary confinement, and deprived her of sleep and restroom use. To protest, she started a hunger strike.
Four days into her hunger strike, the guards tied her up with both legs crossed, and her hands behind her back. They stepped on her legs to increase the pain and tied her hair up to humiliate her. She wrote in her blog, "It was so unbearable, I almost collapsed. It left a deep wound in my heart."
For a long time after that, she had frequent nightmares and would sometimes suddenly lose feeling in her legs. It was also difficult for her to get up from a sitting position.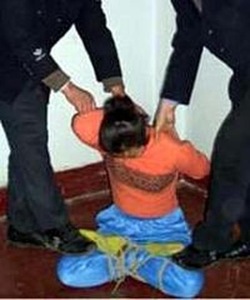 Torture illustration: Tied with legs and hands behind one's back
Torture and Injuries Sustained at Tianhe Detention Center
Ms. Huang's younger brother, Mr. Huang Jiang, had been held at a brainwashing center from March through May 2007. Agents from the 610 Office suspected that Ms. Huang had been involved in an attempt to rescue him. Four months later, on September 23, 2007, she was arbitrarily arrested and taken to Tianhe Detention Center.
She was tortured while in detention, with a method called "thread the needle and shackled" for 52 days, starting on July 3, 2008.
For the first 12 days, she was placed in foot shackles with one shackle fastened to a ground ring. Her hands were then cuffed with one hand behind one leg and the other in front. The guards later released her foot from the ground ring, but she remained shackled and cuffed around the clock.
She was kept shackled in that position even when she had a fever. The torture caused excruciating pain and made it extremely difficult to sleep. Her back was kept bent for so long that her spine became deformed.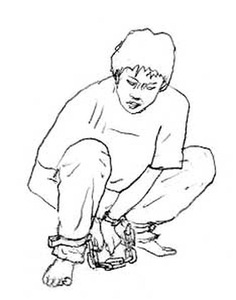 Torture illustration: Thread needle and shackled
Sentenced to Four Years in Prison
Ms. Huang was secretly sentenced to four years in prison by Tianhe District Court on July 14, 2008. She was transferred to the Guangdong Province Women's Prison on August 25, 2008.
She was subjected to forced labor, solitary confinement, sleep deprivation, and denial of restroom use while in prison. As she was a Falun Gong practitioner, the prison authorities did not allow her to take showers, nor did they provide any necessities such as toilet paper, wash cloths, sanitary pads, etc. The prison guards also forced her to read materials that slandered Falun Gong.
Ms. Huang's health deteriorated to the point that she could only sit or stand for short periods of time.
Related articles:Guangdong Woman Tried for Blogging About Her Previous Five Arrests for Practicing Falun GongMs. Huang Qian Arrested for Exposing Persecution on InternetMs. Huang Qian Arrested and Facing Trial for Allegedly Rescuing Her Brother in Guangzhou City, Guangdong Province