Residents in Southern Taiwan Experience the Benefits of Falun Gong
January 12, 2017 | By a Falun Dafa practitioner in Taiwan
(Minghui.org) Falun Gong practitioners in Jiayi County often hold health forums to attract people who are interested in information on improving their health.
More than 40 residents of Daqi Village were waiting for the practitioners at the community center on January 7, 2017. The residents learned the five exercises by following the movements of the practitioners. Many quietly meditated with their legs crossed and enjoyed the peaceful, soothing music.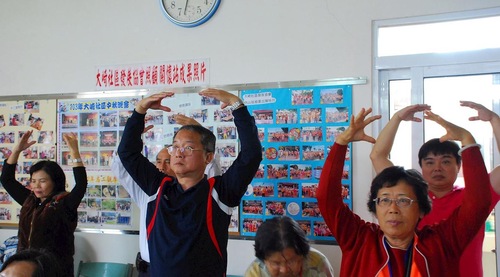 Residents of Daqi Village in Jiayi County learn the Falun Gong exercises.
One practitioner, who is also a doctor of Chinese medicine, spoke about the fundamentals of healthy living. She told everyone to always stay calm and be forgiving, which is free medicine and also part of the practice. According to her, "Practicing Falun Gong is the shortcut to a healthy life."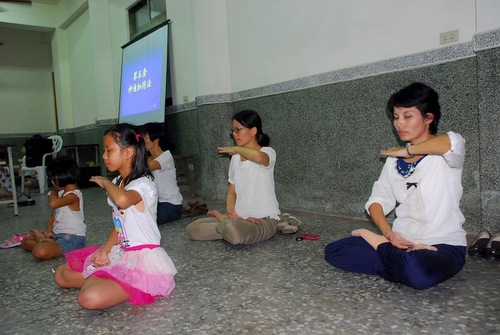 Falun Gong practitioners demonstrate the five exercises to the participants of the health forum in Daqi County.
Mr. Chung Guibin, the general manager of the community development association, praised the health benefits of Falun Gong: "The doctor said that the fundamental cure for illnesses is to be compassionate and virtuous. It is a great teaching, and we hope more people in the community will come and learn it."
During the discussion afterward, many talked about how comfortable they felt doing the exercises. A practitioner noted that they could do the exercises anywhere, at any time.
Falun Gong is a spiritual practice that was first taught in China in 1992 and has been practiced by more than 100 million people in over 100 countries.
By the time the forum ended, a dozen participants had signed up to attend the Falun Gong nine-day class. "Looking at their peaceful expressions, I can see that they have felt the peaceful and comforting energy of Falun Gong," commented a practitioner.