Malaysian Falun Dafa Practitioners Come Together for Experience Sharing
(Minghui.org) The 2016 Falun Dafa Cultivation Experience Sharing Conference in Malaysia was held at the Crystal Crown Hotel in Klang on Christmas day. Sixteen practitioners presented articles detailing some of their cultivation experiences. Besides local attendees, some practitioners from Vietnam also attended the conference.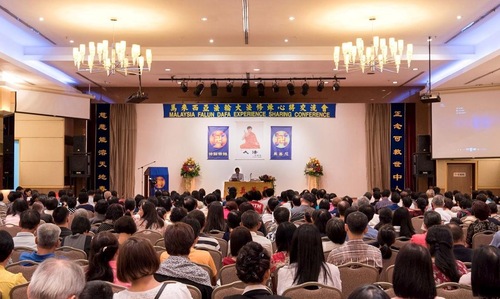 The conference hall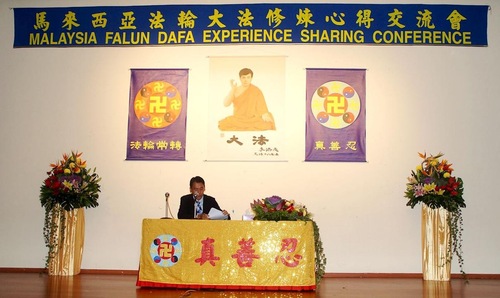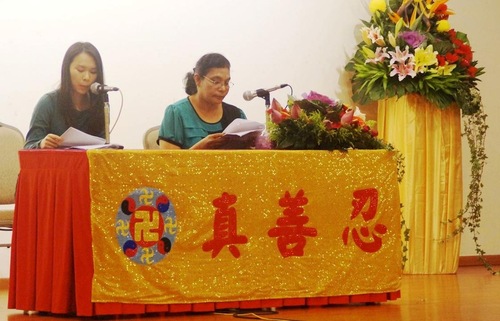 Practitioners present experience-sharing articles.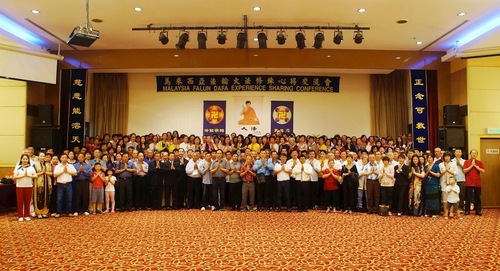 The attendees wish Master Li Hongzhi a Happy New Year.
Husband Changes Attitude
Kodi, from Klang, started to practice Falun Dafa in 2012. In six months, the practice healed her lumbar disc protrusion, hypertension, and back pain.
However, her husband was strongly against her practicing. She explained to him that the practice saved the family a considerable amount of medical expenses, and she must practice to stay healthy. But he refused to believe.
After a fight, Kodi went to her parents' house and stayed there for five months. The practitioner calmly looked inside, and communicated with her husband with compassion. She thoroughly told him what Falun Dafa is all about, which finally eliminated his negative attitude. He is very supportive now.
Awakened to Diligence
Mr. Weng Shaobin is a tour bus driver from Kuala Lumpur. He had a lot of chances to talk to tourists from China, but he didn't have the courage to talk to them about Falun Dafa.
Mr. Weng lived a comfortable life until 2014 when he was struck down by the complications of diabetes. He could not walk, and all the therapies he tried actually worsened the situation.
At the Chinese New Year of 2016, his family went to visit his in-laws, and he spent the holiday by himself. When he felt extremely depressed and helpless, local practitioners came over and encouraged him to study the Fa.
Starting on New Year's day, they read the Fa together, all day, every day, for two weeks.
They also read experience-sharing articles on Minghui.org. One article deeply touched Mr. Weng. The author was tortured in a labor camp. She didn't complain about the harsh environment. She only felt sad that she could not read the Fa or do the exercises.
He was deeply moved by the author's pure heart, as if an electric current went through his body. "I will cultivate diligently too," he said to himself.
In the following days, Mr. Weng was like a different person. The amount of Zhuan Falun he read increased from one lecture a day to three lecture a day, and finally he read five lectures a day. His mind became more and more righteous. He found that he didn't need medicine anymore, and he didn't touch any pills since then.
Two weeks later, a miracle happened. When his family came back from vacation, they were surprised to see that Mr. Weng was completely cured.
Now, Mr. Weng joins group Fa-study and exercises, and often talks to people about Falun Dafa at tourist spots.
Young Practitioner's Cultivation Experiences
Li Peijie from Johor is only 10. She started practicing with her parents when she was 6.
Since she only learned some Chinese in kindergarten, and everybody at school speaks Malay, her mother was worried that she could not read Zhuan Falun. To everybody's surprise, when she picked up the book the first time, she was able to follow her parents with little difficulty. Peijie believes that this is due to the wisdom given by Master Li.
When bullied at school, Peijie reminds herself that she is a cultivator, and she should be kind and not fight back.
When she was nine, she and her sister started to make phone calls to China to tell the people there about Falun Dafa and how brutal the persecution is. She was happy to see that spending time on this didn't affect her performance at school. Instead, her grades improved, and she was ranked as the top student in class that semester.
Peijie said in her speech: "As long as we do well what we should do, Master will arrange everything for us. I will do better in cultivation in the future."
To end the conference, attendees took a group photo and wished Master Li a Happy New Year.