2016 Asian Falun Dafa Cultivation Experience Sharing Conference Held in Bali, Indonesia
(Minghui.org) More than 1,000 Falun Gong practitioners from Indonesia, Taiwan, Hong Kong, Japan, Korea, Malaysia, Vietnam, and Singapore attended the 2016 Asia Falun Dafa Cultivation Experience Sharing Conference in Bali, Indonesia, on August 28. Fifteen practitioners gave speeches about their cultivation journeys.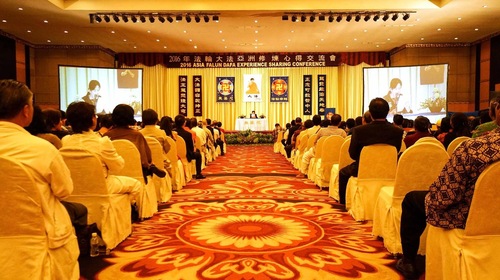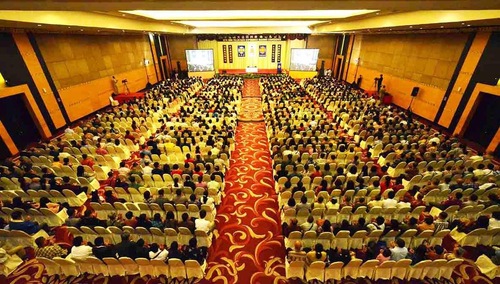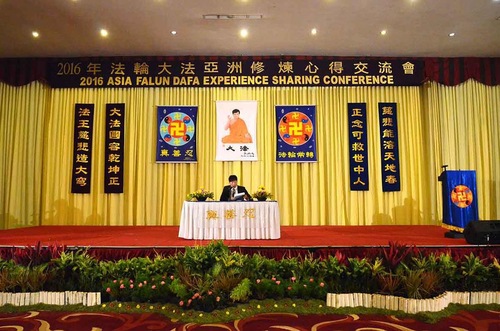 The conference hall for the 2016 Asia Falun Dafa Cultivation Experience Sharing Conference in Bali
Mr. Lin from Indonesia has been practicing Falun Gong for 12 years, which healed his illnesses, and more importantly improved his temper. Mr. Lin said that he quit gambling and smoking, bad habits that almost ruined his marriage. Falun Gong also helped him to be more selfless and compassionate towards others.
A young Korean practitioner started practicing when he was in high school. Due to growth hormone problems, he had stopped growing during adolescence. But a few months of practicing Falun Gong miraculously resumed his development. He also shared his experiences of handling problems in cultivation that are common to young practitioners.
A Taiwanese retired teacher shared his experiences of collaborating with fellow practitioners. During conflicts, he put down his own notions, and tried to look at others positively. Practitioners formed a whole body.
Several practitioners shared their experiences of talking to Chinese people about Falun Gong. These practitioners often go to local tourist spots, setting up booths, passing out Falun Gong materials, collecting signatures, and convincing Chinese tourists to quit the communist party.
Ms. Zhu came to Indonesia from China. Although she cannot speak the native language, she encouraged local practitioners to set up booths in Bali. With her help, many local practitioners have stepped out, and numerous sites have been set up for exposing the persecution to the public in Bali.
Ms. Jin talked about how she improved her relationship with vendors at a local tourist spot, where she talks to Chinese people about Falun Gong. Many vendors gave her a hard time at first, but she tried to treat them with compassion and a big heart. Eventually, the vendors changed their attitudes toward her. They became friends, and some vendors even help her to talk to Chinese tourists about Falun Gong.