Ottawa, Canada: Canadian Officials and Tourists Support Falun Gong
September 27, 2016 | By Minghui correspondent Zhang Yun
(Minghui.org) When Chinese Premier Li Keqiang visited Ottawa, Canada, between September 21 and 25, Falun Gong practitioners gathered to greet him and to urge him to stop the suppression of Falun Gong in China.
Many Canadian officials showed their support, and a large number of tourists learned about Falun Gong at the practitioners' activities.
Positive Remarks from Members of Parliament
Kelly McCauley, MP, was on the way to a meeting when he passed the practitioners' event on September 22 in front of the Parliament Buildings. He stopped to greet them and said, "I appreciate all the hard work you are doing, bringing freedom and justice to the people being persecuted in China and other parts of the country. Thank you for your hard work."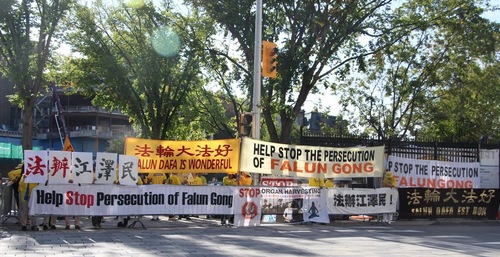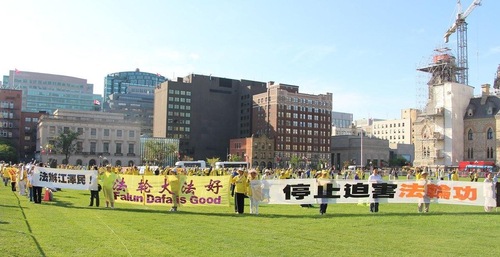 Falun Gong event in front the Parliament Building on September 22.
Peter Kent, MP, Chair of the Parliamentary Friends of Falun Gong, offered words of encouragement to the practitioners: "You have done very well." He said that their message was very important and hoped that Chinese Premier Li would pay attention to it.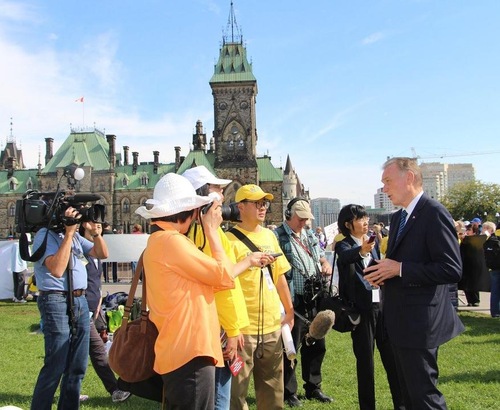 Peter Kent, MP, talked with practitioners and gave a speech.
Jason Kenney, MP, former Minister of National Defense as well as Secretary of State for Multiculturalism, also spoke at the rally. He urged the Chinese government to stop the persecution "because freedom and human rights should be protected."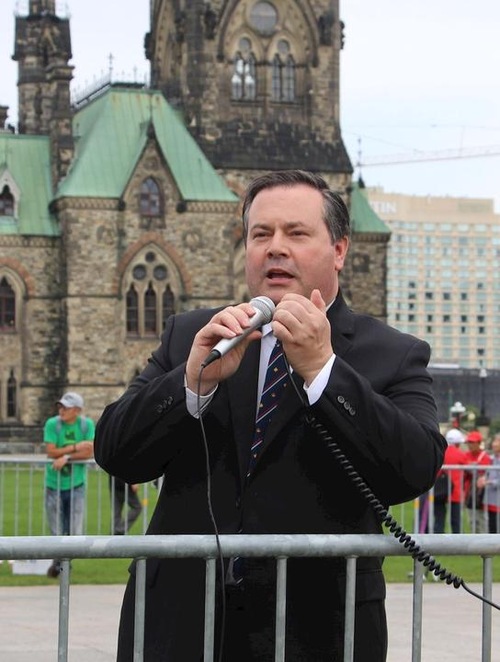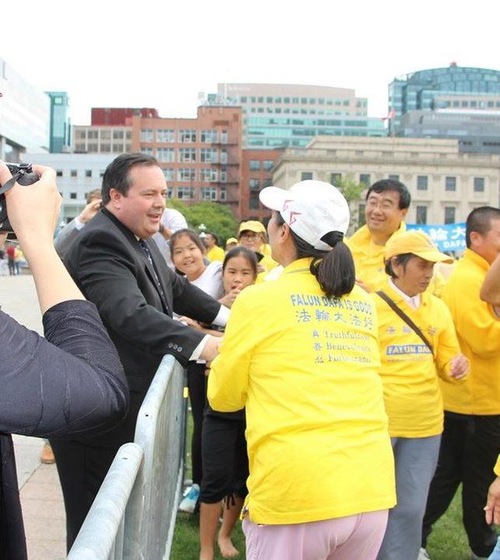 Jason Kenney, MP, former Minister of National Defense, spoke at the event.
After serving as a member of Parliament for 20 years, this was Kenney's last day before stepping down to run for another position. At the gathering in front of the Parliament Building, he shouted "Falun Dafa is good! Truthfulness-Compassion-Forbearance is good!" in Chinese three times, both before and after he spoke.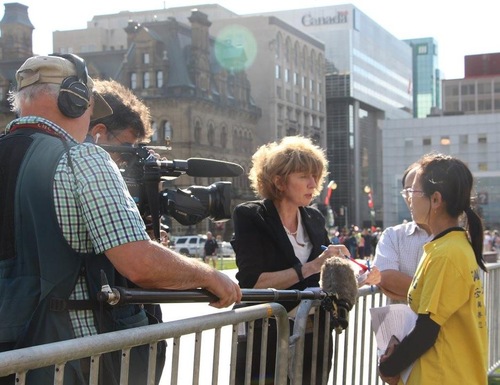 CBCTV interviews a Falun Gong practitioner.
Support from Tourists
Many of the tourists who spoke with practitioners voiced their hope that the persecution would end soon. The members of a tour group from Portugal did not speak English. After the tour guide, Teresa, explained the situation, the tourists gave a thumbs up to praise practitioners for their courage.
"Quite a few of them are physicians," explained Teresa. "They are against the persecution in China, especially organ harvesting from living practitioners." She said they also hoped Jiang Zemin, the former Chinese leader who initiated the persecution of Falun Gong, would be brought to justice.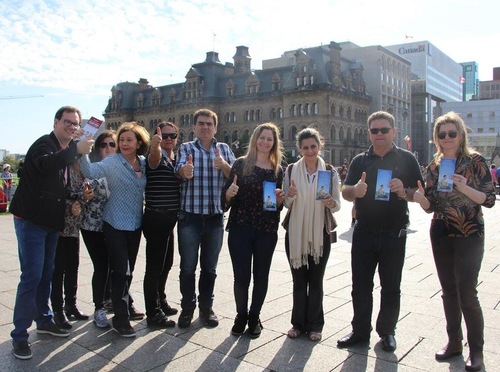 Portuguese tourists support Falun Gong.
Chinese Students Changed Their Attitude
Influenced by Chinese communist propaganda that defamed Falun Gong, many Chinese who came to welcome Li—mostly students organized by the Chinese embassy—were hostile to the practitioners at first.
One of them said he did not understand why the practitioners were against China.
"The Chinese Communist Party has been harming the Chinese people. We need to stop this for a better China," said practitioner Ms. Wang. She then gave some examples of how the Party has mistreated people with violence and hate propaganda in its political campaigns, including the persecution of Falun Gong.
The man listened and nodded in agreement. He then decided to renounce his membership in the Party organizations.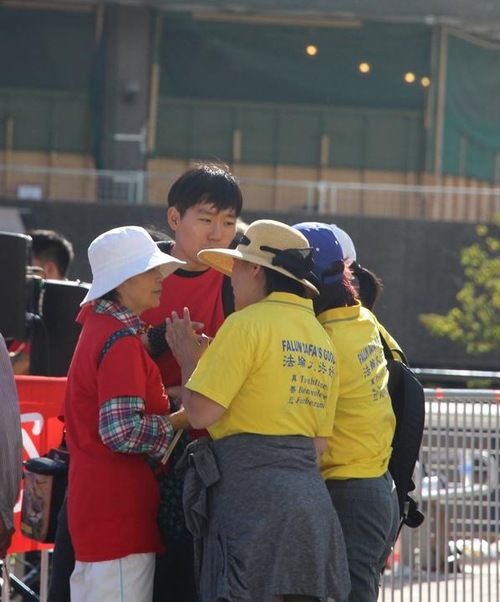 Two practitioners (in yellow) tell Chinese spectators (in red) about Falun Gong and the persecution in China.
Another student first repeated some defamatory propaganda put out by the communist party. After practitioner Lisa talked with him for a while, he admitted that he actually knew nothing about Falun Gong, adding, "Everything I just said I heard on television and or read in a newspaper."
Lisa then told him the history of Falun Gong and its health benefits, both physical and mental. In the end, the student not only announced he would quit the communist organizations, but also said he would read Falun Gong books to learn more.
One Chinese man said he knew that Jiang had done terrible things. "Bringing him [Jiang] to justice is not only your hope, it is also what all Chinese have been waiting for," he said.
Related article in Chinese:http://www.minghui.org/mh/articles/2016/9/26/加国政要国会山前赞扬法轮功学员(图)-335511.html