Finland: Visit of Top Level Chinese Official Meets With Protests
September 25, 2016 | By a Falun Gong practitioner in Finland
(Minghui.org) Zhang Dejiang, a member of the Standing Committee of the Chinese Communist Party (CCP) and Chairman of the Standing Committee of the National People's Congress, visited Finland from September 22 to 25, 2016. Falun Gong practitioners took the opportunity to protest, and to thereby deliver a message to Zhang Dejiang: Stop the persecution of Falun Gong in China!
They assembled in strategic locations adjacent to the Parliament, the President's Office and the Prime Minister's Office to protest at times that Zhang might pass by and see them.
They held banners and demonstrated the Falun Gong exercises. They also posted large posters with Falun Gong information to raise awareness of the CCP's brutal persecution. They shouted "Falun Dafa Is Good" and "Bring Jiang Zemin to Justice" when Zhang's motorcade passed by. Local passers-by or tourists saw the banners and gave thumbs up in support.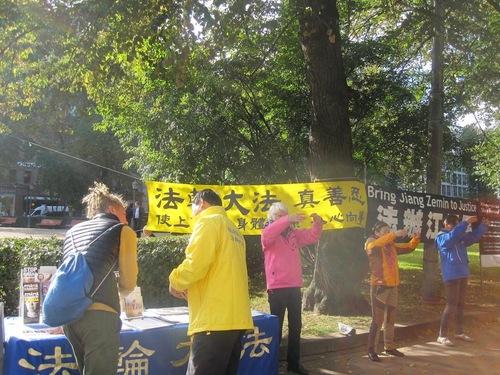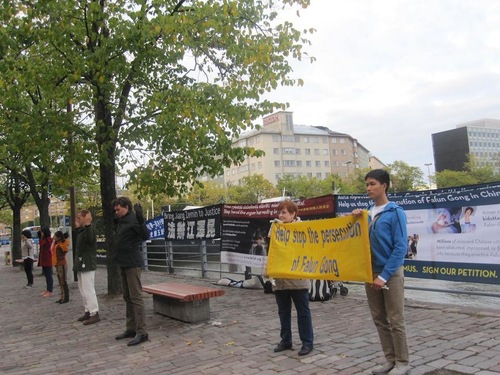 Zhang Dejiang's visit to Finland met with protests of the persecution of Falun Gong in China.
Chinese residents Mr. Wang and his wife were touring Finland at the time. They learned from the practitioners that the Party conducts state-sanctioned organ harvesting from living Falun Gong practitioners for profit. He said after a moment, "I know the Party very well. You are doing great. Keep up with your efforts until you succeed."
An American lawyer visiting Finland named Doogan said, "I often saw practitioners' march in Washington DC. I did not imagine to meet you here. Let more people know what is happening in China. Keep up your efforts!" He gave a thumbs up in encouragement.
Zhang Dejiang followed Jiang Zemin, the head of the CCP who initiated the persecution of Falun Gong in 1999. When Zhang Dejiang held positions in Zhejiang Province, Guangdong Province, and Chongqing, he actively carried out the persecution, leading to deaths and imprisonment of practitioners. He is involved in genocide, torture and other crimes against humanity.