Indonesia: Hundreds Gather to Form Chinese Characters in Celebration of Falun Dafa
September 02, 2016 | By Falun Dafa practitioners in Indonesia
(Minghui.org) Nearly 1,000 Falun Dafa practitioners gathered at Denpasar, the capital of Bali in Indonesia, on August 27, 2016, for the Asia Falun Dafa Experience Sharing Conference. The group performed the Falun Dafa exercises and a held a Chinese character formation activity before the conference.
Attendees came from Japan, South Korea, Vietnam, Taiwan, Hong Kong, Malaysia, Singapore, and other regions. Under the morning sunshine, they did the five sets of exercises at Ngurah Rai Stadium.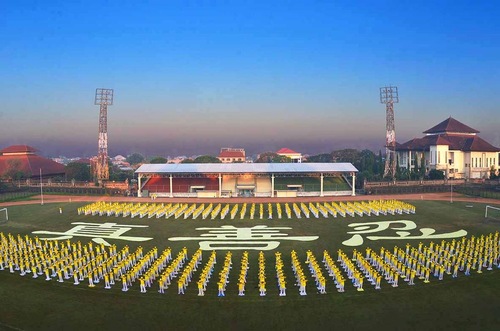 Practitioners performing the exercises.
While doing the sitting meditation, practitioners sat in designated areas so as to form the Chinese characters for "Truthfulness-Compassion-Forbearance," the core principles of Falun Dafa.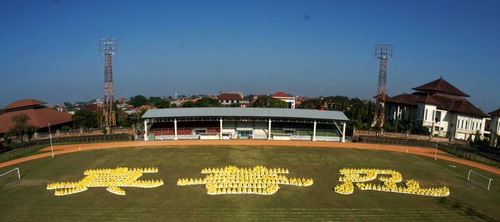 Forming the Chinese characters for "Truthfulness-Compassion-Forbearance."
Despite the fact that the Chinese communist regime banned Falun Dafa in July 1999, it is has been well-received around the world and is now practiced in over 100 countries. The main teachings have been translated into dozens of languages.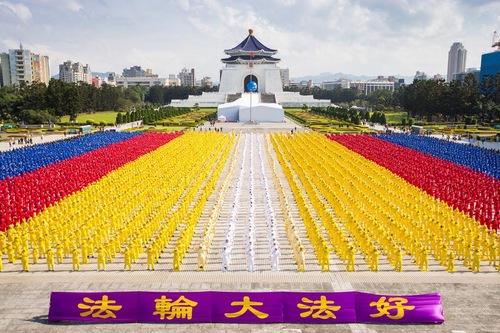 Character-forming by 6,300 Falun Gong practitioners at Freedom Square in Taipei on November 28, 2015. The banner reads "Falun Dafa is good."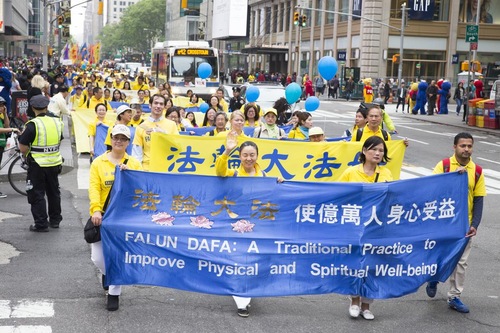 Nearly 10,000 practitioners from over 53 countries held a parade in Manhattan, New York on May 13, 2016, to celebrate the anniversary of Falun Dafa's public introduction.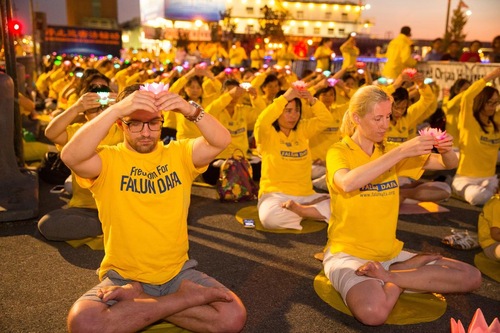 Falun Dafa practitioners gathered in front of the Chinese Consulate in New York on July 20, 2016, to call for an end to the 17 years of persecution by the Chinese Communist Party. At least 4,030 practitioners have lost their lives due to torture during police custody in China.