Korea: "We Admire Your Spirit," Says a Chinese Tourist to Falun Gong Practitioners
September 10, 2016 | By a Minghui correspondent in South Korea
(Minghui.org) Neighboring Northeastern China, South Korea attracts a lot of tourist from China. With the help of Falun Gong practitioners who volunteer to raise awareness in Korea, they now have access to uncensored information unavailable back in their homeland.
"Can I bring this material to China?" asked one tourist while holding a Falun Gong pamphlet. "I will make some copies to distribute."
Young tourists, in particular, found the materials eye-opening. Two young women stopped to learn more and one said,"Based on what we are told in class, we initially thought you [Falun Gong practitioners] were traitorous for attacking China, but now we know you really care about the country and the people."
"We admire your spirit," she added.
Practitioners set up displays in many tourist sites across South Korean. In Seoul, they maintain a regular presence at several places including Sajik Park, Gwanghwamun, Namsangol Hanok Village, and Dongdaemun Market.
Over 2,000 Chinese Tourists Learn the Facts Daily
Sajik Park, an ancient historic park near the well-known Gyeongbokgung Palace, is a popular place for Chinese tourists. "More than 70 tour buses of Chinese tourists come here every day. That is, over 2,000 learn the facts about Falun Gong every day, and they may spread the information to their families and friends after returning," explained Lee Yong-he, board chairman of a company in Seoul.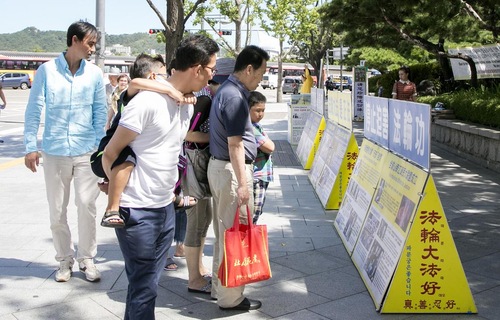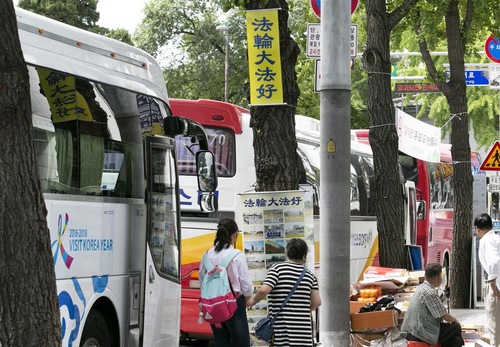 Tourists read Falun Gong posters at Sajik Park.
Lee often comes to the park to talk with tourists. "They have been brainwashed by the communist regime and poisoned by the lies. If we do not tell them this information, some may blindly follow the communist party and be dragged down by it," he said.
Compared to several years ago, he has noticed a shift in people's attitudes. The tourists have become more and more receptive.
"It requires patience and compassion to do this. But the more efforts we make, the less influence the communist party will have on these people," said Lee.
A Special Permit
As a landmark and symbol of Seoul's long history as the capital city, Gwanghwamun also hosts many government agencies, news media outlets, and financial institutions. That is why when Falun Gong practitioners first applied for a permit to set up a booth at this location, the request was denied, explained Jung Taihuan, a native Korean.
Jung then visited Jongno District police in charge of central Seoul and told them all about Falun Gong and the persecution. The officers seemed moved and one of them said, "We usually do not issue permits for any organization, but we will do it for your group."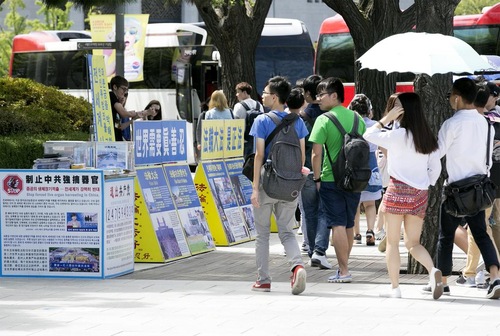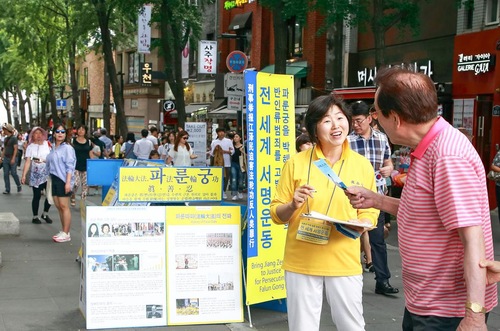 Practitioners talk with Chinese tourists at Gwanghwamun about Falun Gong and the persecution.
Spoken from the Heart
Famous for traditional Korean houses, Namsangol Hanok Village is another popular tourist attraction. Ms. Park (Piao in Chinese) from China comes here every day to tell them why it is important to withdraw their memberships in the Chinese Communist Party (CCP). She often explains, "The CCP has killed millions of people through numerous political campaigns. And the tragedy still continues today—innocent Falun Gong practitioners have been persecuted for 17 years for their belief in Truthfulness-Compassion-Forbearance."
One time it was raining and many tourists were standing next to a nearby building waiting for the rain to stop. "I walked over to them and showed them laminated posters with information about the brutality and hate propaganda from the communist party," Ms. Park recalled. "Although my clothes were wet, I was very happy as I spoke to them from my heart."
Many tourists were moved too. One of them gave thumbs up to her, saying, "Falun Dafa is great!"
Time for a Change
A group of teenaged practitioners often go to Dongdaemun Market, a popular shopping and tourist destination.
He Ya, a college student, said, "Once a tourist said the information in our materials is true and Chinese people often live lies. The social and economic problems in China are beyond description." The tourist asked for more materials and said he would make copies to share with others.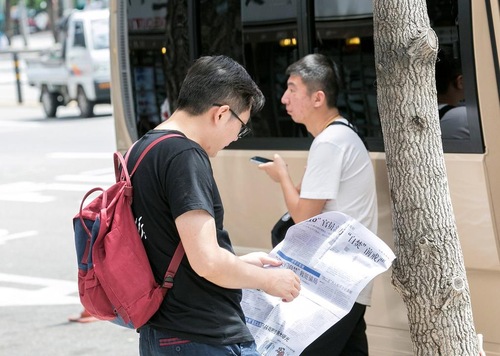 One tourist read information from practitioners.
Another tourist said he had observed so many things that he could easily see through the CCP's lies. "The Party is just like a parasite, it sucks up people's blood and gives back nothing, other than lying to people and killing them." He said it is pitiful that many young people in China do not know what happened in the past and blindly believe whatever the regime claims.
"Some tourists thought we are against China, but actually we are not. We tell them what Chinese communist really is so that they will know which way to go and they will have a better future," said He Ya.